Emergent Readers: Transitioning to Independent Reading Time
We're striving for more independent reading time with my 2nd grader. As an emergent reader, he still reads aloud daily to me so I can teach, cheer him on and keep tabs on his progress.  But, he's finally doing well enough that it's time for him to find his own pleasure in books.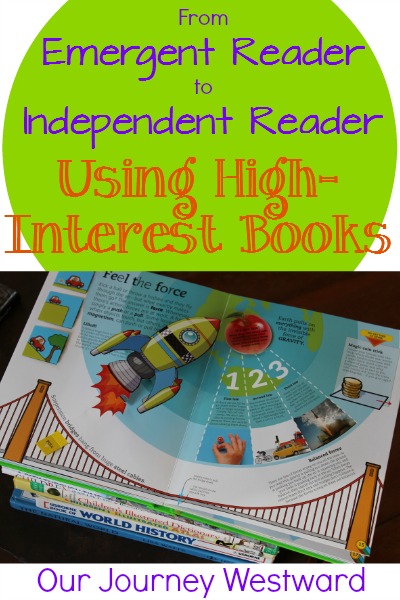 Transitioning to Independent Reading
At this stage in reading, things can get tricky – especially with boys.  New readers can be hesitant to believe in themselves enough to want to read alone.  There's also that nagging stigma (even amongst homeschoolers) that it isn't cool for boys to read.  And, there's the long standing problem of finding books that hold the attention of busy boys.
But boys or girls, the plan for transitioning my kiddos into independent reading time has always been the same.  And it's really simple…put a small bookshelf in their room, fill it with high interest books of all sorts and set a timer daily.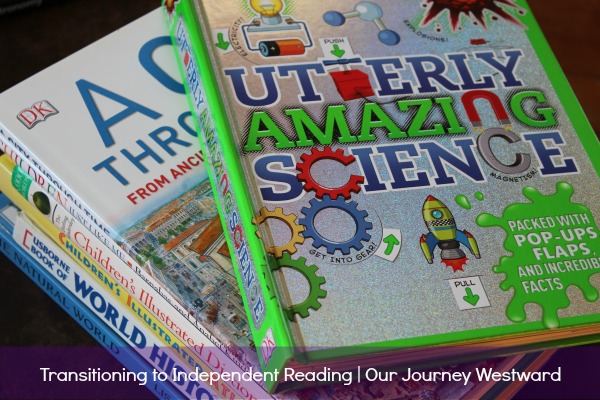 Only one of my children has chosen books over other sparkly things in life.  So, a required independent reading time is a must for everyone else.  And for my 2nd grader, because I've purposely filled his bookshelf with high-interest books, he's quickly settling in to the new habit of independent reading – and enjoying it!
(This post contains affiliate links.)
What Are High-Interest Books?
I choose books on topics in which my little man is interested.  Or, books on topics that I know will spark his interest even if he doesn't already know it.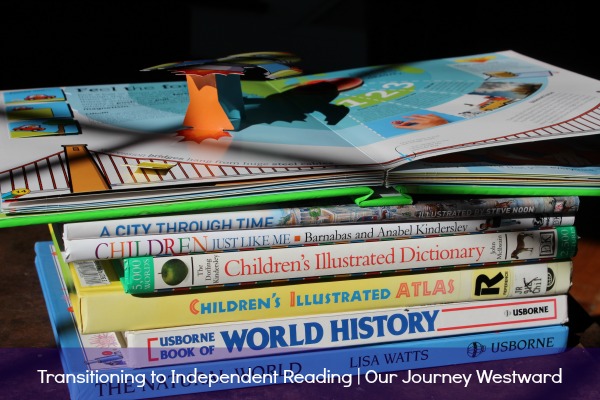 Let me explain.  Eli is intrigued by science experiments.  He never necessarily asked to read books about science experiments, but I placed Utterly Amazing Science by DK Publishing on his shelf and he has been enthralled.  Because this book talks about (deep) science in small chunks with the use of pop-ups and flaps and lots of color, it holds his attention and makes him want to read things over and over again.
That strategy has worked time and time again.  So that means I find all kinds of books that are heavy on illustrations and small chunks of text (but pack a big educational punch) to add to his bookshelf.  Some of Eli's current favorites in this genre include: A City Through Time, Lift-the-Flap Picture Atlas, The Usborne Book of World History and A Year on a Pirate Ship.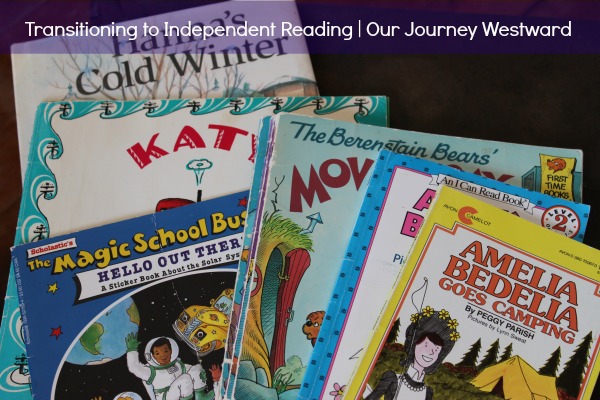 Not all the books on his shelf are highly illustrated, informational books.  I also include readers that are below his reading level and picture books we have read together a million times.  Why choose readers that are slightly below his current reading level?  They give him confidence that he can read alone – and read well.  While the picture books we've read a million times give him familiarity of the text and storyline so that he can have comprehension success.
The point is to give him a variety of book choices that cover several genres and topics. 
I change out the books on his shelf frequently so he's constantly finding fresh material to read.  And, by all means, if he wants to bring his own book choice to independent reading time, I absolutely allow that.  (It's kind of the end goal, really.)
Tell me how YOU encourage independent reading time with emergent readers?