Bees are insects that belong to the same family as ants and wasps. Yes, they are related to ants! Additionally, there are over 20,000 different species of bees in the world. As you can already see, bee nature study is fascinating and I'm excited for you to learn alongside me!
One of the best things about bees is the important role they play in pollinating plants. This, of course, helps flowers to grow. If you'd like to know more about pollination, please check out episode 10 of the podcast which happens to be all about pollinators!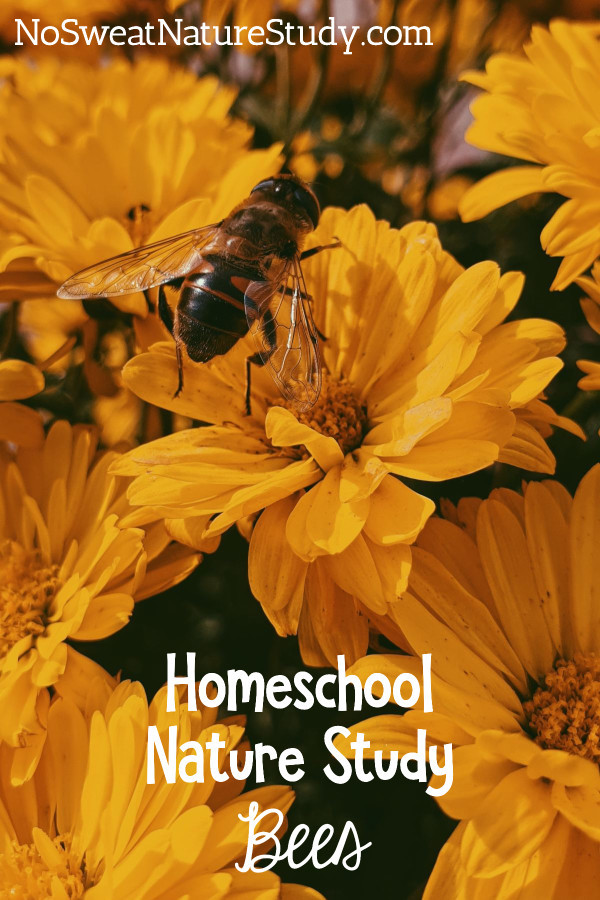 This post contains affiliate links.
Bee Nature Study
I already mentioned that bees are wonderful pollinators, which is super helpful for the life cycle of plants! Do you see the beautiful bee sipping nectar from the flower below? Notice the yellow grains of pollen stuck to the hairs on the hairs of its legs and the bottom portion of its body.
As the bee flits from one of those yellow flowers to another sipping sweet nectar, some of that pollen will attach to the sticky stigmas of the other flowers. If the pollen makes it down the style to the ovary, there is a chance the pollen will fertilize an egg so that a new seed can grow. That's exciting and important work!
Besides sipping nectar, which provides carbohydrate energy to bees, they will eat some of the pollen for protein, too. As you can imagine, they still fly home with plenty of pollen attached to their bodies, but it doesn't go to waste! They will feed it to bee larvae to help them grow big and strong.
If you can believe it, they also cart some of the nectar back home, too, in a little sac located in the abdomen. The nectar is the beginning part of the honey-making process!
Where I live, there are three types of bees that I see quite often: honeybees, bumblebees, and carpenter bees. All of them are great pollinators, but the carpenter bees have a less helpful trait as well. They make their breeding nests by drilling holes in wood. While it's actually very cool that their strong jaws can do that, the holes are often drilled into buildings that humans live in and use. People don't usually appreciate extra holes in their structures!
Below is a picture of a carpenter bee chewing a hole.
Bee Nature Walk Challenge
Download your free Bee Nature Walk Challenge below. It will be instantly delivered to your email inbox! Grab a nature journal and some brightly colored pencils or oil pastels to be ready for an exciting nature walk!
Bee Nature Study Video Class
During the No Sweat Nature Study LIVE class about bees, we'll focus on the amazing and incredible honeybees. These social creatures have a hierarchy that includes specific jobs to make the community run smoothly. Did you know honeybees live in a community? Honestly, it's almost like an actual town!
In your nature journal, you'll create your own honeybee community and assign bees various jobs as you learn about them with Mrs. Cindy. Of course, the busyness of bees produces some pretty fantastic goodies for humans that we'll learn more about, too.

Nature Walk Curriculum To Complement A Bee Study
One of the best ways to learn more about bee nature study is to join the No Sweat Nature Study video class. But, if you're not ready for membership yet, any of these curriculum guides can help you explore similar topics.
How do animals protect themselves from predators who would love to eat them for lunch? You won't believe the cool Defense Mechanisms of Animals have to keep them alive and well! From sharp teeth to chemical warfare and everything in between, you'll be amazed at the unique tools animals possess. Can you guess some of the defensive mechanisms that some bees have? (Stingers and fast speed are a couple of them.)
Learn about another power pollinator by discovering beautiful butterflies. In Butterflies Flutter By children will be inspired to find evidence of all stages of the butterfly life cycle and notice things like colors, patterns, behaviors, and so much more.
With all the talk about pollination, wildflower nature study would be a perfect topic to explore. Wonderful Wildflowers will help you to do just that through more than 20 creative nature walks and more than 40 exciting hands-on or kid-friendly research-based activity ideas.
Links and Resources
Spring Printable Packet
Download this free activity packet to enjoy a hands-on bee life cycle activity to go along with today's bee nature study episode. You'll also find a sorting game to be used with the May 29th episode about garden pests!
Please leave a rating or a review on your podcast app! It helps the podcast to show up for more people…which means more families can enjoy science through the wonderful lens of nature study! Thank you!
Would you like to record a voicemail to answer this season's nature study question?
At the end of each No Sweat Nature Study Podcast episode, Mrs. Cindy includes messages from a few of her friends. You have the opportunity to record a message that she might use on an upcoming episode!
All children must have their parent's permission before leaving a recording. Parents are welcome to record an answer, too!
Each season, there will be a different question to answer. You can see this season's question below. Think about your answer first and then follow these simple directions:
Click the button that says "start recording".
Tell me your first name. (If you want to tell your age and/or where you live, feel free to do that, too.)
You will have 60 seconds to answer the question, but try to be concise.
Push the play button to listen to your recording before sending it to be sure it is recorded properly. If not, simply record it again.