8 Living Books About Swans That Will Inspire You
When you think about swans what comes to mind? Do you picture graceful birds floating on a pond or scrawny babies that don't look graceful at all? In the living books about swans that I am sharing with you today, you'll meet bird characters that are graceful, some that are not, and everything in between.
In real life, swans are truly magnificent creatures. That must be why so many authors have been inspired to write stories with swans as the main characters. Lucky for us, the books they've written can inspire us, too!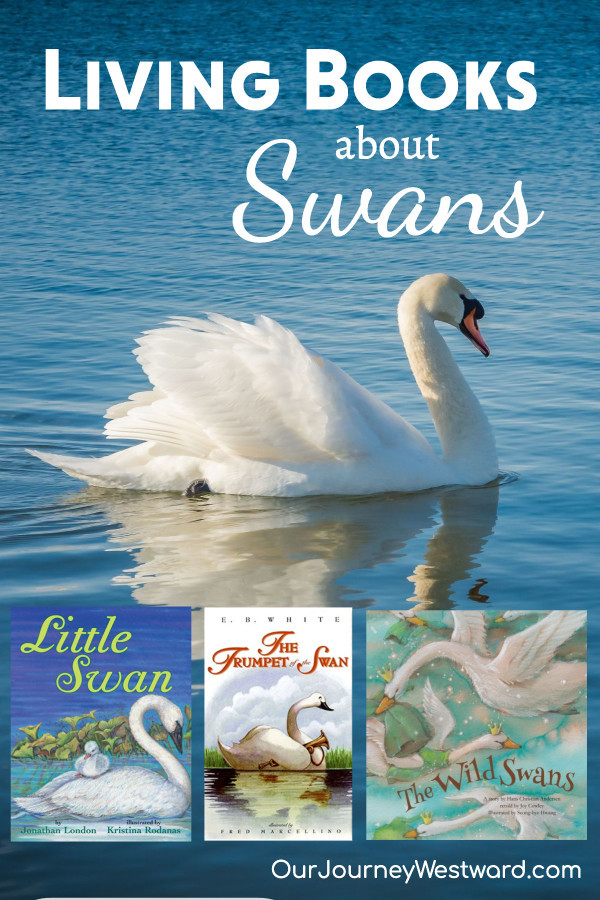 This post contains affiliate links.
In a recent No Sweat Nature Study video class, I taught a swan nature study that was inspired by one of my favorite chapter books, The Trumpet of the Swan, and written by one of my favorite authors of children's books, E.B. White. Before I introduce you to the list of swan books, I'd like to tell you just a little about why I love E.B. White so much.
E.B. White and Personification
E.B. White is the author of a few famous children's books: Charlotte's Web, Stuart Little, and The Trumpet of the Swan. If you've read any of these books, maybe you could tell that E.B. White had a very special kinship with animals and nature.
For instance, Charlotte's Web was inspired by White's experience on his farm in Maine where he raised animals. Like many folks who love animals, he developed a deep connection with them. The character of Wilbur the pig who is saved by a spider named Charlotte was based on a real-life pig from his farm.
What I love about Mr. White's stories is that he writes as though the animals are like humans and he knows their true feelings. We call this style of writing personification – or making non-human characters take on human characteristics. E.B. White does this beautifully as he weaves the life of humans and animals together in these living books.
E.B. White and Nature Study
In particular, I am drawn to all of E.B. White's books because of their connections to nature study. He often includes detailed descriptions of plants and animals, highlighting their unique characteristics and behaviors in the stories. This emphasis on nature encourages children to explore and learn more about the world around them.
Additionally, the human characters in his stories often form close relationships with the animal characters. Besides developing a natural empathy for animals, I think it heightens a child's observation skills while on nature walks. The storylines promote a love of nature and encourage readers to observe and appreciate the world around them, inspiring a lifelong appreciation for nature.
Not to mention, his books provide easy connections to scientific learning. From any of his books, you could easily enjoy discussions or further learning on topics like animal habitats, animal life cycles, and even symbiosis.
Swan Nature Study
The main character in The Trumpet of the Swans is, of course, a personified swan named Louis. Louis is a trumpeter swan who cannot communicate with other swans due to his lack of voice. Determined to fit in, Louis embarks on a journey to find his voice, making friends and discovering things about himself along the way.
Inspired by this book (and all the times I've been captivated watching real swans swimming in a nearby pond). I knew a swan nature study lesson was absolutely necessary. You can find that nature study class in the video library for members of No Sweat Nature Study.
In the class, we turn our attention specifically toward trumpeter swans while discussing the general characteristics of birds and the specific characteristics of swans. Of course, no study of trumpeter swans is complete without a tad bit of geography to learn about migrating habitats.
Swans exhibit a range of interesting behaviors to observe, such as their graceful movements while swimming or flying, their intricate courtship rituals, and their attentive care of their young. They play an important role in many ecosystems. You will create a nature journal page about swans in this exciting, literature-based No Sweat Nature Study lesson!
Living Books About Swans
Besides The Trumpet of the Swans, there are other beautiful living books about swans that I encourage you to read. You'll find several personified swans in these stories. Some are fairy tales and some are stories that interweave true characteristics, behaviors, and habitats for some scientific learning.
After reading a handful of books about swans, perhaps writing your own stories about swans would be a great family homeschool activity!

Other Blog Posts You Might Like