Confession time. I've been really slow about starting composer study with Eli (2nd grade.) Yep. Even seasoned Charlotte Mason homeschoolers don't do everything all the time. But…and this is a big but…I'm doing it now and it's never been easier!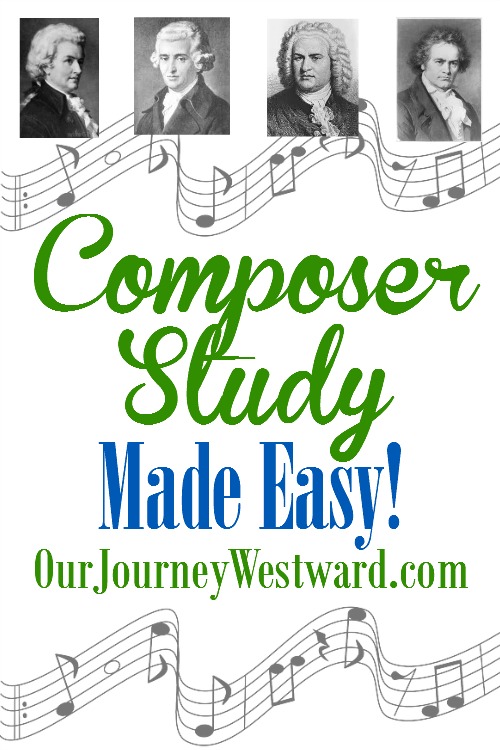 This post contains affiliate links.
Forget the fact that I got the Zeezok Music Appreciation for the Elementary Grades Book 1 Program for free and was compensated for my time in writing this post. I'm SERIOUSLY in love with this program and I'm over the moon that I don't have to plan my own composer studies anymore!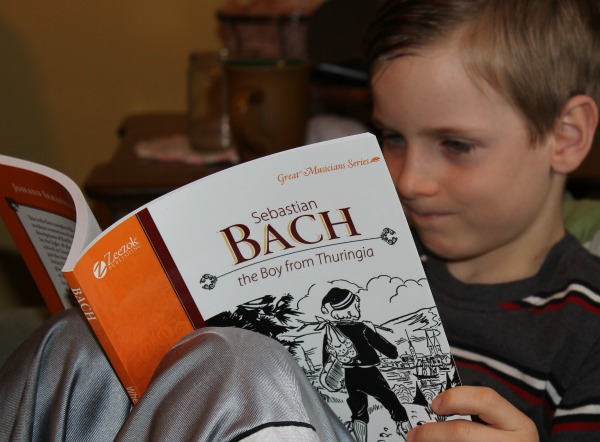 Charlotte Mason Composer Study
"Let young people study as far as possible under one master until they have received some of this teaching and know its style." Charlotte Mason
What is Charlotte Mason's style of composer study? The way I've always interpreted it is really pretty simple…We choose one composer to study for four weeks or so. During that time, we listen to his music, talk about his style, learn a bit about the composer's life, and learn a bit about the musical period and its instruments.
None of that sounds daunting and really isn't if you have the time to gather the CDs, biographies, and information about the musical period and such.
Easy Composer Study Planning
What if, though, someone handed you all the materials (plus some) and you didn't have one single thing to think about in order for composer study to really happen? Zeezok's Music Appreciation Program has done that for me.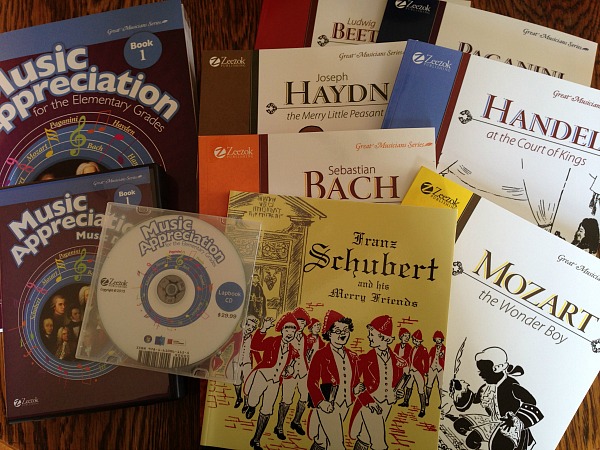 Using living literature as the backbone of the studies, four weeks of lessons are provided in a full-color workbook which allows you to learn all about the composer, his music, the musical period, and its instruments.  Um, yeah, that's everything I include in my own studies – but there's more.
Not only does the curriculum come with CDs of each of the seven composers' music, but the pieces are also intertwined with the story so you can hear exactly what he composed at various points in his life. If that isn't enough, the literature books also include sheet music in case your budding composer wants to give the pieces a go.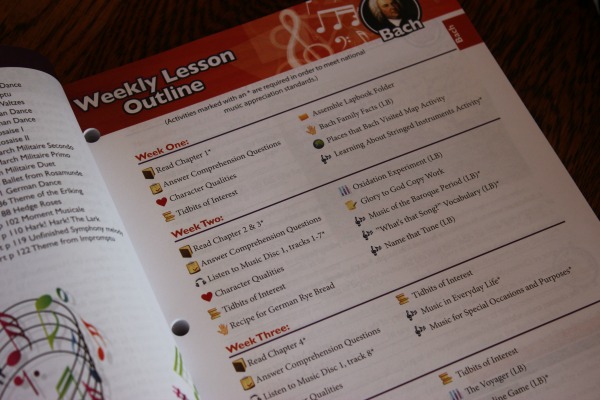 Besides the biographical and historical information gleaned from the living books, the workbook that comes with the program dives even deeper. I especially love the focus on each composer's positive character qualities. We often forget to talk about the behind-the-scenes lives of famous people, but this workbook shares a fresh perspective on their generosity, focus on family, hospitality, and more.
Worthwhile Workbooks
Most of you know that I'm not a huge fan of workbooks. But, man, this one rocks. Eli has been able to complete maps, make charts of instrument types, practice handwriting, complete experiments, take quizzes, and more. As you can see, this program is way more than just composer study. There are some days that I am able to check off history, geography, science, copywork, narration, and/or reading in our lesson plan book, too.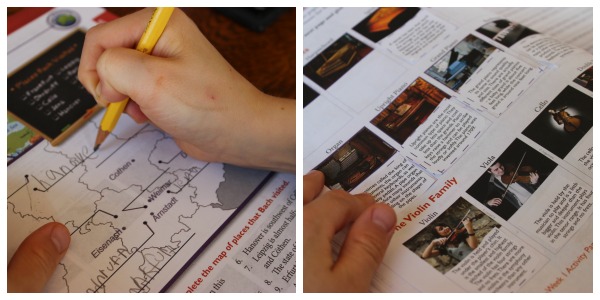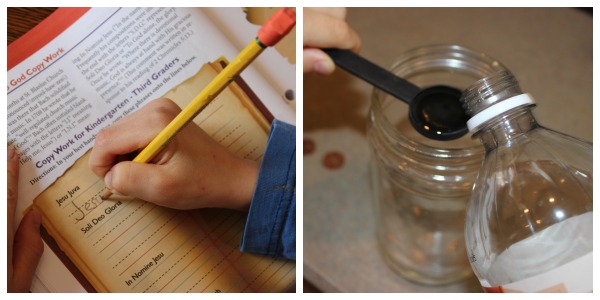 Composer Study Narration
While I'm using the workbook pretty much as is, there are a few things I'm tweaking to align more with our Charlotte Mason style. One example is the workbook contains written comprehension questions that follow each chapter of each book. Since Eli is only in 2nd grade, we don't do a lot of written comprehension questions, but we DO work on comprehension via narration. Rather than just leave those pages blank and move on, I've found the questions to be great for guided narration.
Ideally, the narration wouldn't involve many interruptions from the teacher. However, when a student is just getting started with narration, gets stuck, or has read a hefty chunk it can be helpful to ask guiding questions or give small hints to prompt the narration. In this instance, Eli has read an entire chapter from Sebastian Bach: The Boy From Thuringia. The book introduced some new concepts and vocabulary in a pretty lengthy chapter. So, the comprehension questions from the Zeezok Music Appreciation curriculum served as a guide.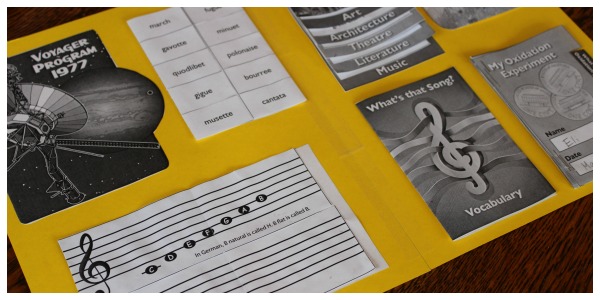 Lapbooking Composers
Even after all that I've already mentioned…the living literature, music CDs, sheet music, biographies, worksheets, activities, quizzes…there's more! For each composer, you can create a lapbook. A whole lapbook! (The lapbook templates are in full color, but my color printer is currently on the fritz.) As you can see from our Bach lapbook, we covered musical vocabulary, music theory, life during the Baroque period, and interesting science tie-ins.
Elementary Music Appreciation: Easy and Complete
Now you can see why I'm over the moon, right? I have no more need to plan my own Charlotte Mason composer studies when Zeezok has taken care of everything…plus a lot! I'm finding that we're taking longer than the four weeks suggested to finish each study, meaning the program will last us at least a year. Since it's appropriate for grades 2-6 (in my opinion), I feel fine about taking our time and savoring the program.
Interested in more composer study resources? I think you'll like these posts!
You might even like some of these products in my shop: