Enjoy Animal Signs Nature Study Wherever You Are in the World
I'm asked all the time if families should live in certain places or certain climates to get use from the NaturExplorers curriculum. The answer is no way. As long as you have specimens for any particular topic, you can most assuredly use NaturExplorers!
I'm so excited to welcome Ashley Fox to share a perfect example. Her family lives in Southern Florida. While she may not ever be able to use the Snow and Ice guide, there are still plenty of topics she can use. Her family recently enjoyed animal signs nature study using NaturExplorers in the Everglades!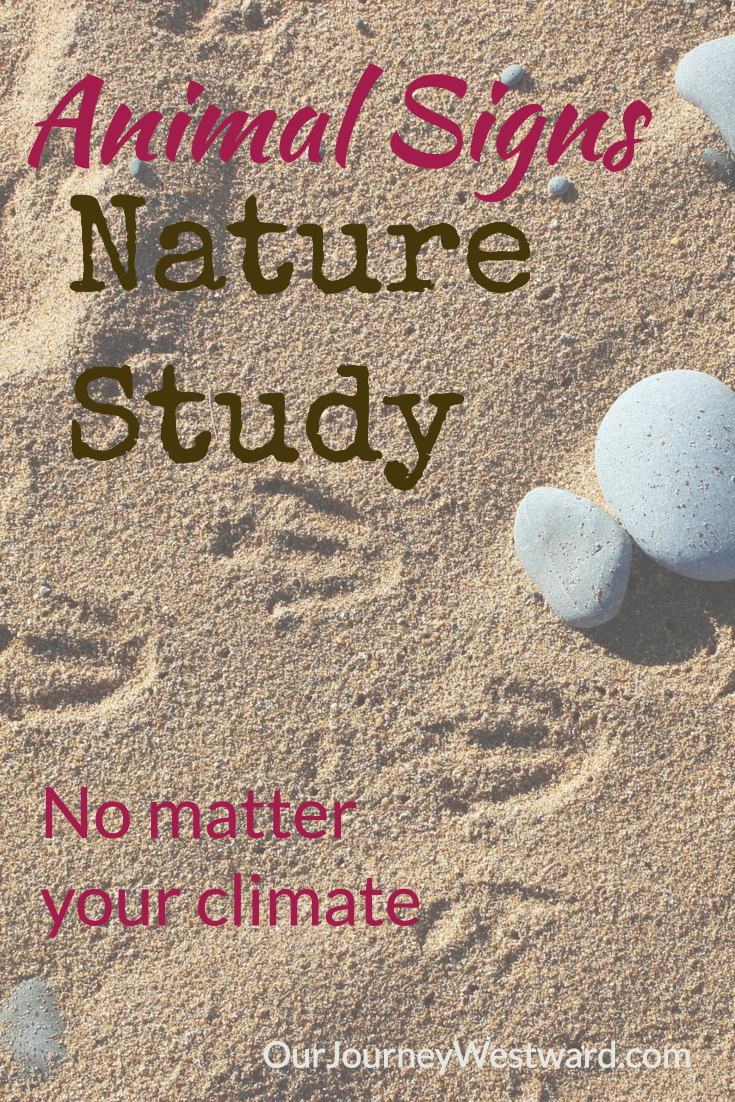 The Florida weather has cooled, and it's time to take our homeschool on an outdoor educational adventure! Join us for a nature walk through the cypress forests of the Everglades where we search high and low for animal signs – and even spot an alligator!
NaturExplorers in the Everglades 

I'm so excited to dig into nature studies this year with my science-loving six-year-old. I want my son to develop a love of the outdoors as well as expand his understanding of the natural systems and patterns in our world.
Investigating the natural world is the main focus of our first grade science lessons. I began the year with a few goals:
Take a nature walk weekly.
Get to know our local parks and nature centers.
Work with my son to develop a love and respect for nature.
Learn about our local plants and animals.
When we began the year, nature walks were enough. We read all the signs at the parks, hiked through the woods, and saw wildlife up-close at our local nature center. I could see my son growing his appreciation for the outdoors, but after a few months he was ready for more.
I should stop and explain here – I am a total city girl. My knowledge of the natural world is minimal. Last year, we focused so much on our around-the-world studies that we both ended up knowing more about lions and kangaroos than the rich and diverse flora and fauna in our own backyard! 
NaturExplorers Animal Signs was the perfect guide to help us look beyond what we normally see on our walks. There are so many activities to choose from to expand our knowledge of the natural world.
The best part is that most of these guides work in our tropical climate. Much of the nature study curricula available for younger grades is based on observing the four-season year – which just doesn't work for us. While we still learn about spring, summer, fall, and winter, we don't experience seasons the same way in South Florida. NaturExplorers is much more flexible. Exactly what we need!
Come enjoy animal signs nature study with us as we walk under the Florida cypress canopy and discover wonderful things along the way!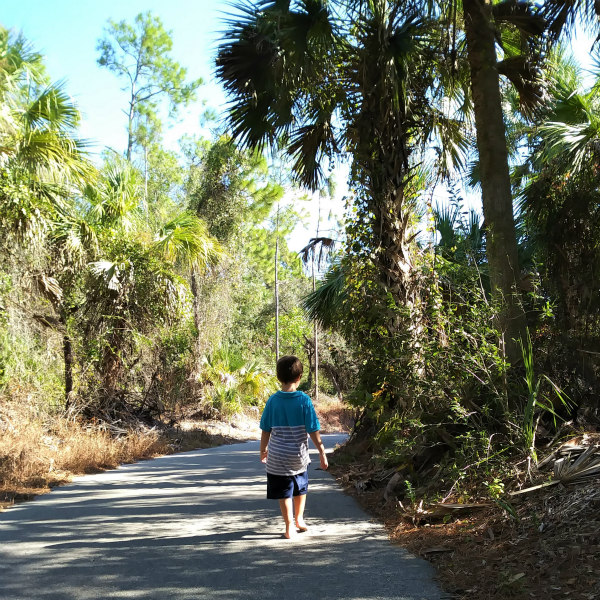 Animal Signs Nature Study
We headed to a preserve that we have visited many times before. This time is different. We have a purpose! We are searching for animal signs.
Before we left, we packed up a compass, nature journal, pencil, and water and discussed some ways you can find animals – even when you can't see them. We've looked for animals many times but are usually only successful in finding birds and squirrels. This time he found one sign after another.
My son was so excited about this new and different way of exploring nature! As we walked along the trails, he found all sorts of evidence that animals had been around.
Signs of animal life:
Feathers
Tracks in the mud
Burrows
Bird and Squirrel nests
Animal poop!
Instead of just passing these signs by we stopped, took pictures and talked about what he'd found. What animal did this come from? Why was this animal here? Where do you think it was going?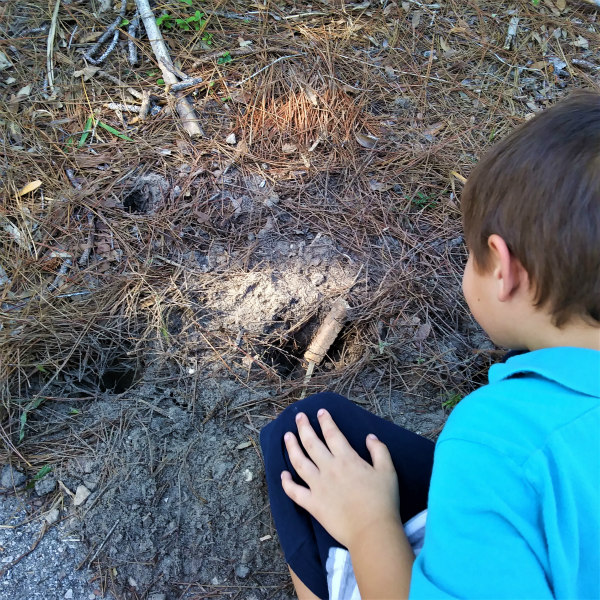 Following Trails
One idea from Animal Signs was using a compass to follow animal tracks. Learning how a compass works is really cool stuff for a six-year-old! He was familiar with the Compass Rose that we'd seen on maps and globes, and using a compass on our nature walk allowed us to expand on that knowledge.
We discussed how a compass works and why it points North, how North is always North – even when you turn around, and how to correctly hold and read the compass. He even found and followed a few little tracks in the mud next to a small stream. He decided those tracks were from a squirrel going to get a drink!
As our hike wound down, we stopped to compare our compass directions to the map along the trail, and my son guided us with his compass to the lakes where we saw many of the animals we'd been talking about on our nature walk.
Seeing the animals is always a joy. We saw a black heron, crow, ibis, squirrels and even caught sight of an alligator sunning on a rock in the middle of the lake!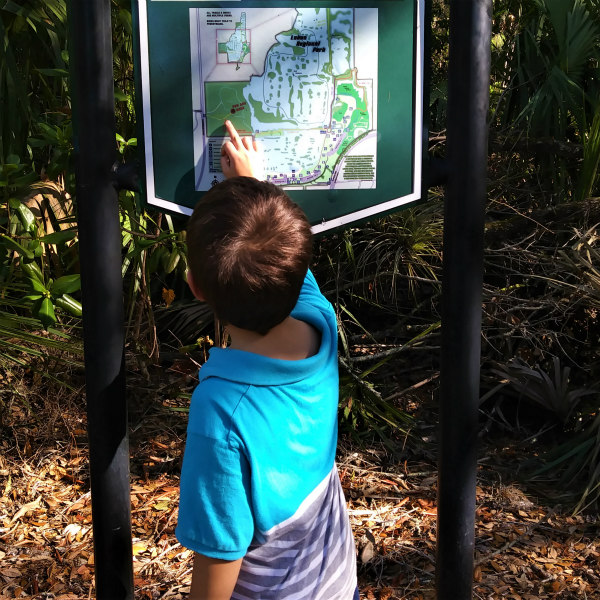 Nature Journal
As the sun started to set, we needed a break. Those little six-year-old legs were tired! We found a bench and my son spotted a bird's nest in a nearby tree. He asked for his journal and drew a picture of it. Our nature walk had come to an end, but he was still spotting animal signs!
I am thrilled that he was so inspired. This was the first time he asked me for his journal – usually it's me encouraging him to use it!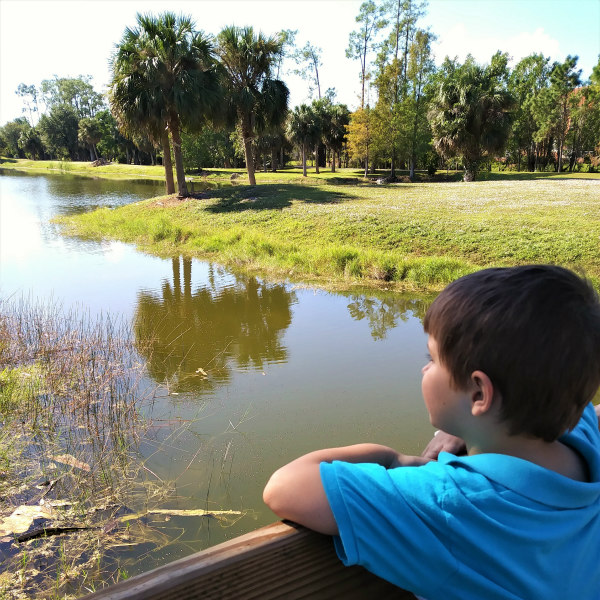 NaturExplorers at Home
After our nature walk, my son was excited to return home and tell Dad about all of our amazing discoveries. Especially about finding the poop! That was the animal sign that stayed with him the most!
But learning didn't end on our walk. I love the extension ideas like journaling pages, activities, and online games to enrich our studies throughout the week. NaturExplorers has really helped me bring nature into our home and integrate our weekly exploration with lesson plans and activities.
Digging Deeper into Nature Studies
Now that we are NaturExplorers, I have a better grasp on how to turn a simple nature walk into an educational experience.
I'm looking forward to digging deeper into our nature studies – turning our casual walks into powerful lessons through careful observation and purposeful exploration. I can see my son acquiring and applying his new knowledge each time go exploring, and I'm learning right along with him!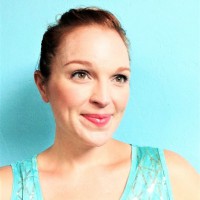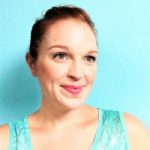 Ashley Fox is a homeschooling mom of three fueled by lattes and Florida Sunshine. Find more of her family's adventures along with lesson plans and resources on The Homeschool Resource Room.
Other posts you might like:
 Hands-On Rock Cycle
 A Photography Nature Project
 Easter Nature Study Printable