How To Wrap Up Homeschooling for the Year
Let's wrap up homeschooling for the year! I promise it doesn't have to be stressful at all.
No matter your homeschool style, I bet you're staring down piles of workbooks, notebooks, lapbooks, projects, worksheets, and folders. The end of the school year comes with wonderful examples of your family's hard work!
I've been asked before if I keep all of my children's work from year to year. My answer – mercy no! In this post, learn what you should consider keeping and what you are free to pitch.
There's a temptation to keep every single thing as memories to look back on someday. Or, to squirrel away as proof of homeschooling should someone ask to see it. While you certainly could keep everything, there really is no need. Unless you love the idea of stuffing giant plastic tubs full of old schoolwork for each of your children year after year, there is a better plan. What I'm sharing with you today has been my plan over the years.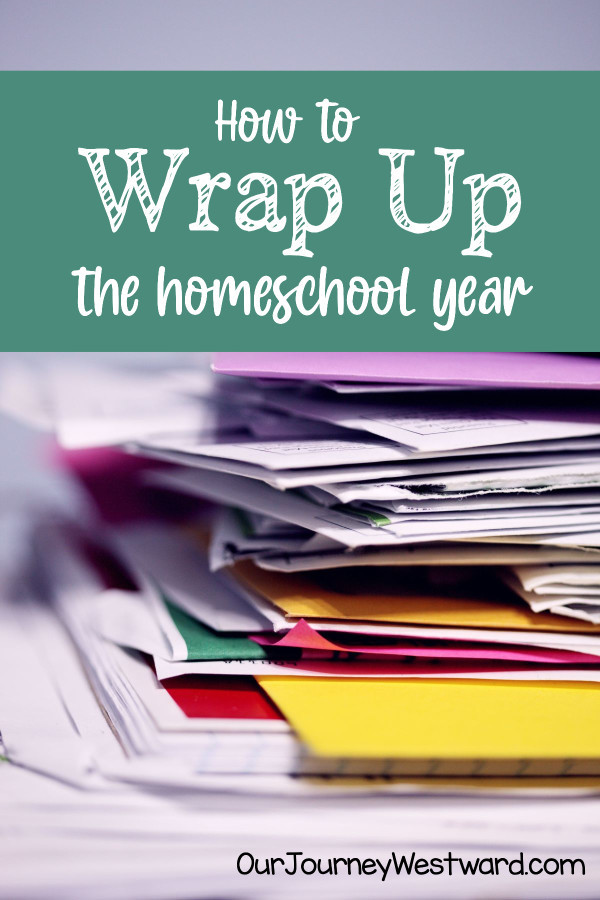 This post contains affiliate links.
Let's Wrap Up Homeschooling for the Year
Throughout the school year, I try to stay somewhat organized as schoolwork is completed. All of the children's work goes into subject folders or notebooks. For example, when a math lesson is completed and checked, it gets filed in the math folder for that particular child. All stories, newsletters, spelling tests, grammar sheets, etc. are filed in the language arts folder. I keep all the folders for each subject for each child in one simple box of hanging files.
There are plenty of times that schoolwork doesn't come in the form of single papers to be filed away easily. For instance, when my children are working through a workbook, I will typically leave all the pages in the workbook and simply file the entire workbook in the appropriate hanging file once it's finished.
Another example is when we're working on themed learning like a unit study. We keep all the related work in special themed folders or notebooks that DO NOT go in the box until the entire study is finished. I usually allow my children to decorate the cover of a folder, notebook, or lapbook so that it stands out as THE special place to collect all the themed items. Those fancy-themed folders and notebooks are finally filed away in the appropriate places in the box at the end of the study.
For bigger projects or activities that don't really have anything to file – like field trips, recipes, or experiments – I sometimes take pictures to file in the folders.
It's the End of the Homeschool Year. Now What?
By the end of the year, that box of hanging file folders may be bursting at the seams. Clearly, there is way too much to keep, so what's the next step?
I start by pulling out the subject folders for one child at a time. For that single child, I'll pull out every single folder having to do with him or her…math, language arts, science, history, etc.
I open one folder at a time and start shuffling through to pull out 3-10 samples of the best work for that subject. Those 3-10 things will become part of an end-of-the-year portfolio. 
You could choose to pull out work that represents growth instead. For instance, one handwriting paper from the beginning of the school year, one from the middle, and one from the end. Hopefully, those samples will show the improvements in handwriting over the course of the school year.
Once I go through each folder and pull out 3-10 samples, that small stack becomes the work that will be saved as the year-end portfolio.
What counts as a sample for a portfolio?
That's up to you. It could be one worksheet, an entire folder/notebook/lapbook from a unit study, or an entire workbook. To decide, I always ask myself two questions:
What would my children REALISTICALLY like to have as a memory from the school year? (Workbooks probably aren't the answer here.)
What would be sufficient to show as proof of legitimate homeschooling if someone showed up at the door within the next year? (Usually, this is much less than you think. Some representative samples of work from all subjects, a calendar of your homeschool attendance, thorough lesson plans, and report cards are usually plenty.)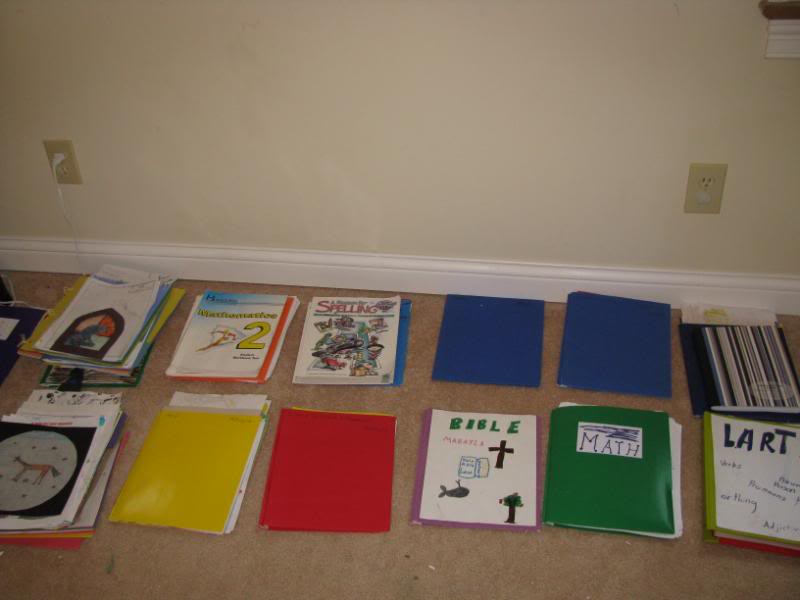 You Can Pitch The Rest
All other worksheets and leftovers that don't make it into the final portfolio are pitched. Yes, you read that correctly. They are thrown in the garbage. Gasp, you say? How can I get rid of all ?? What IF someone needs to see it all as proof??? What IF my children hate me forever for throwing away pages and pages of math problems, crinkled art projects, and rotting nature study collections????
Let's go back to "proving" a legitimate homeschool for a minute. When I taught in the public school system, a similar method of "a few best pieces" was the practice for each child's cumulative folder. If it's good enough for them, it's good enough for me. The rest of the work was sent home to the parents (where it was, quite likely, pitched into the garbage.)
If you're ultra-concerned that your child will be devastated if you throw things away, you have a few options. First, save everything. No one's stopping you. Second, save everything for a year and then reevaluate what needs to stay. Third, take lots and lots of pictures and create virtual folders to use for reminiscing.
100+ math pages from the year…
…turns into about 10 pages of math to keep.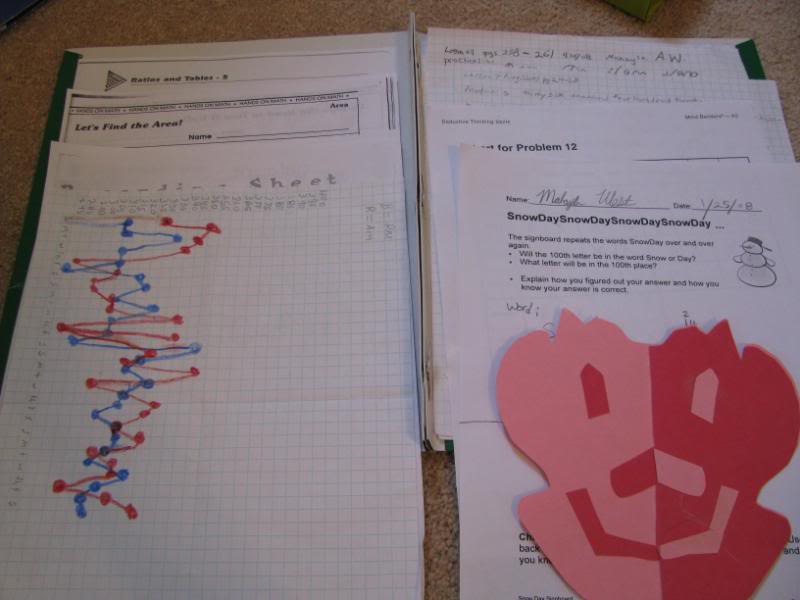 What about those beautiful notebooks and lapbooks?
The final portfolio contains samples of writing, spelling, grammar, maps, math, and other important things. Additionally, I will often (but not always) keep ALL unit folders, notebooks, and lapbooks. 
These are things I actually do want to keep intact and on file from year to year. Why these? They tend to represent the most memories and fun of our homeschooling. Much effort and time were put into documenting our learning. Plus, they are things I think we actually will want to look back on someday.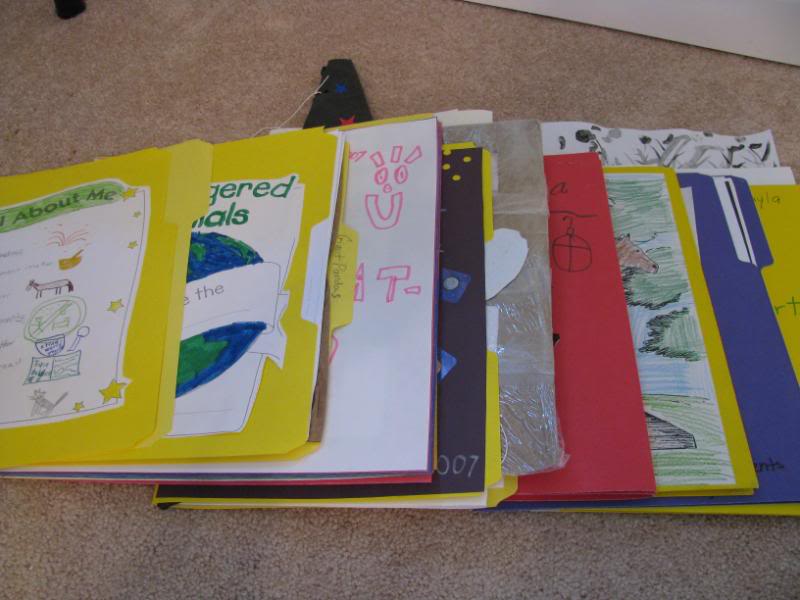 What to do with the fun homeschool extras?
Our children often create special art projects or get meaningful birthday cards in the mail. They might win an award at a homeschool co-op competition or have an autographed picture with a famous athlete. Yearbooks, school pictures, ticket stubs, programs from musical performances or plays, newspaper clippings, and anything else that seems especially memorable are saved.
I make a folder in the hanging folder box to compile the "extras" for each of my children throughout the year. After a birthday card sits on the mantle for a week or two, I file it away in the extras folder. After the autographed picture hangs on the refrigerator for a few weeks, it's filed away, too.
At the end of the year, I treat the "extras" folder just like any other folder in the box. Typically, I end up keeping most of what's included in this folder as part of the final portfolio.
Year-End Homeschool Portfolio
In the end, a final homeschool portfolio for the year is only about 3″ high. It includes all of the sample work for each subject, special "keepers", the extras, and a report card.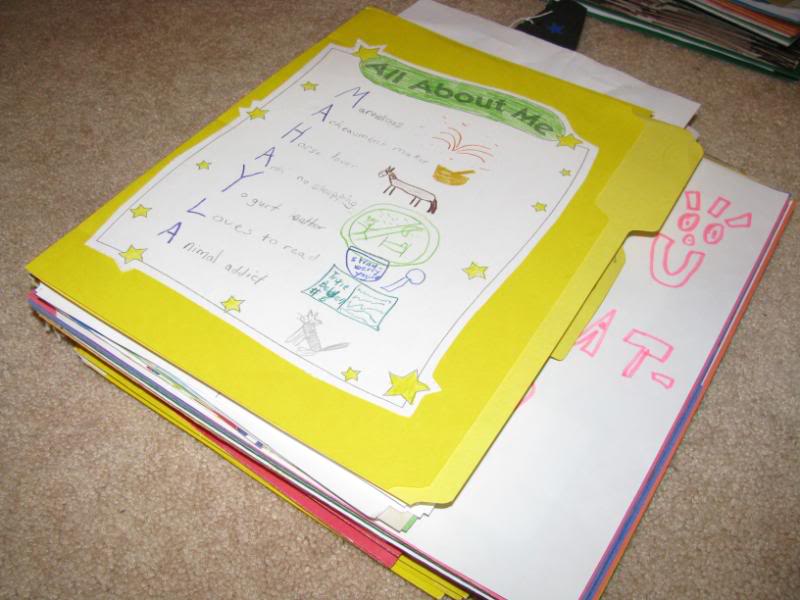 I wrap a large rubber band around the stack and then place each child's stack along with the lesson plan book from the school year in a plastic tub.
My lesson plan book also includes the beginning of the year goal sheets, a list of curriculum used, and any correspondence papers from the board of education.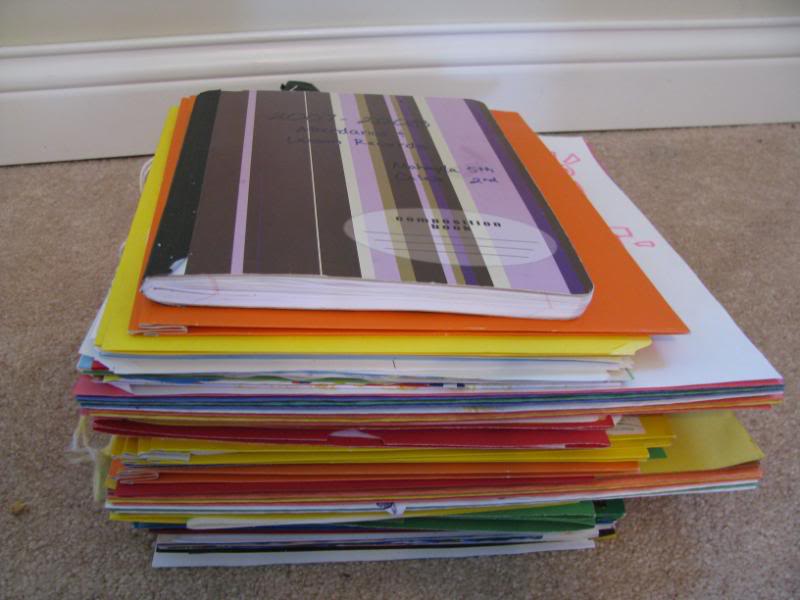 This is what recently went into the tub – final portfolios for two children and my lesson plan book. Now I have a nice set of memories from the year, as well as a solid bit of "proof" for homeschooling should I ever need it.
I'd love to see how you wrap up homeschooling at your house!
Wrap Up Homeschooling Sooner Than Later
One tip more tip. Don't wait too long to wrap up homeschooling once your school year is over. Not only will your mind be fresh with what's important to keep and file away, but you will be able to actually relax and enjoy the well-deserved break ahead.
Other Posts You Might Like
Products You Might Like