You'll Love This Kid-Friendly Water Testing Kit for Science
Water is such a fun topic for homeschool science. Yep, plain ol' water.
Study its properties, its physical states, the water cycle, weather events, the geography of water around our world, water sources, water treatment, and water conservation. Learn about water as biomes and the various life that inhabits each.
Observe water in nature, measure it in many ways, test it in many ways, change it in many ways, and do about a zillion other experiments.
Each of these fitting into various science categories like earth science, physical science, chemistry, and environmental science. And, can you imagine nature study possibilities?
Today, I'd like to share a fun water science activity that not only offers you really cool experimentation but is extremely practical for learning about the safety of your own drinking water.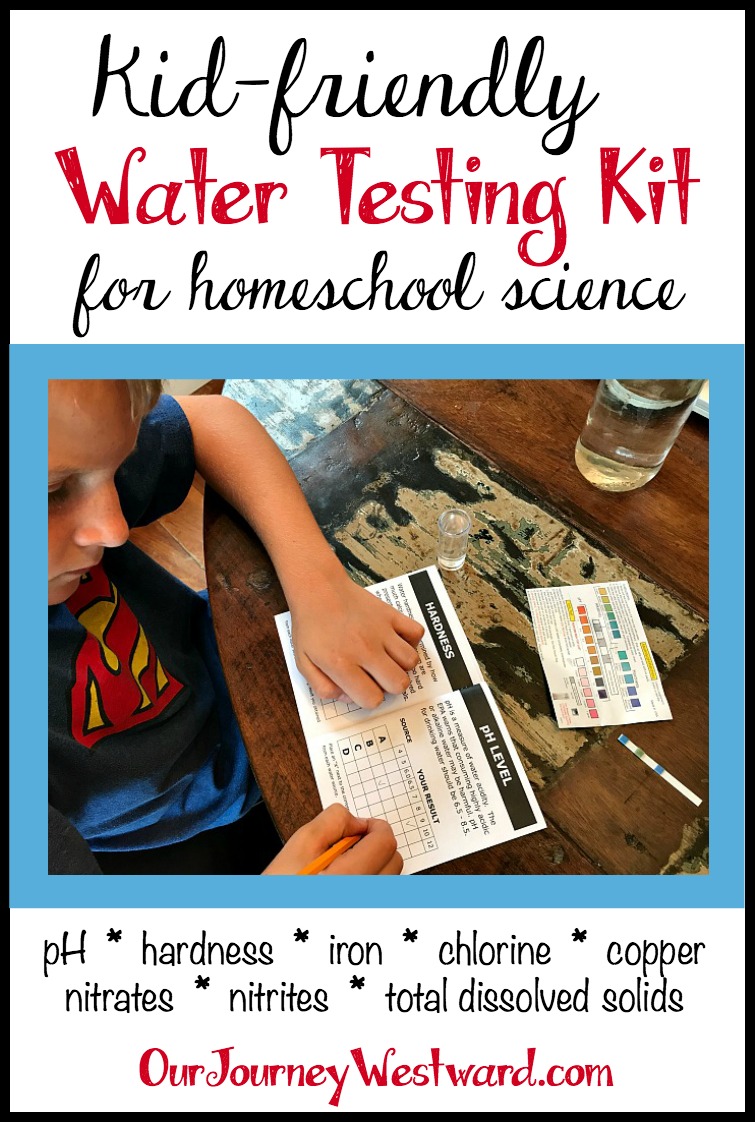 Affiliate links are included in this post. I was sent a free water testing kit in exchange for an honest review. As always, all opinions are strictly my own. I was also compensated for my time spent writing this post.
Which Type of Water Do You Have?
We live in central KY where the karst topography provides beautiful rolling hills with easy-to-find freshwater springs and sinkholes. Many love to explore the well-traveled cave systems created by the dissolution of limestone rock by underground water sources, and some brave souls even explore the less-traveled sinkholes.
Because all that beautiful limestone becomes part of our drinking water, we have what's called "hard water." That means the water has a really high mineral content that leads to things like stains and hard-to-remove scaling on tubs and sinks, clogged plumbing pipes, and damage to dishwashers and washing machines. We can have difficulty getting laundry clean – especially whites – and it can irritate sensitive skin.
I've KNOWN we have hard water for years, but we'd never officially tested it. We made the switch to home delivery of spring water for drinking and cooking several months ago because we "thought" that was probably a good move, but we really had no proof…until now.
Kid-Friendly Water Testing Kit
When WaterTestingKits.com contacted me about reviewing a kid-friendly water testing experiment kit, I was very excited to say yes! I knew it was the perfect opportunity to test our water and get my 5th grader involved in the process.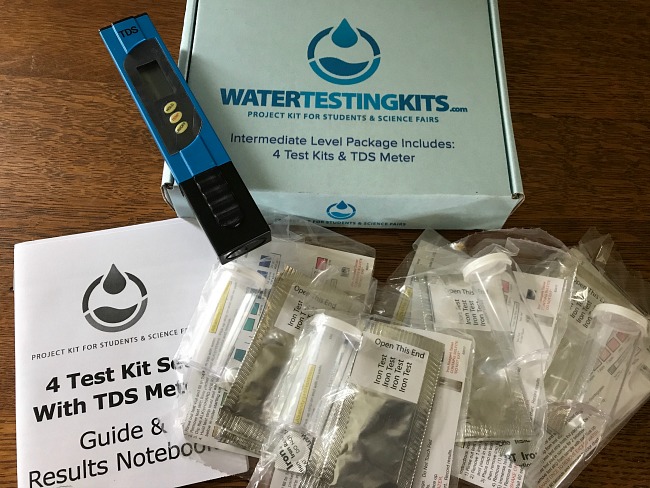 Homeschool Science Kit
The 4-Pack Water Testing Kit for Schools and Science Fairs was perfect for our family. Of course, we wanted to test our tap water vs. the spring water. We also happen to have well water on our farm that the animals drink, so we decided to test that, too. And finally, we decided to see if there was a difference in the water stored in the hot water tank vs. the tap water.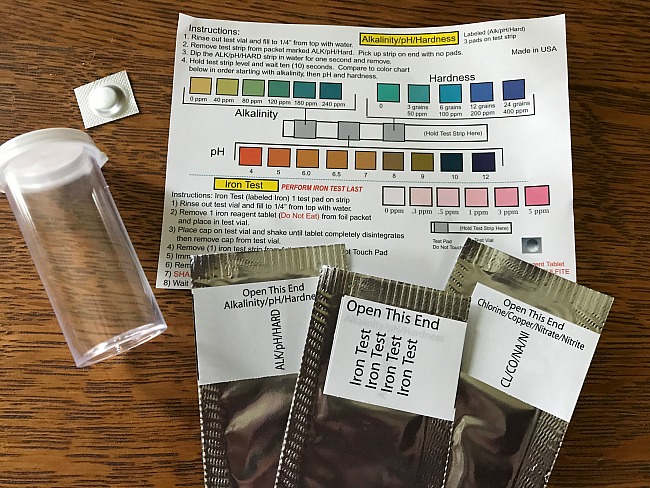 The kit comes with four individually packaged tests that each include all the easy-to-follow directions and supplies you need to test any sample of water for levels of:
Alkalinity
Hardness
pH
Iron
Chlorine
Nitrates
Nitrites
Copper
Dissolved Solids (*Our kit came with a TDS meter. I'm unclear whether the water test kit for students currently comes with this device or not.)
It was easy-peasy for Eli to follow the directions and complete the tests for each water sample. He simply had to fill the little container with water and dip it in various test strips following the step-by-step directions.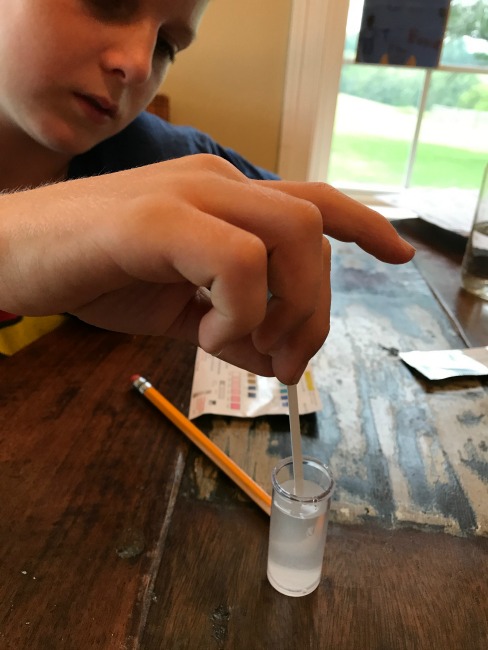 Each of the test strips includes pads that turn various colors depending on the water they are measuring in the water. You compare the colors on the pads to a color chart from the kit, making it very easy to determine test results.
Fast Water Testing Results
It's super fun watching the pads turn colors and receive immediate results. Eli loved this part!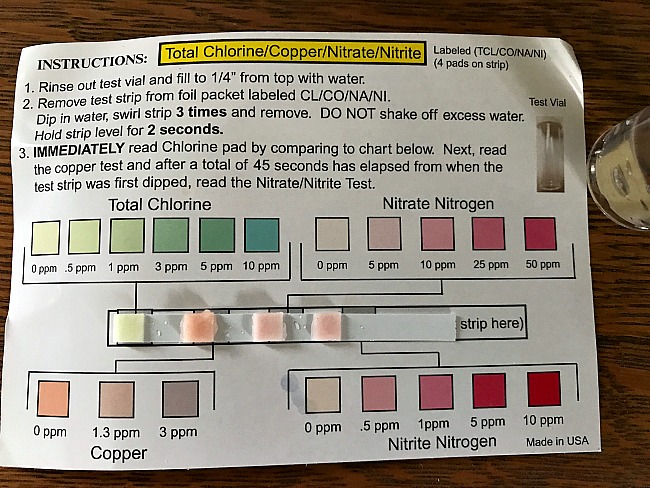 You only have to test a single water sample four times in order to see the results of the nine different tests. Several test pads are located on the same test strips, so getting results is quick and easy. We were able to take a single type of water through all nine tests in less than 10 minutes.
Testing all four samples, compiling the information, and analyzing it took us about 45 minutes.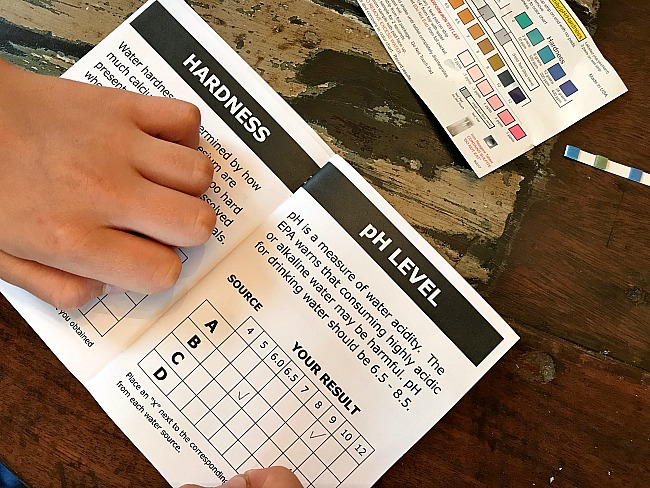 Scientific Data for Kids
The water testing kit comes with a booklet to note results. I appreciate that each different type of test (ie. pH level, iron level, copper level) allows you to compare the results from all four samples at one time.
I also appreciate the ease of completing the result charts. All Eli had to do was check off the numbers from the test indicators in his booklet. He was so excited to be able to immediately begin comparing results.
The back of the booklet describes normal levels for each result. It was pretty cool to confirm our belief that our tap water truly is over the suggested limit for hardness and that our spring water is right on the money. Interestingly, the well water was even harder than the tap, while the hot water tank water measured the same as the tap.

Nature Study Water Testing Possibilities
You don't have to use the kits for drinking water only! Think of the possibilities for comparing your drinking water to the water in ponds, creeks, springs, rivers, oceans, or even puddles.
Based on the results, your kiddos could research the water cycle, groundwater, natural water filtration, and water treatment plants. You could learn about the rocks in your area and why certain minerals are (or aren't) more prevalent in your water supplies due to the minerals found in your rocks.
This could lead to research about water pollution and the use of chemicals in the drinking supply. Presentations and debates could follow.
Oh, the possibilities are endless with the spark of this little water-testing kit!
I can't wait to hear what you test with yours. Share pictures on Instagram with the hashtag #ourjourneywestward!
Other posts you might enjoy
Nature Study IS Science
Using Science Kits in Homeschooling
100+ Living Math Activities