Project-Based Learning: Paper Projects
Thank you to everyone for such kind comments about this series! We're on a roll and today I'm just going to dive right into more project ideas – this time, using simple pieces of paper. Yep, paper and a few art supplies can go a l-o-n-g way.
Grab a few very basic supplies and get started right away with powerful project-based learning using paper!
Supplies to Keep Around the House
plain white copy paper – 8 1/2″ x 11″, 8 1/2″ x 14″
colored copy paper – pastels, brights
card stock – white, colored
construction paper
lined notebook paper
journals – lined, blank
basic art supplies – pencils, crayons, markers, colored pencils, scissors, glue, tape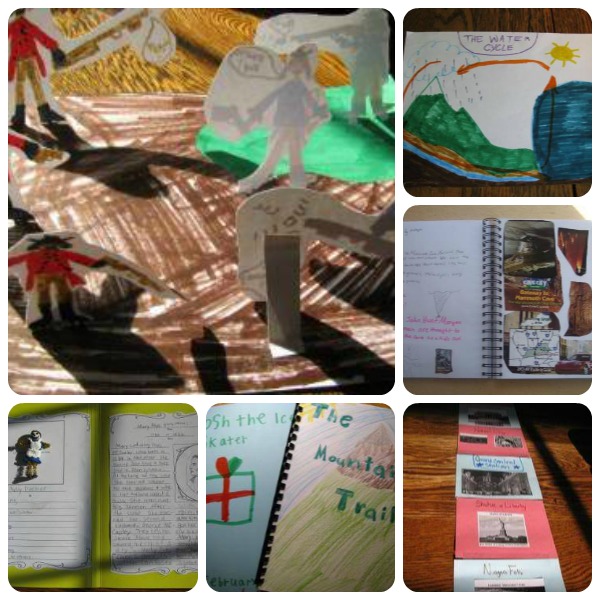 Projects To Do With Paper
Notebooking pages – Often, I simply ask my children to use a piece of paper and turn it into a chart, illustration, diagram or map and add some writing about the topic. Sometimes we'll compile notebooking pages into a "book" about the topic. Sometimes, we'll glue the notebooking pages into a file folder to make a "file folder report", or glue them on a cereal box and add a prop inside to make a "cereal box report."
Postcards, Brochures, Newsletters, Advertisements – Turning factual information into something "real" has always motivated my children.
Writing for an Audience – "Published" books, journals, writing submitted to the newspaper or a magazine, or even blogging give children an outlet for writing projects with a "real" purpose.
Paper "Crafts" – Our projects aren't just for crafting (or time wasting as my son would say), they are for a purpose. For instance, to make quick characters for a stick puppet drama to reenact a history event. Other crafting type projects might include scrapbooking, making quick models, and cut-outs for another project (like a mobile.)
These ideas only skim the tip of the iceberg for using paper in PBL. Once your children get the hang of diving into projects, you'll be amazed at the things they find to do with paper.
Join me tomorrow when we talk about Real-Life Project-Based Learning!
Learn More About Project-Based Learning
What exactly is project-based learning, why would you want to do it, and what exactly do you do to pull it off successfully? This Homeschool Masterclass shares everything you need to know!