If writing isn't a natural passion for your child, it can be a subject full of drudgery. Believe me, I know. Up until this year Mahayla has fought me tooth and nail over any sort of writing assignment. This year has been different, though. I believe she's enjoying writing partly because of maturity, but I've made a real effort to make writing more exciting this year, too. I've already mentioned the writing prompts, so I thought I'd pass along some of the other ideas that are working.
JOURNAL WRITING
Jill Novak has written a wonderful book called The Gift of Family Writing. In the book, she encourages the use of journals for each member of the family to write down life's stories as they happen. I blog, that's what I consider my journal. For Mahayla, I've made journal writing fairly structured for now. Once a week she has gets to write in her journal. I usually give her the assignment on Monday since so many memory-type stories come out of the weekend fun. She is actually LOVING this journal writing thing! And what wonderful memories she'll have of her childhood as we save the journals over the years. I can even see her learning to enjoy this so much that she begins to write out journal entries when they aren't assigned.
As for Caleb, we are just beginning his journal. It's an assigned time each week, too. As Jill suggests, for now, his journal is strictly narrated to me as I write what he says. Jill believes getting the stories out is more important than the drudgery of actually writing for younger ones. Telling their stories and then reading their stories back to them will develop much more in depth, real writing than if a child were struggling to physically write it themselves.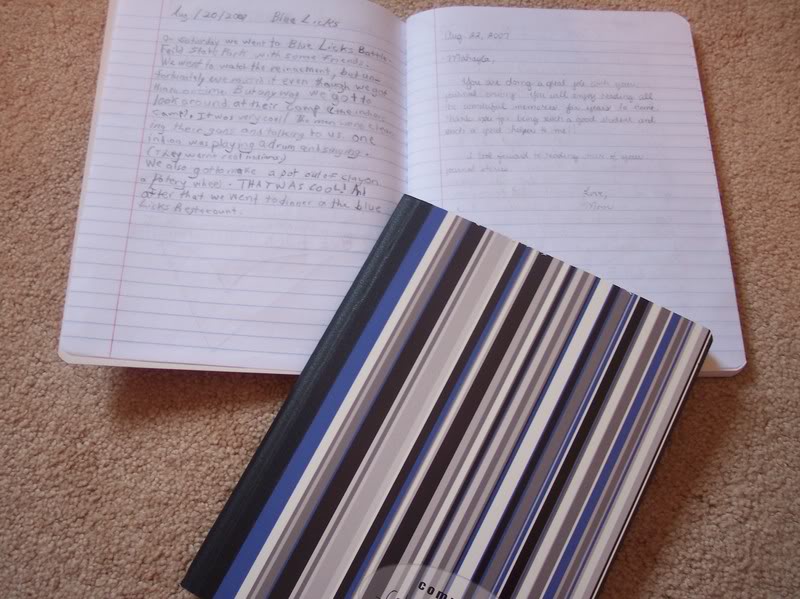 BLOGGING
Early in 2007, I let Mahayla start a blog. She made entries here and there, but was never consistent. In my goal planning for her year, I knew I wanted her to write more, get typing practice, and learn more about the computer. So…..giving her a weekly blog writing assignment became part of the curriculum. Again, this has been a "hit"! She's allowed to write about anything she wants – even copying a recipe from a cookbook counts – so the assignment ends up being fun. It especially helps that other little girls comment on her entries. Doesn't everybody prefer a real audience for their writing?
NEWSLETTERS
I also have plans for taking one week each month and spending the language arts time doing a Family Newsletter. There won't be any spelling, grammar, copywork, or other writing assignments the whole week. That time will be spent writing, editing and publishing a newsletter using a computer template. At the end of the week, the kids will mail off the Westward Gazette (or whatever they decide to call it) to family members. Our first newsletter won't go to press for another week, but the kids are already excited about it. I'll let you know how it goes.