100 of the Best Picture Books for Middle School
Picture books for middle school? Shouldn't older students have moved on from picture books years ago?
Not necessarily. Many of the best living picture books include amazing stories with rich language that big kids are finally able to read and enjoy on their own.
Additionally, some of the picture books we have on our shelves do a beautiful job of introducing kids to serious topics – like war or racism. And I purposely tend to hold these back until my kids are old enough to handle the emotional content.
Even with books that don't cover heavy topics, there are many picture books with nuances that are best understood by older children.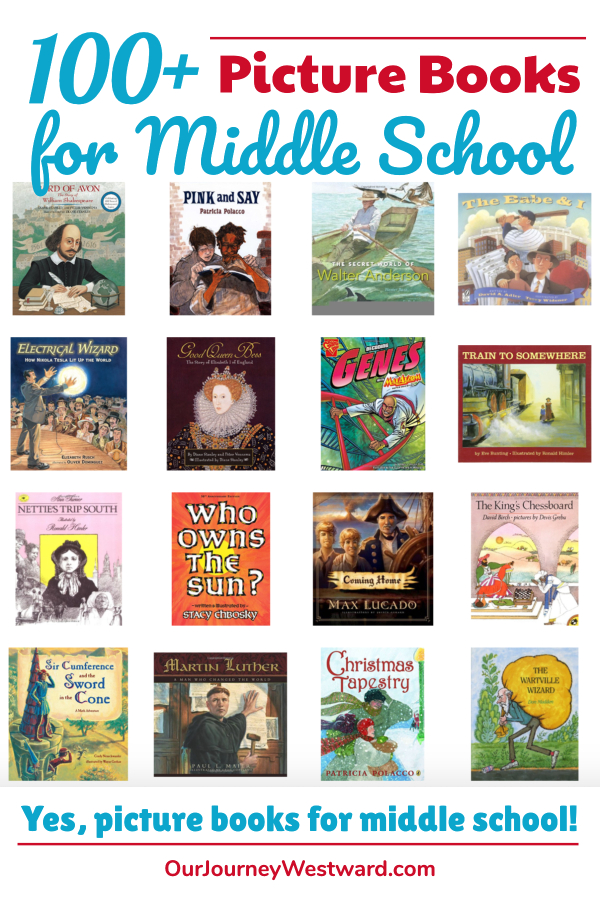 This book contains affiliate links.
I've included more than 100 picture books for middle school students below. This is by no means an exhaustive list because there are so, so many picture books that could be appropriate for middle school students to read.
You may see some books on the list that you've read with younger children before. It's okay! Some of them are entirely appropriate for younger children, too, but I've included them on the list because of the nuances that can be read with an entirely new perspective now that your children are older.
In our homeschool this year, Friday is picture book day for free reading for my 6th grader. I keep a rotating pile of the books listed below for my son to choose from.
The books that cover more sensitive topics, about war for instance, I like to either read with my son or take some time for pretty deep discussions after he's read them on his own. Nettie's Trip South is an example of such a book. It's about a young girl who witnesses a slave auction and includes some pretty raw emotions. For this reason, you may want to do a quick pre-read of the books listed in the history section before handing them over freely.
History Picture Books
The 5,000 Year-Old Puzzle: Solving a Mystery of Ancient Egypt by Claudia Logan
Angelo by David Macauley
The Babe and I by David A. Adler
The Bard of Avon: The Story of William Shakespeare by Diane Stanley
Baseball Saved Us by Ken Mochizuki
The Bobbin Girl by Emily Arnold McCully
Delivering Justice: W.W. Law and the Fight for Civil Rights by Jim Haskins
Electrical Wizard: How Nicola Tesla Lit Up the World by Elizabeth Rusch
The Faithful Friend by Robert D. San Souci
The Fool of the World and the Flying Ship: A Russian Tale by Arthur Ransome
Goin' Someplace Special by Patricia McKissack
Good Queen Bess: The Story of Elizabeth I of England by Diane Stanley
Growing Up Pedro by Matt Tavares
Jubilee! One Man's Big, Bold, and Very, Very Loud Celebration of Peace by Alicia Potter
Lady Liberty by Doreen Rappaport
Minty: A Story of Young Harriet Tubman by Alan Schroeder
Moses: When Harriet Tubman Led Her People to Freedom by Carole Boston Weatherford
Nettie's Trip South by Ann Turner
Peppe the Lamplighter by Elise Bartone
Seaman's Journal by Patricia Reeder Eubank
The Seven Chinese Brothers by Margaret Mahy
Smoky Nights by Eve Bunting
Star of Fear, Star of Hope by Jo Hoestlandt
The Story of Ruby Bridges by Robert Coles
Train to Somewhere by Eve Bunting
Uncle Jed's Barbershop by Margaree King Mitchell
Vassilisa the Wise by Josepha Sherman
A Voice of Her Own: The Story of Phillis Wheatley, Slave Poet by Kathryn Lasky
The Wall by Eve Bunting
Who Owns the Sun? by Stacy Chbosky
History Series Picture Books
Holling C. Holling Series (actually great for science, too)
Science Picture Books
Alejandro's Gift by Richard Albert
The Amazing Impossible Erie Canal by Cheryl Harness
Bartholomew and the Oobleck by Dr. Seuss
The Boy Who Drew Birds: A Story of John James Audubon by Jacqueline Davies
Gregor Mendel: The Friar Who Grew Peas by Cheryl Bardow
How We Crossed West: The Adventures of Lewis and Clark by Rosalyn Schanzer
It's a Frog's Life by Steve Parker
The Raft by Jim LaMarche
Salamander Rain by Kristin Joy Pratt-Serifini
The Secret World of Walter Anderson by Hester Bass
Starry Messenger: Galileo Galilei by Peter Sis
The Wartville Wizard by Don Madden
The Web at Dragonfly Pond by Brian Ellis

Science Series Picture Books
Max Axiom Super Scientist Series
Math Picture Books
While I definitely read these books with upper elementary children, they each have concepts that can be explored in much more depth with middle school students.
The King's Chessboard by David Burch
Math Curse by Jon Scieszka
One Grain of Rice: A Mathematical Folktale by Demi
Math Series Picture Books
Bible & Character Picture Books
These books are perfect to help your children see God's goodness in big ways.
Coming Home by Max Lucado
With You All the Way by Max Lucado
This biography is very helpful to explain the Protestant Reformation.
Martin Luther: A Man Who Changed the World by Paul L. Maier
While these books are easy to read with young children, too, they make great discussion starters about character qualities for middle schoolers.
The Merchant and the Thief by Ravi Zacharias
The Quiltmaker's Gift by Jeff Brumbeau
Sanji's Seed by B.J. Reinhard
Christmas Picture Books for Middle School
Each of these Christmas books also has a nice dose of history. I know several of them are written by Patricia Polacco and I've already mentioned her books above, but I wanted to be sure you don't miss these!
The Christmas Miracle of Jonathan Toomey by Susan Wojceichowski
Christmas Tapestry by Patricia Polacco
Gifts of the Heart by Patricia Polacco
An Orange for Frankie by Patricia Polacco
The Scallop Christmas by Jane Freeburg
Do you have suggestions for other picture books for middle school?
That's a wrap for this giant list, but I'd love to hear your favorites! Let's keep the list growing in the comments.
Other Book Lists
I've written post after post after post about living books. You can find links to all of those posts here.

More Awesome Book Lists:
Products you may like: