Wrapping Up Homeschool for the Year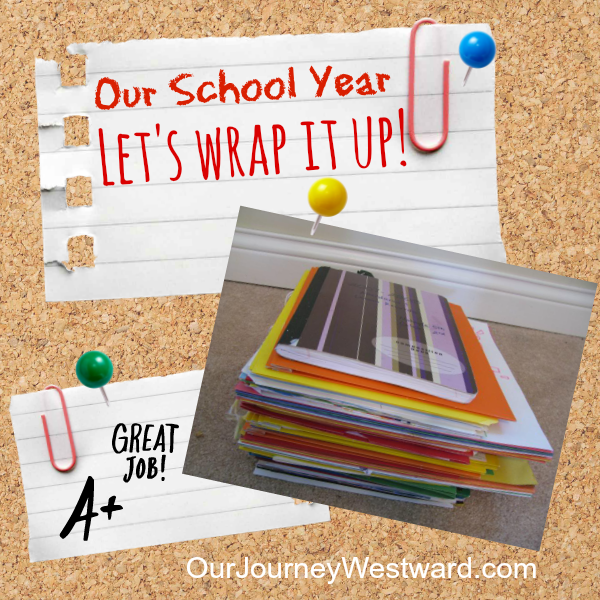 I've been asked before if I keep all my children's work from year to year. My answer – mercy, no!
Wrapping Up Homeschool
Work Pages
Throughout the year, all of the children's work goes into subject folders or notebooks. For example, when a math lesson is completed and checked, it gets filed in the math folder. All maps, worksheets and projects from our Around the World studies went into a folder for that study. All stories, newsletters, spelling tests, grammar sheets, etc were filed in the language arts notebook.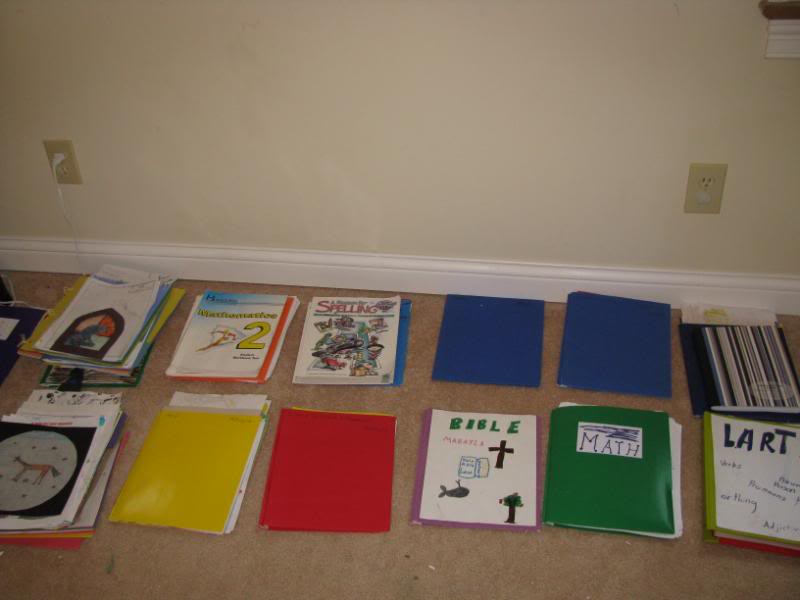 At the end of the year, we go through each folder and pull out 3-10 of the best samples for an end of the year portfolio. Each of the subjects is then put together in one folder that shows a sampling of our learning from the year.
All other worksheets and such are pitched. Yep, thrown in the garbage! Gasp, you say? How can I get rid of all of it and not worry about having to prove our schooling? When I taught in the public school system, a similar system of "a few best pieces" was the practice for each child's cumulative folder. If it's good enough for them, it's good enough for me! I couldn't possibly keep each and every piece of work we do from year to year. I'd have crates stacked to the ceiling!
100+ math pages from the year….
turns into about 10 pages of math to keep.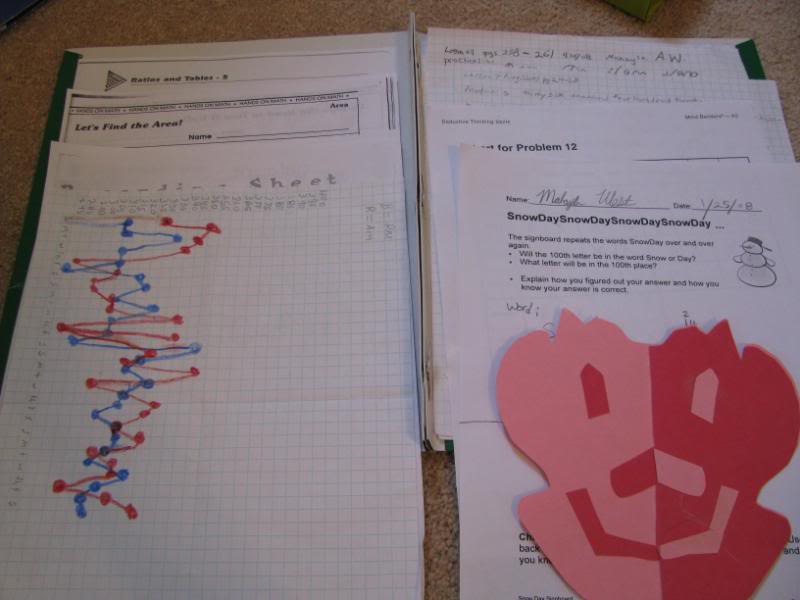 Notebooks and Lapbooks
Along with the folder of sample work (math, writing, spelling, grammar, maps, etc.), I will keep ALL unit notebooks and lapbooks. These are things I do want to keep intact and on file from year to year. Why these? They represent the memories and fun of our homeschooling. Much effort and time was put into documenting our learning in these and, honestly, I want to look back (and have the kids look back) on these just like we might look back through a photo album.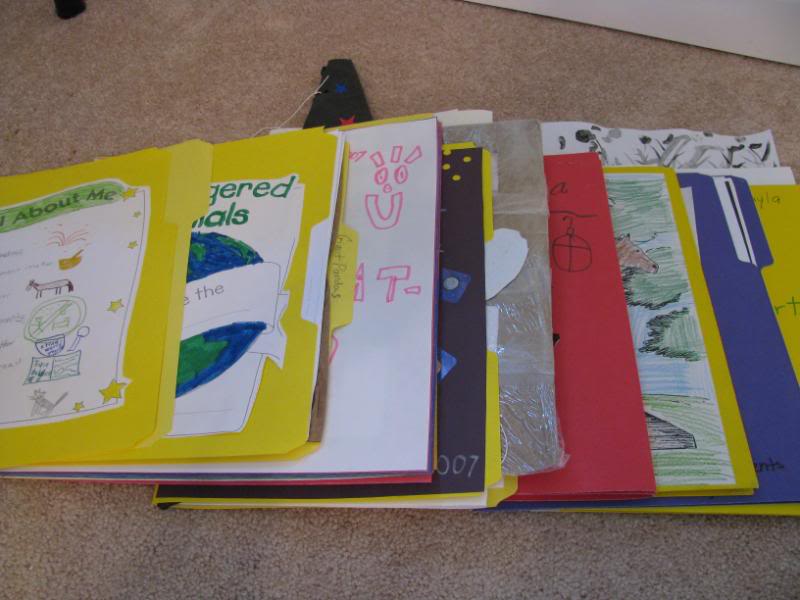 The Extras
This is Mahayla's final "portfolio" for the year. It's about 2 1/2 – 3″ high.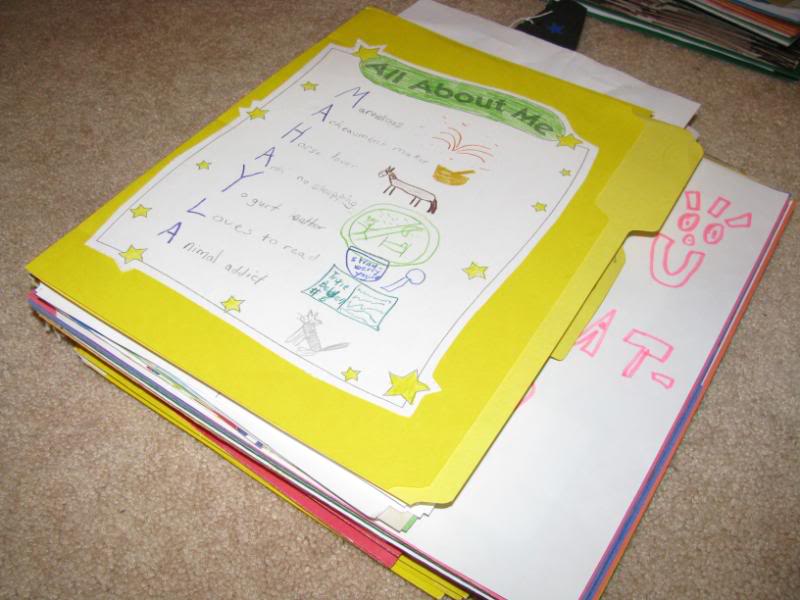 I also keep a folder full of art and any writing journals, field trip journals or nature journals that have been completed. (If these haven't been filled in entirely, I'll just let the kids continue using them next year.)
I also keep a small folder of awards, school pictures, program bulletins, ticket stubs and such – as well as the report card. This folder is almost like a scrapbook of achievements and events from the year.
The Final Portfolio
Finally, I stack and bundle each child's keepsakes and place them in a tub. My lesson plan book – which also includes the beginning of the year goal sheets, a list of curriculum used and any correspondence papers from the board of education – slides into the tub right alongside the bundles.
Here are both children's stacks from this school year, with my lesson plan book and other important documents on top.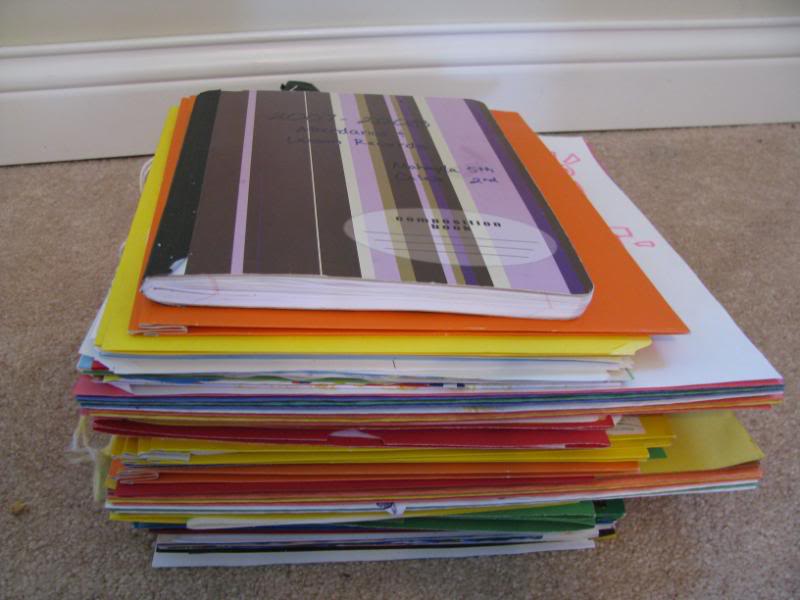 Now I have a nice set of memories from the year, as well as a solid bit of "proof" for homeschooling should I ever need it.
I'd love to see how you wrap up your year.