Night at the Museum Party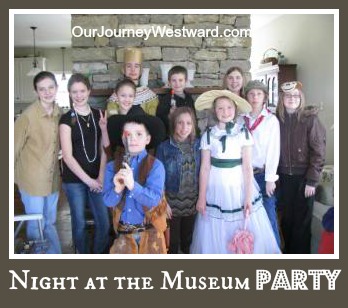 (This post contains affiliate links.)
Night at the Museum Movie: Watch and Learn
Short and Sweet Version: Co-op Class Only Meets Twice
First Meeting: Everyone watches the movie, Night at the Museum
, together. This meeting is strictly for fun.
At Home: Each child chooses either an historical character from the movie, another interesting person from a time period covered in the movie, or a particular time period in general. She should research the person and/or time period and create a project to share for the next meeting.
Second Meeting: Children bring their projects, dress in character and bring a food dish representing their era. Everyone gets a chance to present their projects and enjoy the food dishes.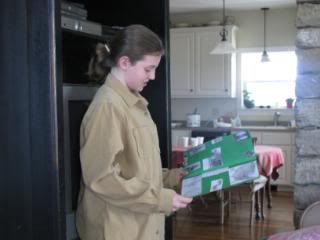 Longer Version: A Semester Long Co-op Class
Our group did not do this activity as a semester course, but it could easily be done.
The first class period (or two) should involve watching the movie together.
Each subsequent class could focus on chronological lessons about the time periods and/or people mentioned in the movie. Literature, hands-on projects, group research and/or mapping, field trips, etc. could all be used as class content.
The last few weeks should consist of brainstorming/planning/working sessions for final class projects.
The final class should include presentations, costumes and food as mentioned above. This would be especially nice as an evening event that entire families could attend!
This post has been linked to: