Chemistry Project for Kids
This chemistry project for kids was one of the highlights of the school year for my children! It also happened to be our last project of the school year, which means we just wrapped up a long and fruitful homeschool year.
In our homeschool, we follow a four-year cycle for science. Besides the weekly (or so) nature study that's ongoing each and every year, we turn our attention toward a different area of science each year.
The first year in our cycle focuses on biology topics like plants, animals, and the human body. The second year of the cycle centers around earth and space science. During the third year, you'll find us learning chemistry topics. And, finally, in the fourth year, we focus on physical science topics.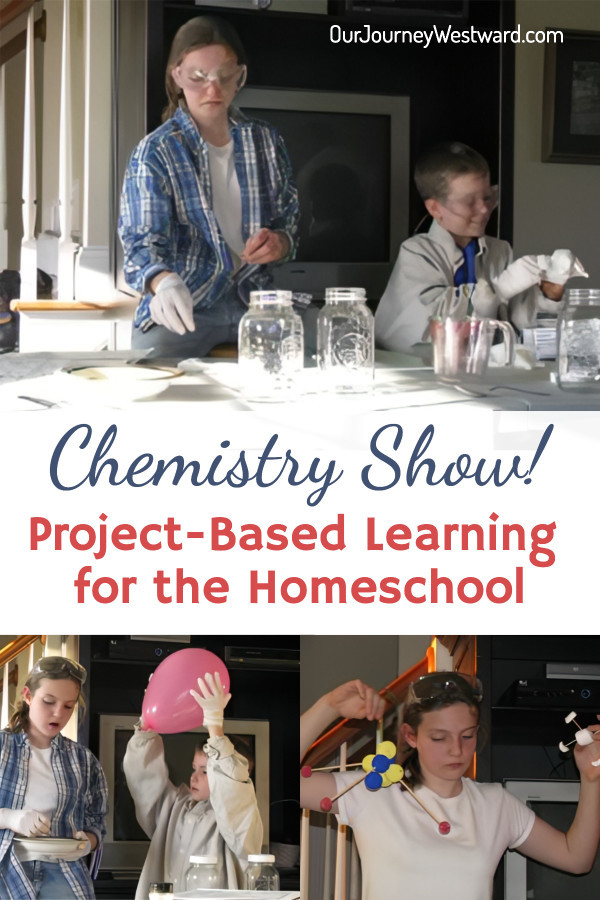 This post contains affiliate links.
Once we get through all four years, we cycle back through the topics over the next four years. This ensures a thorough and in-depth understanding of each area of science by the time my children graduate from our homeschool.
This year's main science topic was chemistry. My participating children were in the 4th and 7th grades. I can't recommend enough the Christian Kids Explore Chemistry curriculum for an age-appropriate overview of chemistry. There are plenty of hands-on opportunities and I like the accountability of low-stress quizzes.
Even with the great curriculum, I wanted to be sure my children fully understood and will continue to understand the chemistry topics we covered because they are foundational concepts. Thus, a project week was assigned!
What is Project-Based Learning?
If you aren't familiar with project-based learning, it's a powerful way for children to take some ownership of learning through research and project creation.
With endless possibilities for projects, most kids are highly motivated to put in the work toward a final project that they actually want to complete.
It gets better, though. Projects are always presented to an audience when they're finished. This gives children a great opportunity to practice oral presentation skills, which, in turn, help them to cement the information even more.
This project-based learning video class will teach you everything you need to know to get started in about an hour and a half.
Chemistry Project for Kids
I wanted my kiddos to research, plan, organize, and present a project that was developed almost entirely by them. I provided them with basic directions and a few science experiment books. Of course, I provided any necessary materials, too. They went all out and did a super job!
Here was the assignment given to them on a Monday:
On Friday, you will be presenting a Chemistry Show. You are expected to work together and be fully prepared for the presentation. During the show, you are to present (and explain) experiments or models to show that you understand the following chemistry concepts:
mixtures
separating mixtures
solutions
solvents and solutes
reactions
matter – solids, liquids, and gases
acids and bases
atoms
molecules
Chemistry Experiment Books for Kids
I handed them a small pile of science experiment books and they took over from there!
A Project-Based Chemistry Show
Please note: This blog post was originally written several years ago. The pictures aren't as high-quality as those taken today. However, these are the pictures of the actual chemistry show, so I hope you can get past a little blurriness to get ideas for your own homeschool chemistry show.
Project-Based Exhibition: Preparation
Besides the obvious several days' worth of planning, studying, and preparing for the experiments, the kids worked hard to pull together a nice-looking presentation, too. You'll notice tables with hand-crafted signs, large shirts used as lab coats, and even rustled latex gloves and safety glasses. My husband and I (the entirety of the audience) were quite impressed!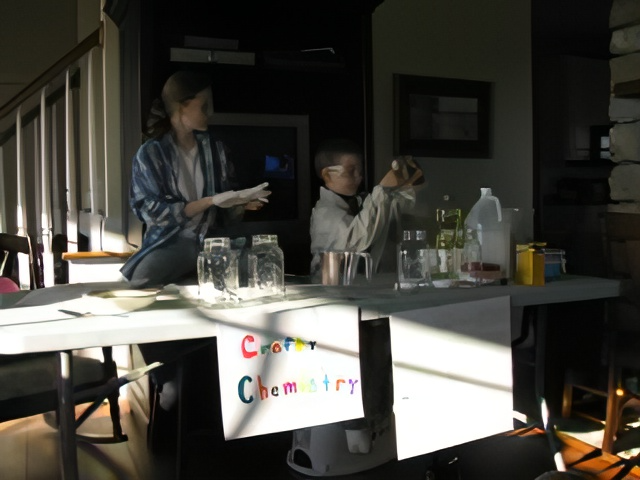 Project-Based Learning with Partners
Truthfully, one of my main goals for this project was teamwork. These two are 3 1/2 years apart in age and three full grade levels apart. One of them has organization skills, while the other has creative spunk. I was hoping they would each work in their strengths and model the non-strengths well. It worked!
Yes, there were a few disagreements along the way in planning and preparing, but I kept encouraging them to persevere together. In the end, I believe they were just as proud of their teamwork as I was!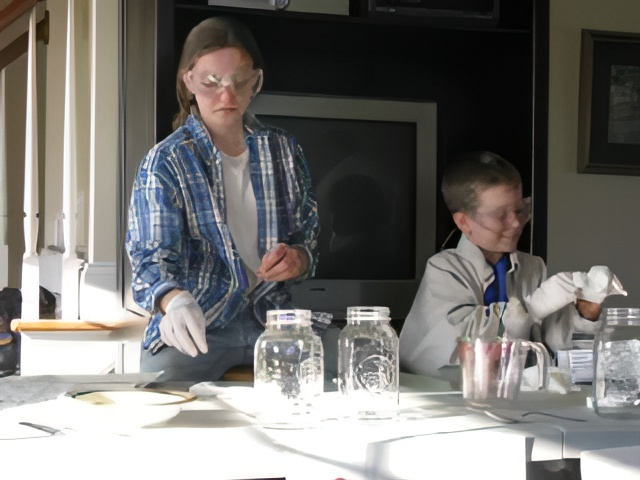 Chemistry Experiments Are Part of a Chemistry Show
Of course, you can't have a chemistry exposition without wowing the audience with some experiments. I didn't make any requirements other than the ones you saw earlier in the post. They used the chemistry experiment books I provided to find simple experiments to demonstrate some of the topics from the list.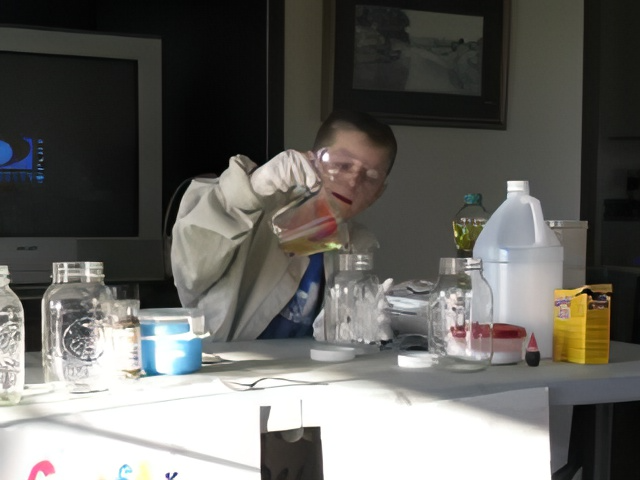 Scientific Explanations Are Part of a Chemistry Show
One of the project requirements was to be able to explain each concept. Of course, I didn't expect perfection here, I just wanted to be sure there was an overall understanding of each topic. As you might imagine, my middle school daughter took on more of the explanations, while my elementary son was more hands-on with the demonstrations.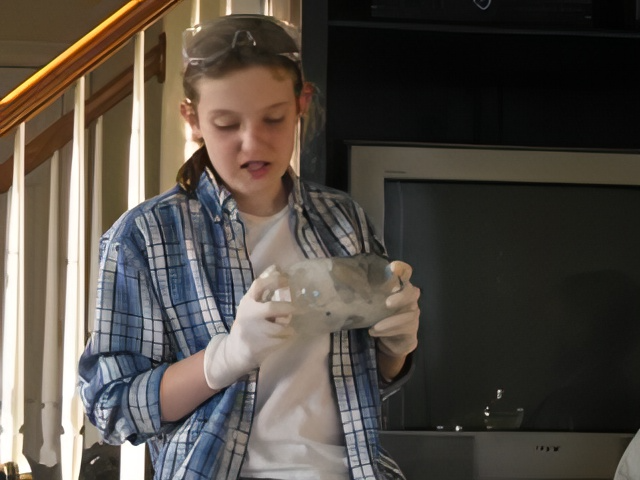 Teamwork in Project-Based Learning
They took the direction to work together quite seriously. In each and every experiment or demonstration, they were both involved in one way or another. Not all of the experiments went off without a hitch or were explained perfectly, but my secret goal of getting these two to work together in a team worked like magic.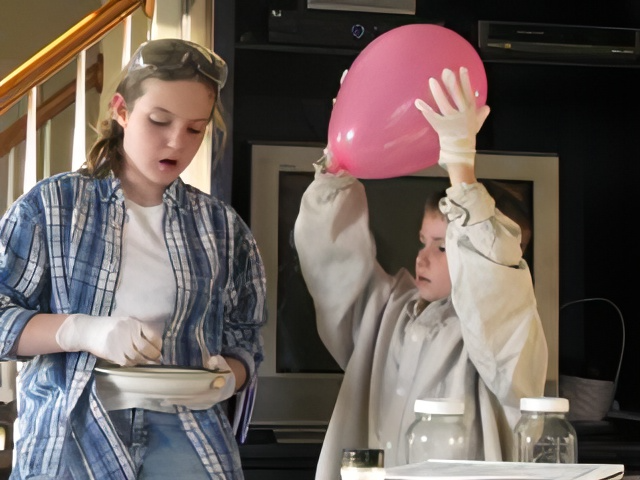 Hands-On Learning Sticks
Most project-based learning is full of kid-friendly research. This backdoor way into research and even writing is one of the things that makes PBL so good. In this event, hands-on learning was another huge component.
Sometimes, hands-on learning seems forced – almost like you're adding hands-on activities just to say you did. In this case, the hands-on learning was a natural fit and entirely meaningful. That type of learning sticks for the long haul. My children will never forget what they learned.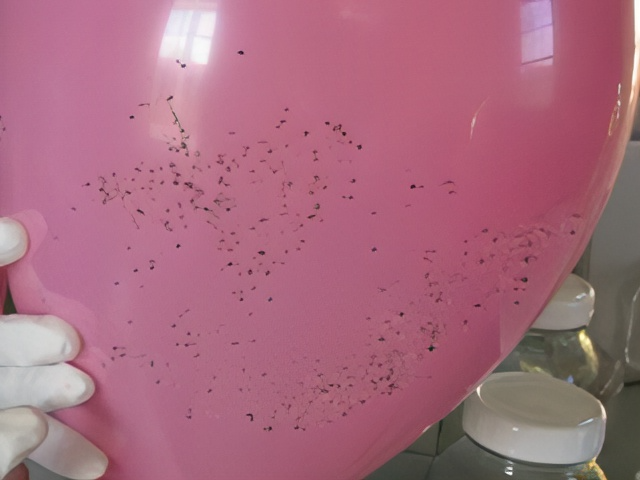 Learning Through Experimentation Sticks
Experiments are definitely a hands-on type of learning. It makes sense that the concepts learned from a science experiment stick around in our memory for a long time. That's why it's so important to make sure our children don't skip over the experiments (which is something I know homeschoolers love to do).
I get it. Experiments take time, energy, preparation, and resources. I promise you, though, they are worth their weight in gold when the experiment demonstrates a scientific concept. I suppose that's important to mention. Science experiments need to go beyond just doing them. Kids need to know what they were learning from the experiment.
Honestly, that's part of what made this chemistry project for kids so powerful. They were doing the experiments for the purpose of explaining the science behind them.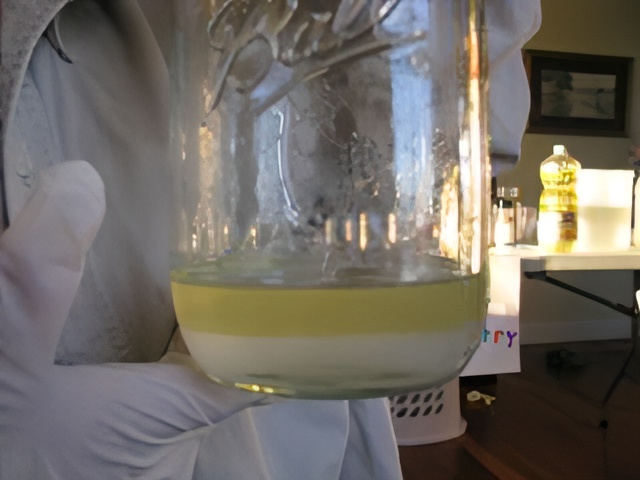 Provide Resources for Project-Based Learning
You'll see in the image below that the kids used a pH experiment kit as part of the chemistry show. Project-based learning doesn't have to be expensive, but sometimes it's important to provide supplies. We happened to have this kit on hand, but if they needed a few supplies to make the chemistry show spectacular, I would have at least considered their wishlist.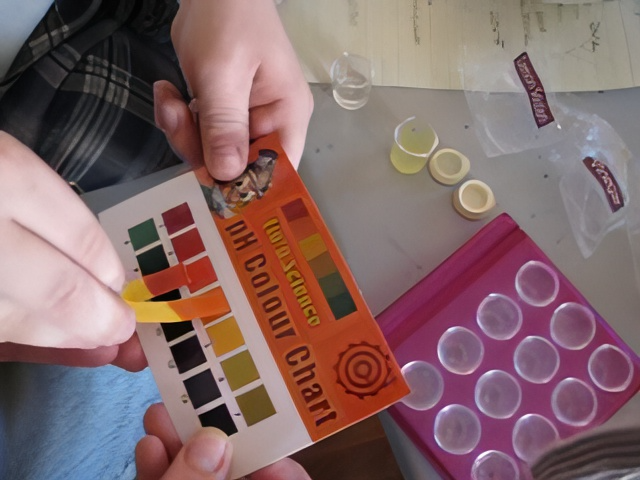 Scientific Models Are Great Teaching Tools
Not every part of the chemistry show included experiments or demonstrations. You can see beautiful molecule models made from styrofoam balls and craft sticks, as well as marshmallows and toothpicks. I've found models to be a great way for children to understand concepts.
Also, using models for teaching during a project-based presentation gives a nice visual for the audience to see while providing cues for the presenter to remember what he or she wants to talk about.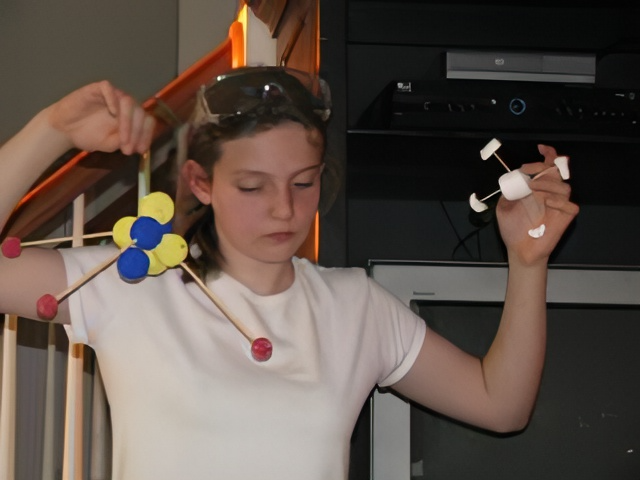 Project-Based Learning Can Sometimes Be Messy
Not all project-based learning for kids has to be messy, but it can be sometimes. While I don't always love the mess, I am sure to encourage it when it means my child can present and explain a concept because of it!
In this case, we took the grand finale of the partnership project outside to a spot designated for the messiest of adventuresome learning. Who can resist adding a baking soda and vinegar reaction to any chemistry lineup?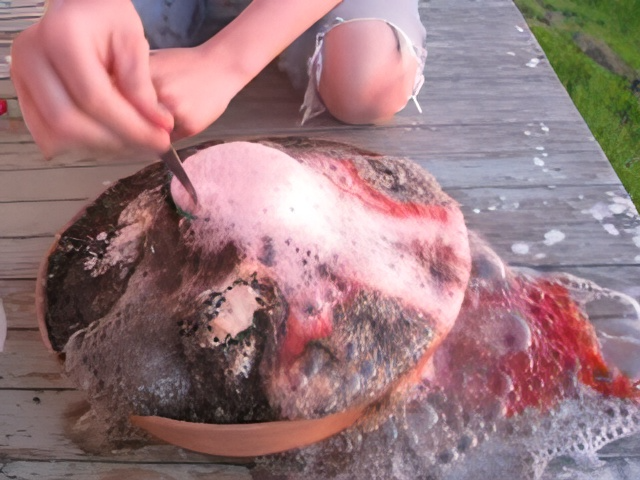 This chemistry project for kids was SUCH fun! It was perfect for multiple ages to work on together and a great way for them to show what they learned during our chemistry studies.
As I've already mentioned (probably multiple times), project-based learning is an incredible way for children to learn. Learn more about it here.

More Awesome Chemistry Posts