How To Identify Rocks and Minerals During Nature Study
Why would you want to identify rocks and minerals during nature study? Heck, why would you even care to observe rocks when there are so many other things to see in nature. Rocks are boring. They're dull and colorless. Once you've seen one, you've pretty much seen them all.
Be honest. You've thought some of those thoughts before, haven't you?
When we first began nature study in our homeschool, I held off learning about rocks for quite some time because – well, I didn't know what in the world were we going to do with them.
But I soon realized that we just hadn't quite learned how to look at them with eyes of wonder and excitement yet.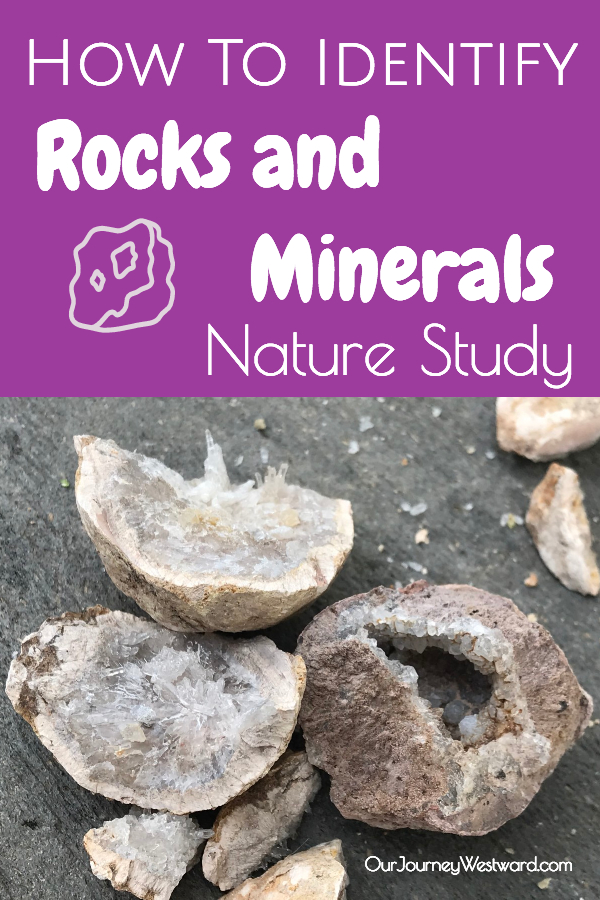 I received free products and compensation from Home Science Tools in exchange for writing this post. As always, my opinions are strictly my own. Affiliate links are included in this post.
Rocks and Minerals Really Are Interesting
There's way more to discover about rocks and minerals than you might think. Things like the amazing process of the rock cycle, why so many rocks have sparkles or debris in them, and how many, many ways rocks have been used throughout history.
When taking the time to seriously observe rocks, you'll begin to note their varied colors and textures, find very cool fossils, and notice special sparkles.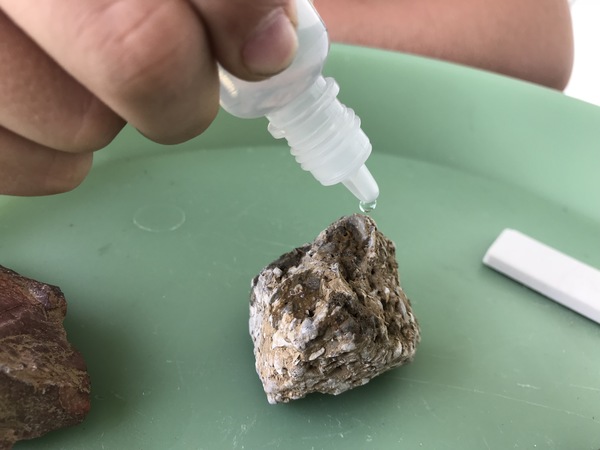 There are characteristic tests you can do in the field to help identify rocks and minerals, special lights you can use to view minerals you may have missed, and field trips where geologists teach you all kinds of things you never knew about rocks.
One of the main reasons I wrote NaturExplorers Hard as a Rock was to help you discover just how cool rocks and minerals are as a nature study topic. And, best of all, rocks are very easy to find on just about any nature walk, so finding specimens for study is easy peasy.
A Successful Rocks and Minerals Nature Study
Eli and I recently spent a couple of weeks doing a rocks and minerals unit study. We don't always choose the unit study approach for nature study, but it was the perfect option for relaxed learning during the lazy days of summer.
We've studied rocks several times before (see links to some of those experiences at the bottom of the post), so we decided to spend much of this unit study focused on learning to identify the rocks in our area of KY.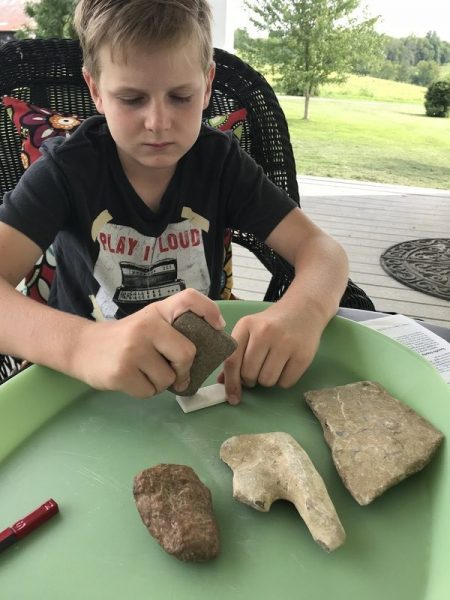 (Funny story about Eli's face in this picture. He's performing a streak test to determine the hardness of the rocks we collected and was cringing at the sound the rocks made on the streak plate. Ah, the boy takes after his momma.)
Any good unit study begins with hands-on and/or real-life experience with the topic at hand, and that's certainly true for learning about rocks and minerals. Almost every evening after supper (and after the air had cooled a bit), we wandered the farm using ideas from Hard as a Rock to look for new rocks to add to a growing rock collection. We also took a couple of trips to nearby trails to gather different specimens. (Always get permission before collecting anything from property that isn't your own.)
During the days, we would try to identify rocks and minerals from our collection. I say try because it's a little harder than you might think to the untrained eye to make a perfect identification. But, we had several tools at our disposal and I think we were mostly successful in our task.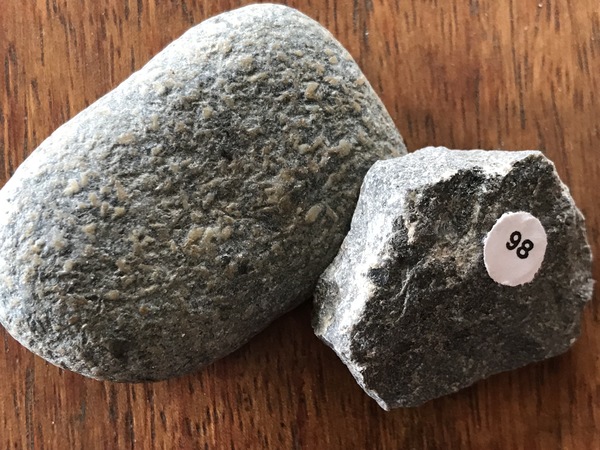 4 Steps to Identify Rocks and Minerals
1. We have a wonderful collection of 100 rock specimens from Home Science Tools that we used as the first step in identification. We compared our rocks to the rocks in the specimen set to narrow down which rocks we may have collected.
(This particular specimen set includes rocks from all over North America. Not only was it easy for us to find samples for most of our rocks, we also had plenty of opportunity to research to learn a little more about some of the rocks from the set that caught our attention even though we don't have those specific rocks in our area. Double win.)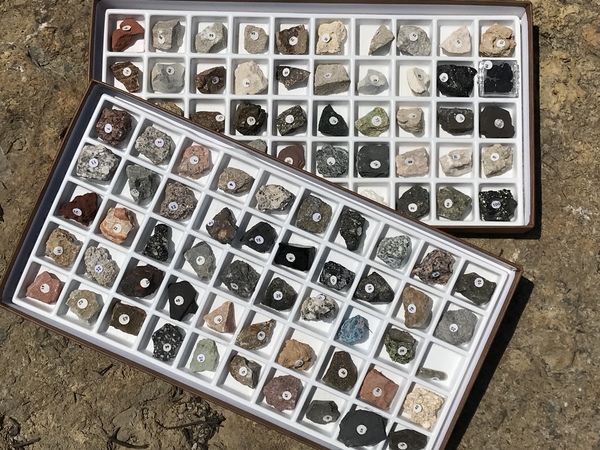 2. Then we looked up the potential varieties in our rocks and minerals field guide to help us narrow the identification further. The descriptions from the field guide gave us clues that definitely encouraged closer observation of each rock. (Occasionally, we needed to look up certain rocks online since we couldn't find them in our field guide.)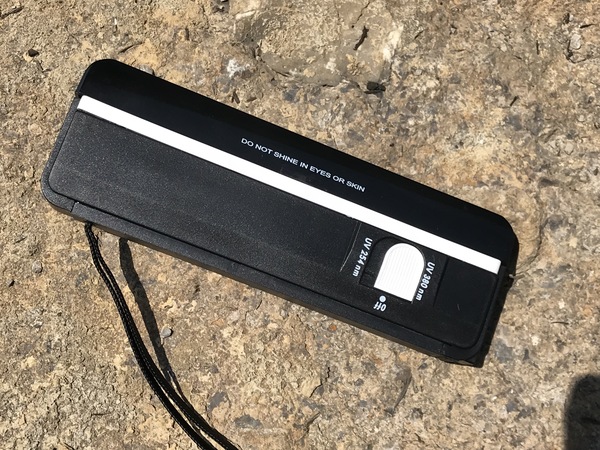 3. Eli loved using a shortwave and longwave ultraviolet lamp to see if minerals were present within our rocks. We had never used a UV lamp during previous studies, but it's so cool because minerals glow under one or both of the lights! Bright, florescent colors! Seeing the colors didn't really help us identify the minerals, but we didn't care one bit. It was great just to see them glow.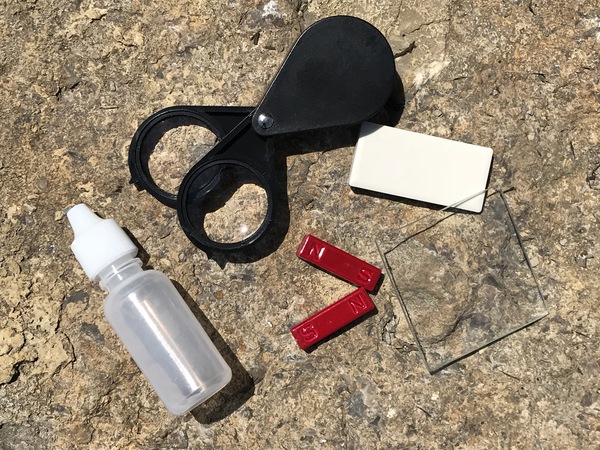 4. And last, we performed tests to help us learn more about the characteristics of the rocks and minerals we had collected. The mineral test kit from Home Science Tools is an inexpensive way to have just about everything you need to complete hardness, magnetism, streak, specific gravity, and acid reaction tests. We compared the results of the various tests to the information in our field guide to help us make final identifications.
With a plan in place and some good tools at our disposal, rock identification was actually pretty easy! When we've studied rocks in the past, we mostly skipped over the identification in favor of other activities because it seemed intimidating to have 5 different gray rocks with very little to go on otherwise. Now we feel much more confident in our ID skills!
Making Mineral Observation a Reality
Rocks are easy to observe in the field (or at home), but minerals are a little more difficult. As I've already mentioned, we definitely saw evidence of minerals through our identification activities, but we didn't collect any rocks that had minerals big enough to observe in detail.
I surprised Eli with a super-fun geode kit that ensured he would get to observe large-scale minerals. Have you ever cracked geodes before? Oh, it's the perfect activity for kids! They get to use a rock pick to break apart rocks. Most of the rocks open up to reveal pretty crystals, which are mineral deposits. You never quite know what you'll find inside (even though most of them will include quartz.)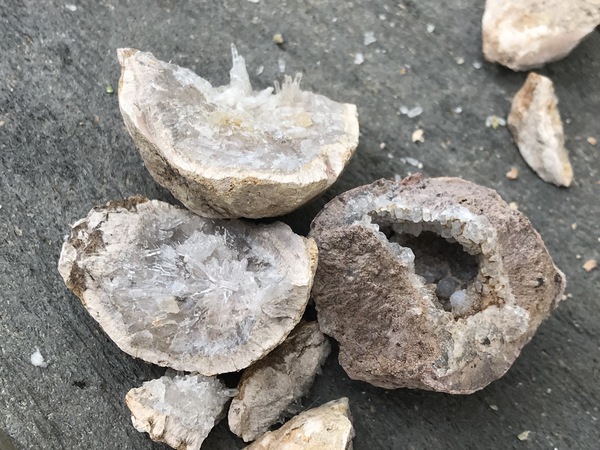 We found several varied crystals! Not only was Eli awed by the experience in general, he was able to closely observe the amazing geometrical structures. Through internet research, we also learned that geodes are often found in our home state of Kentucky! This makes sense considering they are often found in limestone and we have limestone everywhere here.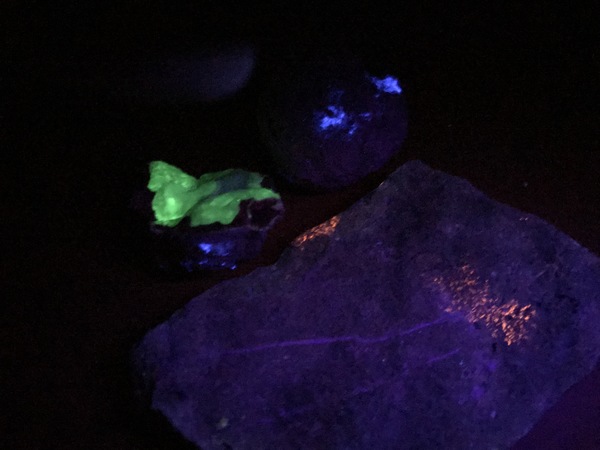 And, take a look at what we found when we used the shortwave and longwave ultraviolet lamp over the geodes (and a couple other rock specimens!) This experience alone has sent Eli into rock collecting mode. He's attempting to collect rocks with as many varied mineral colors under the lamp as possible. Now that makes a momma happy.
NaturExplorers & Home Science Tools = A Perfect Match
You certainly don't have to buy fancy supplies to complete a NaturExplorers study. Ever. However, when you have a little extra cash or need to find nature study items that you can't necessarily find in your area, kits and other supplies from Home Science Tools come in very handy!
For example, when you're ready to study butterflies and really, really want to observe the life cycle in action, Home Science Tools has you covered with a butterfly growing kit. Or, when you're ready to study frogs and toads, Home Science Tools can provide you with a frog hatchery kit if you can't seem to find any in the field. Or, as you study wildflowers throughout the seasons, Home Science Tools can provide you with a sturdy plant press to make wildflower collections ready for mounting in your nature journal.
When you couple nature walks and other NaturExplorers lessons with a few supplies from Home Science Tools and you can have your own nature lab right inside your schoolroom!
More Fun with Rocks and Minerals
I mentioned earlier that we've studied rocks plenty of times over the years and I've written about it at least a few times before. Enjoy these additional ideas and have fun as you learn!
Rocks and Minerals Video Classes
Don't miss the rocks and minerals classes located in the No Sweat Nature Study Video Library, too!