How To Start a Nature Club
This spring and summer will be my second time leading a nature club for our homeschool co-op, and I can't begin to tell you how excited I am. Our nature club was a huge success last year and I truly loved leading it. As you probably know from my blog, I am very passionate about God's creation and especially about sharing my love of it with others, and a nature club is an excellent way to do just that!
5 Easy Steps to Start a Nature Club
1. Determine the interest level of your group.
Poll your group to see if you have a high enough interest level to make it worth officially forming a nature club. In my opinion, two or more families is great! These things have a tendency to grow quickly anyways once word gets out.
2. Determine a vision for how you want your nature club to be run. 
Would you like a more structured time including an appointed "leader/teacher" for each meeting and a focus topic for each meeting such as birds, wildflowers, etc? Or would you prefer a more relaxed club where you just meet and freely enjoy nature together? Again, you could poll your group to determine what the majority is looking for in the club. Determine if you want parental involvement to be mandatory at each meeting. I recommend this for a couple of reasons: parents will be responsible for their children and not the leader(s), and I highly believe in parents being involved with and connecting with their children in nature study.
3. If a more structured time is desired, appoint a leader or leaders who will steer the meetings. 
Perhaps all the members would be willing to take turns leading a meeting; however most often there are a small group of people who are "natural leaders" and/or are more knowledgeable on the subject of nature and will gladly do this. Or perhaps you will determine that having just one leader/teacher works fine too.
4. Determine the frequency of your meetings, the topics and locations.
How many times a month will you meet? Will you meet year round or only in the warmer months? Where are the places you could meet? Make a list of local parks or other locations that your club could meet. After doing all of the previous, make a list of the dates you will be meeting and locations where you will be meeting. Decide what you will do in the case of inclement weather. Will you reschedule?
After determining this, and if you chose to make your meetings a little more structured, make a list of topics your group would like to see covered throughout these meetings. When you are picking topics, match appropriate locations that would work well. For instance, a particular park may have huge wildflower fields that would make it perfect for a wildflower focused meeting. Or another park may have a beautiful creek which would make it perfect for a creek focused meeting.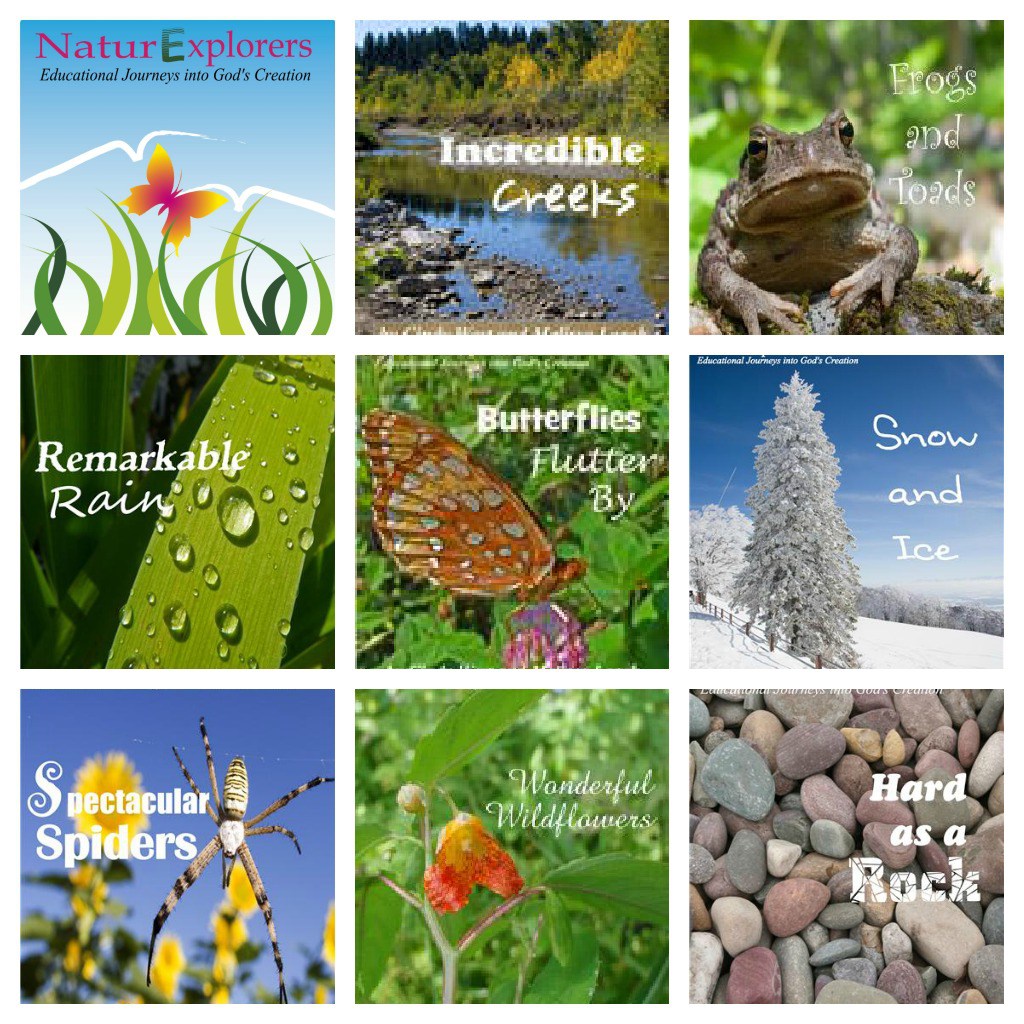 When determining what to teach on the focus subjects that you will be covering keep in mind the NaturExplorers Studies as each have a section dedicated to giving you ideas of things to do with nature clubs and co-ops. I use these for each of our nature club meetings.
After you have all these details, put the information together into a calendar of dates, meeting topics and locations for your club.
5. Now you are ready to start implementing your meetings!
It is helpful to send out weekly reminders to the group, perhaps via email or another online means. In the reminders it's helpful to list all the basics (where, what when, etc.) and also any helpful information such as if the children should bring anything special (nets, containers, etc.) or wear anything special (mud boots, long pants, old clothes, etc.).
I have tried to be very thorough in these recommendations for starting a nature club, hopefully I have not left anything out. And hopefully I have not left you feeling overwhelmed. If done correctly a nature club will NOT be overwhelming and tedious to run. It will be well worth the minimal effort! Do not make it too structured and "textbook educational", keep structured teaching time minimal and hands-on exploring maximal.
Here is what our nature club looks like:
We meet only in the spring and summer, starting in April and going through July. We meet every other Friday morning from 10:00am to 12:00pm, having a total of eight meetings. Some of the families stay after the meetings to have a picnic lunch together. Parental participation is mandatory. We start our meetings with a 10-15 minute teaching session on the chosen focus. Then the remainder of the time is spent exploring and doing fun hands-on activities. I send out reminders at least 5 days in advance giving all the details and recommendations for the meetings.
May God bless you in the study of His creation!
This has been a guest post by coauthor of the NaturExplorers studies, Melissa Leach.
Would you like to see MY Creation Club in action?  I think you'll enjoy these posts!
My nature club meets monthly April-May and August-November for approximately two hours.  Each month's activities vary – but we ALWAYS have lots of fun!