Homeschooling Without a School Room? It Can Work!
When most of us begin homeschooling, we want (or even believe we need) a dedicated homeschool room. We see other parents posting pictures of their Ikea-style rooms with desks and shelves, cubby holes, and colorful decorations, and we envy them.
For whatever reason, we believe we need a room like that in order to be successful at homeschooling.
But do we?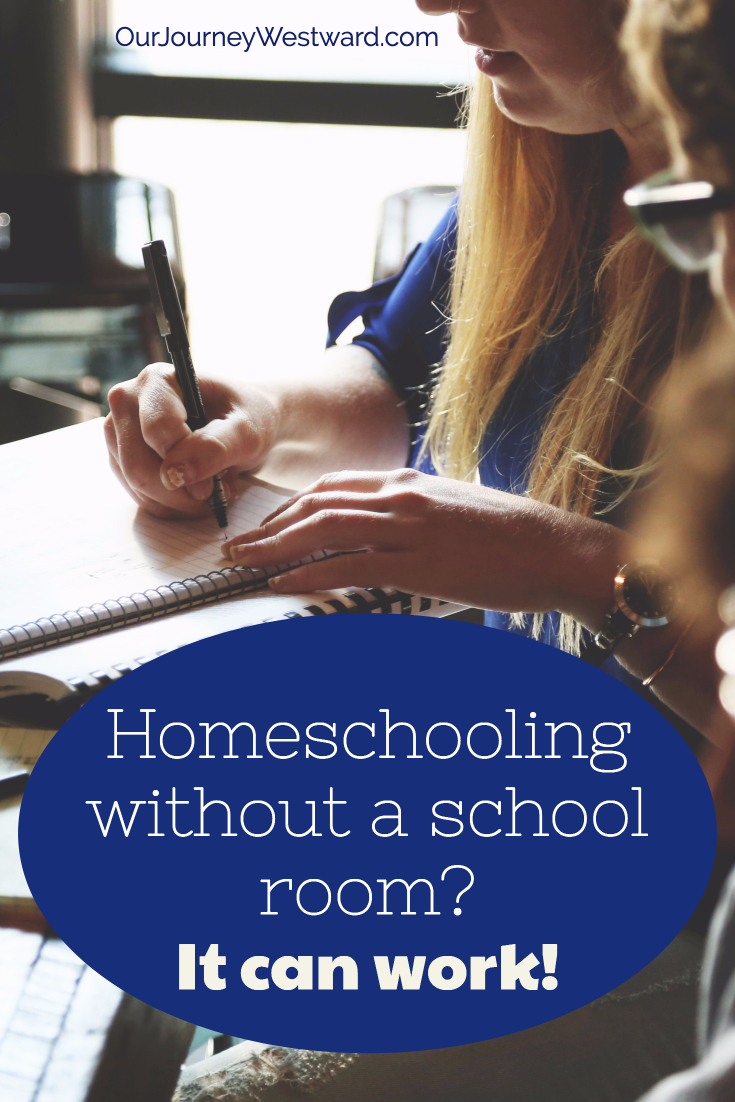 Special thanks to Michelle Cannon from The Heart of Michelle for today's guest post here at Our Journey Westward!
The first thing I've learned is that we need to be content with what we have. (That's an important lesson for our children, too!)
What else have I learned? I've learned there are more important things in life than a fancy school room, like learning and living side by side with my children.
Charlotte Mason said education is an atmosphere. She said there was no need for an artificial environment such as the type provided by schools. Instead, children should be surrounded by art, beauty, and nature. They should have easy access to books, tools, and materials that will help them explore and find knowledge.
That's encouraging for sure, but just where should you do lessons if you have no dedicated room? Anywhere!

Why I Love Homeschooling without a School Room
Let me say this: I don't disapprove of dedicated school rooms. If you find something that works for you, go for it! That said, here are some reasons why I enjoy homeschooling without a school room:
It encourages family learning and cooperation.
I'm a huge fan of multi-age learning and being at our dining room table or in our living room encourages this.
I can spread out the books or supplies for a project and we can all have the space we need to work together.
Personally, I need room to multi-task and the kitchen, particularly, offers me that.
I need to be able to move around at times while my children work on assignments. I can set the children up at the table with work, then go prep a meal or fold a load of laundry, yet still be within earshot.
We enjoy an environment of learning.
At any time, we can pack up and take our lessons to the park, or go outside for a nature study and it doesn't faze my children in the least because they're very adaptable.
I also want my children to understand that learning isn't just about academics and books. We're able to flow easily between life and school.
Staying Organized without a School Room
This post contains affiliate links.
Not having a school room means I keep things clutter-free. I have to be intentional about what supplies we have on hand and how I use the space we have.
Tables: This is command central for our school day. It's where we start off and end the day. It's important to have a good-sized table to work at. Our kitchen table fits the bill quite nicely.
Bookshelves: We have one in the dining room to store most of our school books and other supplies. We also have bookshelves in the bedrooms that house literature books and educational games or toys.
Storage System: I tried really hard to be a workbox person, but it didn't work. Instead, I use plastic totes, one for each child, to store books they're currently using. One school supply caddy holds all of the necessary pencils, markers, scissors, etc. for everyone.
These days, I no longer long for a dedicated school room. Using our natural environment serves us much better.
How about you? Do you have a dedicated school room?
Other posts you might enjoy:
Products you might like: