How To Improve Bad Attitudes in Your Homeschool
Do you ever have bad attitudes in your homeschool? I love homeschooling and my children usually do, too. But, sometimes the homeschooling attitudes in our house just stink.
Have you ever wanted to wring the necks of grumpy kids who whine about every single task set before them. Or dole out about a hundred chores every time you run up against obstinate behavior?  Me, too.
I'm here to admit today, though, that it's not just my children with the bad attitudes. I have my moments, too. You know, the days (or weeks…or months) where homeschooling seems like a life sentence?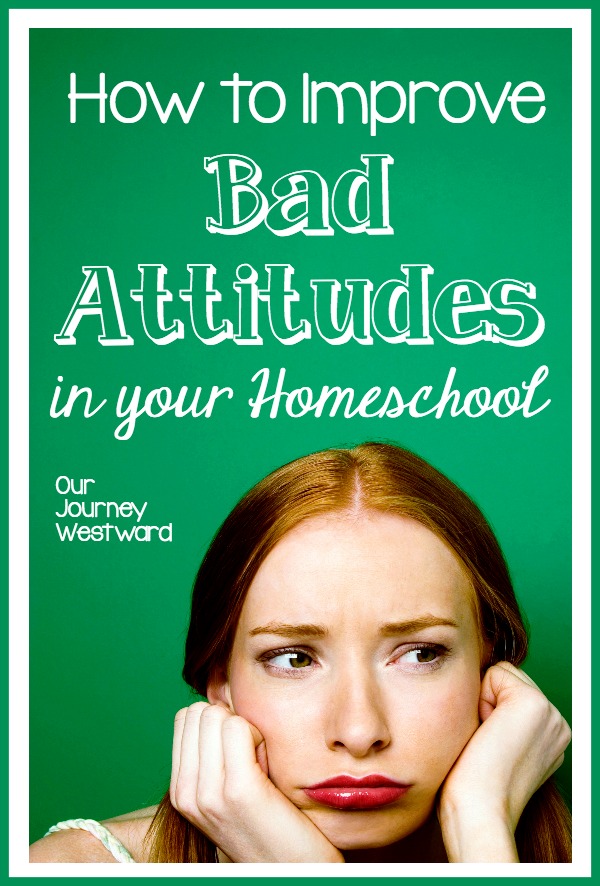 You can listen to this post if you prefer!
Improve Bad Attitudes in Your Homeschool
When everyone seems unhappy and the days drag by, it doesn't make for a joyful homeschool – or a joyful home life. In fact, these moments can lead to discontentment with homeschooling, causing one or more of the family members to daydream about a "better" life.
And, if the moments go on too long, the daydreams can become a reality. The truth is, quitting homeschooling likely won't solve the problem of an unhappy home because homeschooling probably isn't the culprit.
What is the culprit?
Usually, it's attitude – your attitude and the attitudes of your children.
When signs of an unhappy homeschool begin to surface, it's time to refocus, change those attitudes and strive to bring glory to God!
Refocusing
In order to refocus, you have to think about your ultimate homeschooling goals and then figure out where you got off track. Here are a couple of examples:
Goal: to know and love God
Ask yourself: Are we starting our day in His Word and with prayer? Am I showing grace daily or expecting perfection? Do we always have our noses in the books and need to take some time away each week to share God's love with others?
Goal: to enjoy learning
Ask yourself: Is every day the exact same for my children, or do they get to learn in varied ways to spice up the lessons? Am I making sure to meet their learning styles? Am I enjoying school, or does my attitude about lessons simply reflect in them?
Changing My Attitude
Moms, we always have to start with ourselves – and we can't do it in our own strength! Recognize where your attitude stinks, confess it to the Lord and ask Him to help you change it.
It always helps me to confess it to my children as well. In telling them where I've messed up, they get to see how forgiveness and remolding happen. They also become my accountability partners! You see, once I've admitted my mistakes, they are very helpful to remind me in the future when my attitude starts to go south.
Changing Their Attitudes
Changing attitudes in children starts with prayer on your part, too. I try not to approach my children about bad attitudes until I've talked it over with the Lord first because His wisdom never fails me!
The ideal goal is to approach the offending child gently, help him to discover his own attitude problems, and then help him come up with a plan for improvement. Those plans vary drastically.
With younger children I sometimes use incentive charts, sometimes letters of apology are necessary, and other times we come up with a quiet signal to make a child aware that the ugly attitude is rearing its head. Of course, extra chores always work for productive discipline.
With older children, heart-to-heart discussions work the best…with cut-to-the-heart discipline when necessary (like losing electronic or driving privileges.)
Consider the Needs
Quite often, the attitudes of my children falls on me. When I go back to my goals in homeschooling, I usually find a glaring need (or two) that I've let fall through the cracks. Some examples:
When I'm not well planned for our homeschool day, things easily become chaotic.
If I take too long to reign in bad behavior, yucky habits take hold.
When I try to take care of my tasks while trying to homeschool, everyone becomes unfocused.
If I don't take time to organize meals and chores, it leaves us all in a constant state of frustration.
When I pull the missing piece(s) back together, attitudes adjust accordingly. When attitudes are happier, homeschooling is happier. When homeschooling is happier, home life is happier. And, a happy home brings glory to God inside your walls and out!
Related Posts
&