Sandstone Nature Study for Homeschoolers
A sandstone nature study is sure to get everyone excited to learn about rocks of all sorts. Sandstone is especially fun because you can often rub off small bits to become part of the erosion process!
Sandstone is a type of sedimentary rock that can be found all over the world. In the United States, it can be found in most states, in fact. Some of the desert states, however, have spectacular landforms made of sandstone that have become sightseeing destinations that aren't to be missed!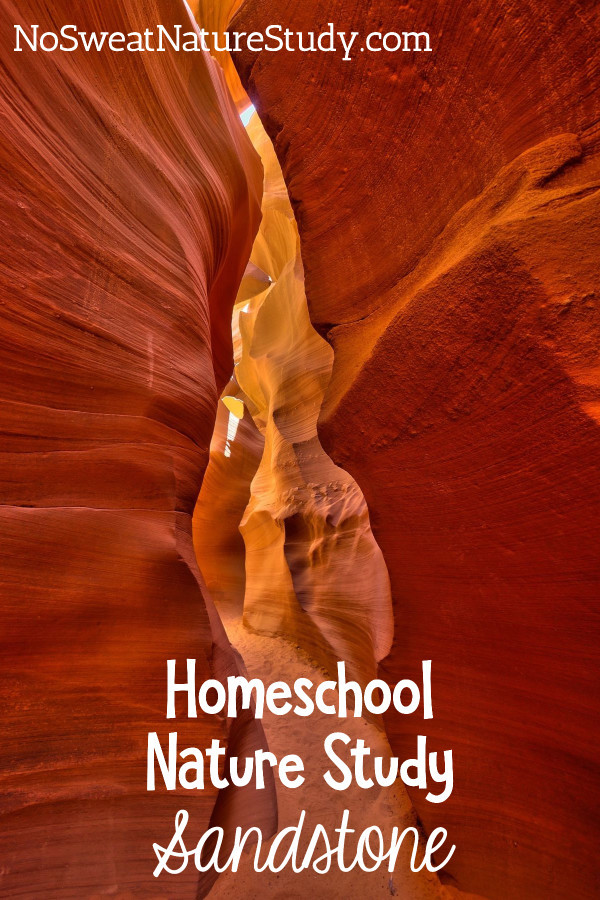 This post contains affiliate links.
Sandstone Nature Study
Landforms make the world a very beautiful place to explore. Mountains, islands, and plateaus are common landforms that people tend to think about, but there are plenty more. Some of my favorite types are found in deserts and happen to be made from a special rock called sandstone.
Sandstone is a sedimentary rock made up of…you guessed it – sand. The sand mixed together with various minerals and fragments of other rocks is what makes sandstone stunning to see. There are so many colors and patterns in sandstone structures.
The sand particles give most types of sandstone a grainy texture which is interesting to feel. But, maybe more importantly, the sand particles are easy to rub off. If your finger can rub sand particles off a rock, you can imagine that sandstone is easily eroded by wind and rain, too.
The easy erosion is why sandstone landforms are some of my favorites to see. They take on unique shapes that are more beautiful than artwork. Arches, buttes, pedestals, pillars, and hoodoos are almost unbelievable when you see them in person.
Sandstone Nature Walk Challenge
In the podcast episode, you'll hear about a fun sandstone rock nature walk challenge. Even if you don't think you have sandstone where you live, don't worry. You'll still be able to enjoy the nature walk!
Go ahead and grab your nature journal, colored pencils, and some clear tape. Yes, tape! It will come in handy for one of the creative nature journaling suggestions.
Sandstone Nature Study Video Class
Did you know the podcast episodes have companion video classes taught by Cindy West, a teacher with a master's degree in education? It's true! In the sandstone video class, children in 1st-8th grades can learn together about some of the most famous sandstone landforms and how they are made.
Additionally, students will get an overview of the rock cycle and understand that sandstone is just one type of sedimentary rock. Of course, no class about sandstone would be complete without a discussion of weathering and erosion!
To enjoy this exciting earth science class, you will need to join the No Sweat Nature Study membership. Luckily, the membership comes with way more than this video class about sandstone! In fact, there are nearly 100 video classes that you will be able to access to make science come alive in your homeschool!

Nature Walk Curriculum
Not ready for the membership yet? You can do some of your own learning through either of these homeschool nature study curriculum guides!
Desert Biomes includes eight weeks of multimedia lessons about the desert. This curriculum can be used with multiple ages from 1st-8th grades.
Hard as a Rock includes an in-depth study of rocks via creative walks, hands-on activities, kid-friendly research projects, and other connections like poetry, music, art, and literature.
Ever-changing Erosion includes an in-depth study of weathering and erosion via creative walks, hands-on activities, kid-friendly research projects, and other connections like poetry, music, art, and literature.
Links and Resources
Any of these resources can be helpful as you listen to the sandstone podcast or take the sandstone video class.
Please leave a rating or a review on your podcast app! It helps the podcast to show up for more people…which means more families can enjoy science through the wonderful lens of nature study! Thank you!
Would you like to record a voicemail to answer this season's nature study question?
At the end of each No Sweat Nature Study Podcast episode, Mrs. Cindy includes messages from a few of her friends. You usually have the opportunity to record a message that she might use on an upcoming episode! Right now, however, she has enough voice messages for the current question. Keep your eyes and ears open because a brand new question is coming soon!