Homeschool Service Projects
I've written about the importance of adding service projects to your homeschool before, but I want to reiterate how BIG making time to help others can be in the life your family.
Setting up for our homeless guests at church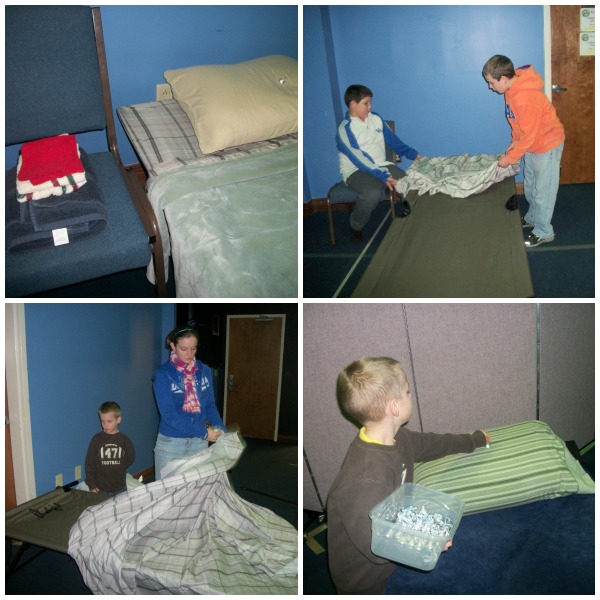 I'm constantly amazed at the spiritual growth I see in my children as we take part in service projects. They have more compassion for others, notice needs, willingly give up time and resources, joyfully take part in each and every opportunity, and specifically look for ways to help others. I am blessed by their sweet hearts constantly!
Most importantly, I see them growing closer to Christ during these times. They "get" that Christ first loved us and the overflow of His love can't help but spill onto others. They are beginning to see others through Jesus' eyes and dig deep to make a difference in people's lives.
Maybe surprisingly, these opportunities have opened the door to amazing family discussions about the Bible, the worldview of a Christian, when helping others might not be actually helping them, and more. Heck, even political issues have found their way into these deep talks many times.
Feeding the hungry at a nearby mission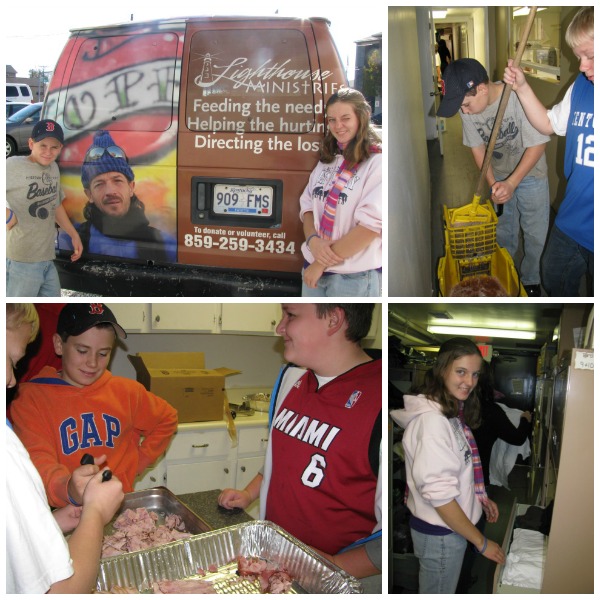 We prayed for quite some time to find a church with a heart for really serving others – in our community and around the world. We have been so incredibly blessed to be part of a service oriented church for the past year and a half. In that time, our family has been able to hand-deliver sack lunches to the homeless, prepare warm food and beds for several homeless friends through a weekly winter housing program, collect and deliver food for hungry families, serve lunches and clean a community soup kitchen, hang out with cancer patients, make and deliver blankets to a children's hospital, take part in a Bible club feeding program for another church ministering to needy children, and clean the Ronald McDonald house.
It's SO much easier to consistently serve when you're working alongside others! But, our family doesn't only make time to serve through our church ministries. We are always looking for ways to bless other people. That's what I want to encourage you to do. Whether you have a church group to work with or not, make time to serve others. You won't regret the time spent!
Need some ideas for homeschool service projects?
I took some time this summer to jot down local possibilities and their contact numbers or email addresses. I keep my list right in my weekly school planner so it's always forefront in my mind. Sometimes, I call another homeschooling family to see if they want to help and we schedule a date. Other times, I simply set up a time for my own family to serve. Here are a few ideas to get your wheels turning:
Serve at a soup kitchen
Work at a food pantry
Volunteer at an orphanage
Help at an abortion prevention center
Help with a MOPS program or, even better, a TeenMOPS program
Volunteer at a place like the Ronald McDonald House or Hope Lodge
Make meals for personal contacts who are in need
Use your talents to brighten someone's day – cooking, sewing, raking, painting, etc.
Fill up the seats of your family van with extra kids each week on your way to church
Help with a political campaign
Volunteer with an organization that strives to make a political difference like The Family Foundation or American Family Association
Visit a nursing home
Babysit for a family in need
Volunteer with Special Olympics events
Volunteer at a ministry like Riding for Hope
Send encouraging cards or make encouraging phone calls
Help at church funeral dinners, etc.
The ideas are really endless!
Share your ideas!
As a homeschooling family, you have such a unique opportunity to "be available" when needs arise. You can't say yes to everything, but try to say yes at least once in awhile. Better yet, make specific plans for serving occasionally (to make sure it happens.) You will be blessed. Others will be blessed. God will be glorified. Who knows, you might even have a chance to share His gospel message while you're at it!
This post has been linked up to Homeschool High School!
Check out these other posts!