40 of the Best Ways to Homeschool in the Car
Do you find your family in the car more often than you care to admit? Whether you're on the way to co-op, ballet, music lessons, ball practice, chess club or doctor's appointments, all this car time can make a mom feel quite guilty about the seemingly wasted minutes or hours.
Did you know this car time doesn't have to be "down" time? It most certainly can be down time if you like, but there are lots of wonderful schooling and enrichment activities that can keep your children educationally engaged, too.
In this post, you'll find more than 40 ideas for to have productive homeschool in the car!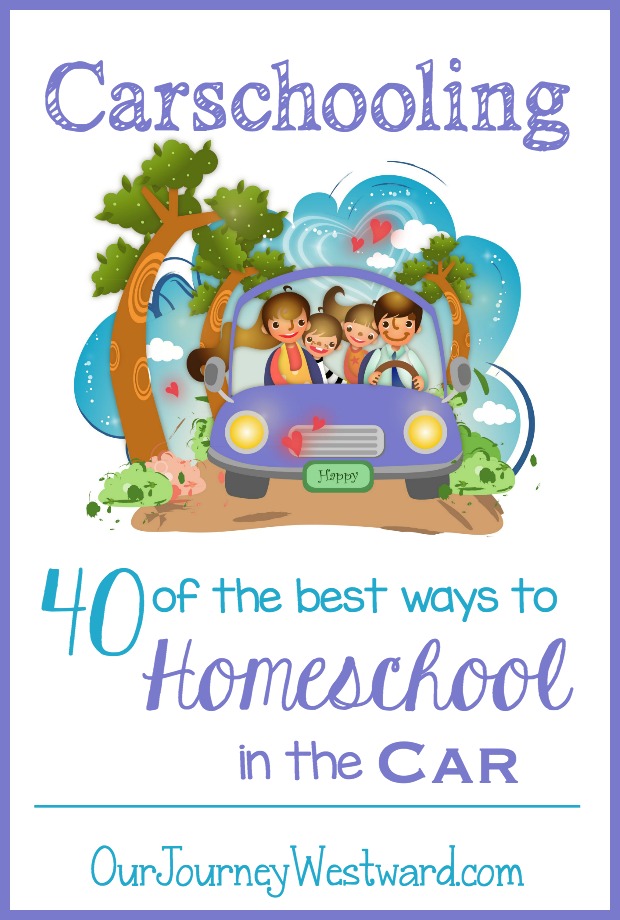 Homeschool in the Car
We live in a rural area where just a trip to the grocery is a 20-minute drive. Co-op classes and music lessons used to be an hour round-trip. Even to get to the nearest big city for specialty doctor appointments or Costco shopping is almost an hour each way. You can imagine how many miles we have traveled in our cars over the years!
Rather than rush through the school day (or ditch school altogether) in order to get places, we've used most of those traveling hours as homeschooling. Of course, we could always bring along workbooks and reading books and just do "regular" school in the car, but our carschooling activities are way more fun!
I realize the idea of carschooling can seem kind of lame and not really fruitful, but those less "schoolish" lessons have always reaped big results! Because many of our activities are game-like, everybody is pretty joyful about playing along and we get in quite a lot of learning.
As you'll see below, most of these homeschool in the car ideas are most appropriate for elementary and middle school students.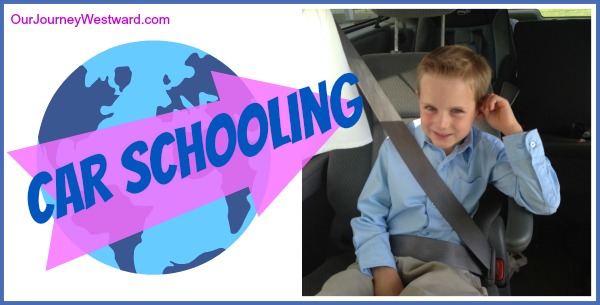 This post contains affiliate links.
Bible Memory Work
Recite Bible verses
Recite the books of the Bible
Academic Skills
Drill math facts
Complete mental math problems
Round license plate numbers to the nearest ten or hundred
Drill spelling words
Read signs
Quiz vocabulary definitions
Drill important dates to remember
Drill important people or events and their significance
Narrate recent readings
Recite poetry
Give copies of a blank US map and ask kids to color in each state when they see a license plate from that state
Bring along Fandex guides or other fact cards to quiz each other on facts
Fandex Family Field Guides: Presidents
Fandex Family Field Guides: 50 States
Fandex Family Field Guides: Explorers
Educational Games
Play ABC I Spy – with objects, colors, shapes, or words on signs
Name things you see outside that were mentioned in the Bible
Tell stories
Tell stories where one person stops at the climax and another person continues the story
Play grammar guess – Mom says a sentence and asks child to repeat a part of speech. Example: Mom says, "Name the prepositional phrase, 'Look for the ball under the bush.' " The child then repeats the prepositional phrase.
Hum or whistle tunes and see who is the first to guess correctly
Play 20 questions
Play an oral ABC Scattergories – Think of a topic and the first person names something that fits in the topic starting with "a", the next person thinks of a "b" word, and so on
Play word memory – The first person says a word that fits in a certain topic. The next person says that word and adds another word. The third person says the first two words and adds another word.You keep going until someone messes up. Example: Topic=animals, first persons says 'dog', second person says 'dog, cat', third person says 'dog, cat, frog'
Play Bugs and Cruisers – Assign point values to certain types of cars and have the kids keep a point tally as you drive. Example: VW Bugs and PT Cruisers are each worth 1 point. Hummers might be worth 10 points. Jeeps might be worth 5 points.
Bring along educational travel games (or store them in a plastic tote in the trunk)
Learning Wrap-ups Math Intro Kit
Melissa & Doug Flip to Win Travel Hangman Game – White Board, Dry-Erase Marker
Battleship Grab and Go Game
Yahtzee to Go Travel Game 2014 by Hasbro Gaming
Travel Spirograph Playset
Checkers – Take 'N' Play Anywhere Game
Pop-O-Matic Trouble Grab & Go Game
Rubik's Cube Game
Simon Electronic Memory Game
Audio Books
You knew I couldn't leave out living literature, right? There is NO WAY I could possibly list all the audio books we've enjoyed in the car. Not a chance. I decided to ask each of my children to name two of their very favorites and those are what I've included below.
The Witch of Blackbird Pond Publisher: Listening Library (Audio); Unabridged edition
Ella Enchanted
The Chronicles of Narnia Complete 7 Volume CD Box Set (Unabridged)
The Secret of the Mansion (Trixie Belden)
The Enchanted Castle
Nancy Drew #1: The Secret of the Old Clock
Educational Audio Ideas
There are many other audio resources which have been favorites over the years that have served to teach us academic subjects as well.
Classical music
Beethoven Lives Upstairs
The Story of Swan Lake
Peggy's Violin a Butterfly in Time
Other Ideas
Keep a lap desk or clip board in your car, along with a supply of pencils, crayons, etc. and bring along some drawing books and paper.
Ed Emberley's Drawing Book of Animals
Ed Emberley's Drawing Book: Make a World
How to Draw Princesses and Other Fairy Tale Pictures (Dover How to Draw)
On a familiar drive, ask your child to create a travel brochure of the sights you see
Stop at a rest stop or hotel in an unfamiliar area and pick up a few brochures. Let your child be the "tour guide" of attractions in the area as you drive. You never know when an unexpected field trip might turn up.
Listen to a preacher on the radio and discuss the sermon
Turn up the music and practice singing harmonies
Pack educational coloring books and crayons or colored pencils
Around the World Coloring Book (Dover History Coloring Book)
My First Book About Outer Space (Dover Coloring Books for Children)
Human Anatomy Coloring Book (Dover Children's Science Books)
Wonders of the World Coloring Book (Dover History Coloring Book)
A Walk in the Woods (Dover Nature Coloring Book)
United States Coloring Book (Dover History Coloring Book)
The Biology Coloring Book
Art Masterpieces to Color: 60 Great Paintings from Botticelli to Picasso (Dover Art Coloring Book)
Historic American Landmarks (Dover History Coloring Book)
Tell me how you homeschool in the car!
Other posts you might like: