8 Things I Learned from Teaching Story of the World
Today's post has been written by guest blogger, Adriana Zoder, of Homeschool Ways.  She writes about a popular Classical curriculum which happens to work really well in a Charlotte Mason homeschool.  In fact, my big kids enjoyed The Story of the World several years ago and next year begins my second journey through the books with the little man.  Enjoy Adriana's great tips for success!
This post contains affiliate links.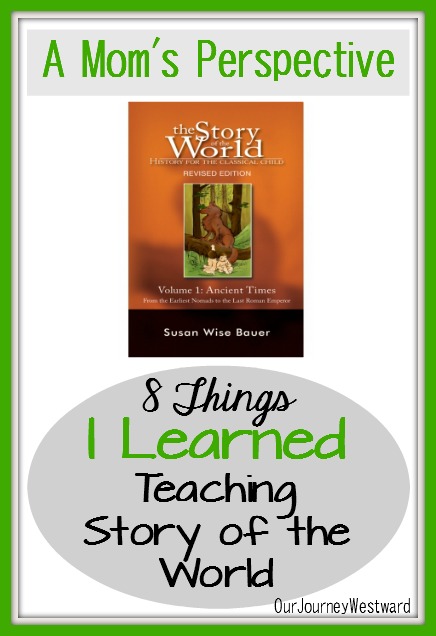 A history curriculum for the classical child, The Story of the World was put together by Susan Wise Bauer, a college professor from Virginia. I was, like many of you, introduced to her work through her best-selling how-to homeschool book, The Well-Trained Mind.
This year, my oldest is in first grade, so we started with the first volume of Story of the World which covers the Ancients. We are now well into the year and I have learned a thing or two (or eight) about how to teach this curriculum so our history days go more smoothly.
Eight lessons I learned from teaching Story of the World
1. A child reluctant to color will color if I give him a new set of crayons/markers/coloring pencils. Also, while I read to my children, they should be already at the table in front of their map work and coloring sheets. It keeps their hands busy while they listen.
2. After I read the story/lesson to them, we go through the activity book answering comprehension questions. Narration exercises start with answering the questions. It is very important to go through the comprehension questions before we expect kids to come up with their own narration. The answers organize the facts logically and provide the necessary vocabulary.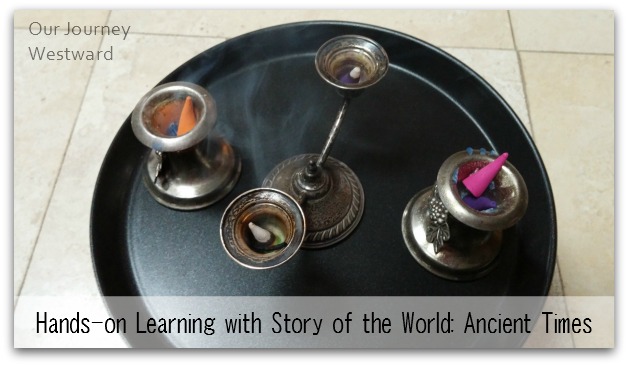 3. Crafts may have to be done first, to pique their interest. Then mom can go into reading the lessons while they color. If I say, "Let's do history," I may hear a groan. But if I say, "Why don't we make gold bracelets like they had in Egypt?" and show off the bottle of metallic gold paint, I will be met with enthusiasm.
4. Suggested reading titles must be previewed by mom to check for violence, strong pagan content, and adult themes (like pictures of people kissing etc). I really enjoy the lists of suggested reading materials, but I found some of them inappropriate for my children. While pagan religions should be presented and studied up to a certain degree, every home educator should assess whether their children are ready for such content.
5. This may seem elementary, but there are moms out there who are not aware of the inter-library loan (ILL) programs at their local libraries. My library borrows ILL titles for me all the time for this curriculum. In fact, the librarians have decided to buy some of these titles for their own collection. As such, I have not had to buy any of the suggested titles.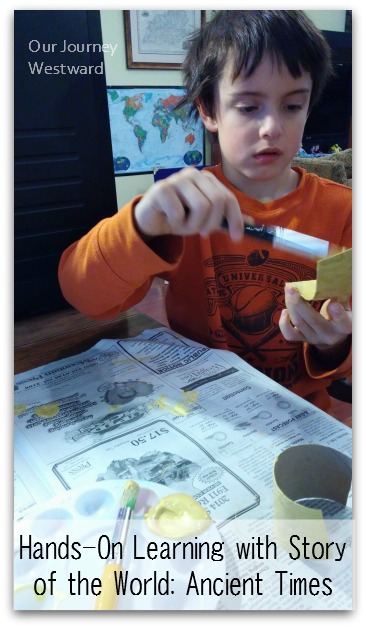 6. The Story of the World CD's really are worth the money, especially if you travel to lessons outside the home on a weekly basis. We live one hour away from our violin teacher's studio, for instance. That's a lot of car schooling and you better believe I take advantage of that time when I have a captive audience on the back seat.
7. Set a weekly time to do history, but be flexible. Sometimes your craft supplies or books might not be all there. Even Susan Wise Bauer suggests doing history twice a week – it keeps the subject fresh in their minds and they have several touch points with the vocabulary and the names and places. So start on one day of the week by reading the text and doing the mapwork and the coloring sheet. Then, get supplies and books ordered. When they come in, review the lesson in three quick sentences and do the crafts and read some more books.
8. Last but not least, this is a curriculum which keeps you on your toes as far as organization. To minimize stress, you should preview the lessons about three weeks in advance to order books and craft supplies and to photocopy the worksheets for your students.
Tell me about your experiences with Story of the World!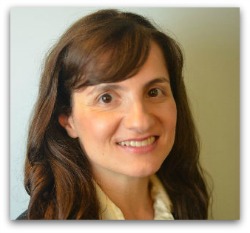 Originally from Romania, Adriana Zoder also lived in Sweden before settling in the USA and becoming an American citizen. A Gatlinburg resident since 2005, Adriana is a writer and homeschooling mom. She and her husband have two children. She maintains the award-winning blog www.HomeschoolWays.com. Her books, 101 Tips for Preschool at Home, 101 Tips for Kindergarten at Home, and Life in the Smoky Mountains, are available on Amazon.
Our Journey Westward readers can download a free ebook from Adriana! 21 Days to Jumpstart Your Homeschool will help you refuel by connecting to the One who called us to homeschooling in the first place!
Other posts you might enjoy:
 Realistic Cave Painting Art
 10 Living Books for Ancient History
 Our 4-Year History Cycle Revised
This post has been linked to: