How To Enjoy a Favorite Author Study in Your Homeschool
Does your family have a favorite children's book author? If you find yourself reading book after book from the same author, it's pretty safe to say that your family may have a favorite! Why don't you consider a favorite author study to celebrate that author (or illustrator) and learn a lot about the fundamentals of writing and illustrating?
We love books at our house. So much so that it's too hard to pinpoint a single favorite author. We love Jan Brett, Patricia Polacco, Tomie dePaola, Cynthia Rylant, Eve Bunting, Cindy Neuschwander, Dr. Seuss, and Bill Peet. And those are just a handful of the picture book authors that are near and dear to our hearts.
You can see several of those authors and our favorite books of theirs in Six of Our Very Favorite Picture Book Authors and Six MORE of Our Very Favorite Picture Book Authors.
This post contains affiliate links.
We also have some favorite chapter book authors like E.B. White, Kate Seredy, Linda Sue Park, E. Nesbit, and Jean Craighead George.
E.B. White books include Charlotte's Web, Trumpet of the Swan, and Stuart Little.
Kate Seredy books include titles like A Tree for Peter, The Chestry Oak, The Good Master, and The Singing Tree.
Linda Sue Park books that we've read include A Long Walk To Water, A Single Shard, and Prairie Lotus.
E. Nesbit books that we've enjoyed include The Railway Children, Five Children and It, The Treasure Seekers, and The Enchanted Castle.
Our favorite Jean Craighead George books include My Side of the Mountain, On the Far Side of the Mountain, Frightful's Mountain, and Julie of the Wolves.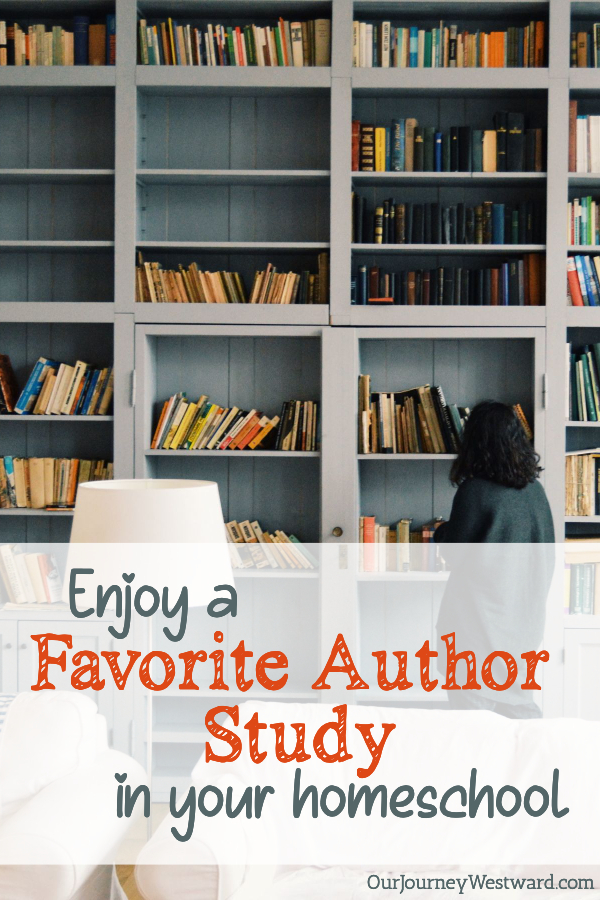 Favorite Author Study
I have a unique idea for your homeschool today. To enjoy more books by a favorite author, try an author study! It can be as casual or as serious as you'd like.
Favorite Author Study: Step One
Gather as many books as you can that are written by the author and read them.
Talk about the similarities you see in the writing styles, themes, plots, characters, and even illustrations.
Stop here or move on to the next step.
Favorite Author Study: Step Two
Look to see when each book was originally published.
Note whether they were all printed by the same publisher or different ones over time.
You might even read through or watch a quick biography about the author.
Stop here or move on to the next step.
Favorite Author Study: Step Three
Ask your children to try their hands at writing something in the style of the author. Your children will have internalized everything from writing styles to mechanics during their study. It should come somewhat naturally to create original writing in a similar style as the author.
Teaching Writing Through Picture Books
If you like the idea of using picture books in general to teach writing, I can show you how to do that easily. This 1.5-hour masterclass gives you all the info you need to make it happen.
Whether you simply read and discuss or take a more academic approach, an author study is a powerful way to give children subtle instruction in writing. They can internalize so much about how to write through reading good books!
If you already have a favorite children's book author or discover a new one along the way, I'd love to hear about it.
You Might Also Like