44 Educational Winter Gifts for Kids
Believe it or not, the dreary days of winter give children great opportunities for learning. The long, sometimes dark days can be frustratingly boring and lead to trouble on the homefront. Luckily, this list of educational winter gifts will prepare you for Christmas and birthdays, while keeping your kiddos happy and occupied all winter long.
Whether staying indoors or venturing outside, there is so much fun to be had! Your children will appreciate the games, experiments, kits, books, and outdoor ideas, and you'll appreciate the options at your fingertips to keep them active and busy.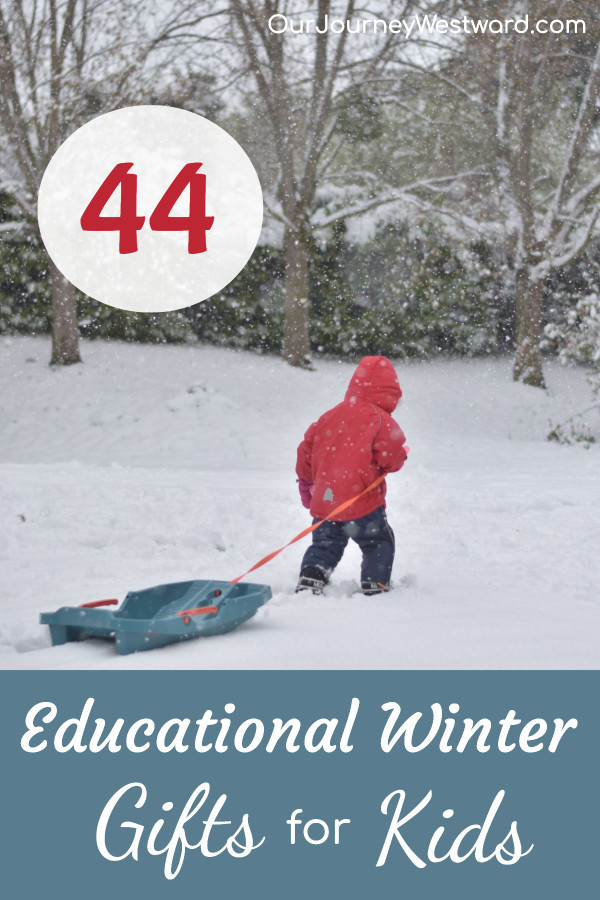 This post contains affiliate links.
One of my top priorities when buying gifts for kids is to make the gifts as educational as possible without being too obvious. Obviously educational gifts can be a huge turnoff to kids, so stealthy and fun it is for the win. That's exactly what I tried to gather for you in this fun list!
Outdoor Winter Gift Ideas
Let's start with outdoor winter gift ideas. One of the hardest parts of winter is the time spent indoors without an outlet for kid-sized energy. Winter play is a great way for kids to expend that energy while getting sunshine and fresh air. You'll be so thankful for the refocused bodies and brains once they get back inside after playing outdoors! These fun gift ideas will help your children to extend the time spent outside without (too much) complaining.
Experiment Kits for Winter Learning
As fun as it can be playing outside in the winter, it's not good for kids to stay out in the cold for too long. This means you can expect a lot of indoor time during the winter months. While it may seem easiest to allow for more screen time, there are better ideas that don't take much extra time or preparation on your part.
In our home, science kits slide into winter days for the win! Some of these ideas – like creating your own snow and crystals – are great to help your children explore winter themes. Other kits – like magic experiments and physics projects – are fun for learning new things or putting hands on science topics you're children have already learned. Experiment kits make great educational winter gifts!
Indoor Games To Keep Kids Busy on Winter Days
Indoor games can make winter afternoons fly by. They happen to be great options for strengthening brains, too! Some of the games, like indoor ring toss and magnetic darts can help expend some of the extra physical energy. Some of the other games I've suggested are less active but can ignite critical thinking. Keeping brains engaged is a large part of the winter boredom battle.
Arts and Crafts for Long Winter Days
Winter afternoons are made for arts and crafts! Whether your children learn an entirely new skill or perfect old ones, arts and crafts present unique ways to grow in problem-solving, following directions, and creativity. Kits like the ones on this list make great gifts because they teach artistic skills and inspire hours of creating!
Books To Keep Kids Busy This Winter
Winter, of course, is a great time to settle in for afternoon read-alouds. But, it's a great time for your children to dig into exciting educational topics on their own, too. That's why I love providing plenty of book options for things that I know my children will enjoy exploring. The ones that are biggest hits are those that include experiments, activities, games, or easy recipes like these.
I hope this list of educational winter gifts inspires you in gift-giving and helps your family to experience JOY this winter season!
Other posts you may like: