Easy Summer Field Trips for Your Homeschool
Summer field trips have been a consistent tool in my toolbox to beat boredom and get in some sneaky learning. Living on a cattle farm and having a library full of nature studies, you'd think boredom wouldn't be an issue at my house, but all kids get bored here and there.
A summer break from homeschooling and the usually favorable weather make it a perfect time to take field trips even if your kids aren't bored. But, if I'm being honest, the off-season of summer can get a little monotonous for me, too. So, one of my favorite ways to keep the learning alive – yet stealthy – is to take field trips with my kids during the summer.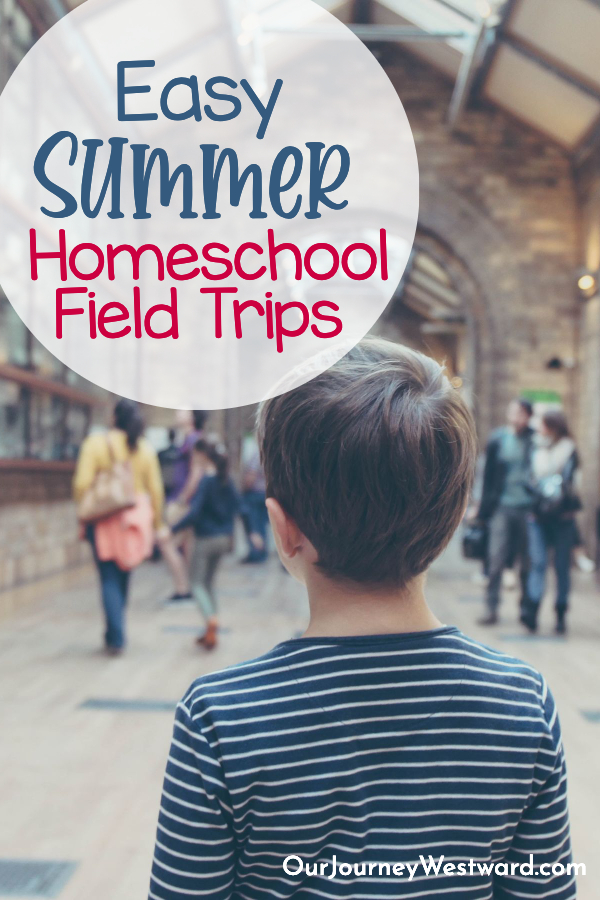 Summer field trips are fantastic boredom busters and summer slide evaders, offering you the freedom of travel that you may not have had during the school year. They take the pressure off of the learning and allow for fun to take center stage.
Still, I don't necessarily refer to them as "field trips" – that runs the risk of someone figuring out the potential for learning outside of school time. Instead, I casually mention that I'd like to make a day of it at this exhibit or meet up with friends at that location.
Outdoor Summer Field Trips
You might plan a few nights of camping at a state park, crawl the riverbeds in search of fossils all day without worrying about a schedule, or hike a trail you wouldn't have time for normally. Consider including family members who may not have been able to during "regular" school times, too.
There are so many things to do outside. Think about farm tours, you-pick orchards, kayaking, historical markers, battlefields, nature preserves, sports venues, guided walking tours, putt-putt, and arboretums. Take a historical walk at the cemetery, go to a living history event, or attend a war reenactment. Enjoy a community festival, go to the drive-in theater, or attend an outdoor concert or play. Watch the local calendar for special events for sure!
Indoor Summer Field Trips
I'm not sure about where you are, but summers here get hot. Not just hot, but steamy hot. At a certain point in the summer, it gets uncomfortable, almost oppressive to play outside in the thick, humid air. This is when I love to begin museum-hopping! We take advantage of the air conditioning and spend the days indoors, roaming great halls of history and works of art.
I generally start with the free exhibits nearest me, the museums with little or no entrance fees that we can attend several times if we want. Then I find specific exhibits that interest me, one of my kids, or perhaps tie into a unit study we've recently finished.
Search for museums of all sorts. History and science museums are always great but don't forget art museums, railroad museums, flight museums, cultural museums, and sports museums. Often state and national parks, nature preserves, and other seemingly outdoor field trips will have museums to visit, too.
Don't forget other indoor options like ice skating, laser tag, and bowling. Honestly, there is quite a lot of sneaky physical science learning in these activities!
Community Helpers Field Trips
Summertime is the perfect time to visit your local firehouse or police station. In my experience, firemen love having visitors and are always more than willing to give tours and answer eager questions. They're especially helpful if you bring them baked goods or bottled water! Police stations will require an appointment to tour, but they're also always willing to serve the community by answering questions and showing kids a bit of what goes on behind the scenes.
And while there aren't sirens or exciting trucks, the post office is another fun field trip to try during the summer. Just call your local postmaster and set up an appointment to tour the facilities – you'll be surprised and just how cool the post office can be!
Field Trips To Businesses
If you live near any interesting businesses or factories, make the call to see if they offer tours. The worst they can say is no! Try a recycling plant, an automobile factory, a commercial fishing dock, a donation center, a bakery, a vet's office, an apiary, or your local television or radio station. Even some grocery stores offer guided tours that incorporate nutrition education into their presentation.
As homeschoolers, we know there is always something to learn, so the sky is the limit when it comes to interesting and educational places to visit!
Service Project Field Trips
Another fantastic summer field trip idea that works out to be beneficial for all is to find opportunities to volunteer as a family. Organize or attend park clean-ups and offer your time at the local animal shelter taking the dogs for walks or cleaning out cages. Visit the nursing and assisted living homes near you and spend time engaging with the residents. Help organize and distribute goods at your local food pantry or ride as a family to deliver meals to those who need them.
Many libraries become designated drop-off locations during the summer and run several contests and book clubs to keep the sudden influx of kids engaged. Volunteer one day a week or so to help out with their program, with storytime, or just shelving books! You can even contact your church to find out if there are any projects on campus your family could lend some muscle to or any members who might need a visit or helping hand.
Volunteering during the summer keeps your children engaged and disciplined, keeps their servant's heart soft, benefits the community around you, and may even earn some community service hours that look so attractive to colleges and scholarship committees.
I sure hope you have lots of fun taking summer field trips. I would love for you to tag me on Instagram when you do!
Go make memories that last longer than a sunburn. You'll treasure the memories forever!
Other Posts You Might Like