Cranberry Science Experiments for Kids + Literature Connections
Cranberry science experiments are fun to include in your homeschool during November or December. You'll love these super easy ideas. All you need is a bag of fresh cranberries and a few simple kitchen supplies.
For extra fun, I've added a few books to kick-start the learning. They are some of my favorite Thanksgiving and Christmas picture books that just so happen to make great connections to seasonal cranberries!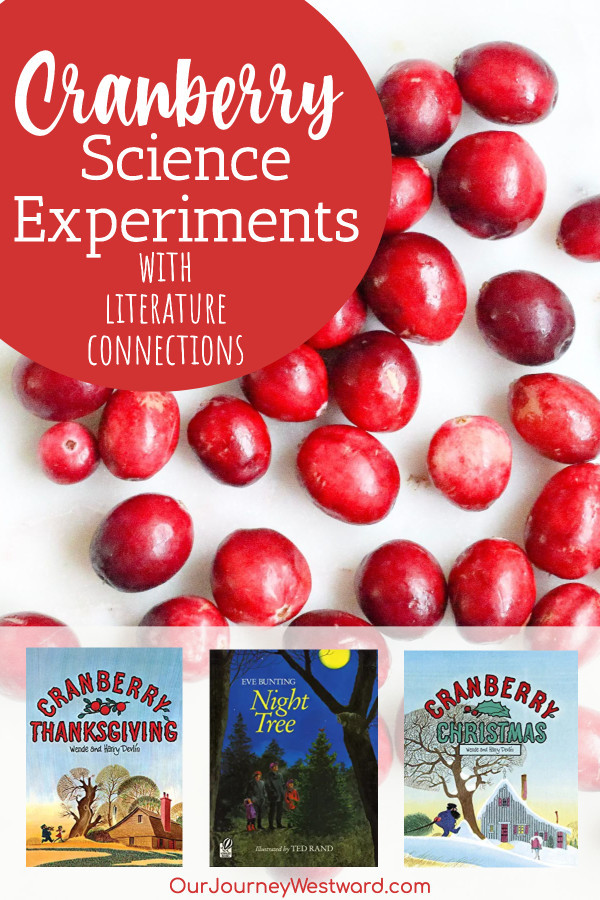 This post contains affiliate links.
Cranberry Picture Books
Using living literature alongside learning can offer children a wonderful perspective and gently teach concepts. While these three books don't share scientific information about cranberries, they do help introduce cranberries to children in a roundabout way. That opens doors for excitement about the experiments and activities to follow.
You'll meet Maggie and her feisty grandmother in Cranberry Thanksgiving. It's a fun book about a family living near a cranberry bog and their gruff neighbor, Mr. Whiskers. At Thanksgiving dinner, grandmother's secret recipe for cranberry bread is stolen. Did Mr. Whiskers do it?
In Cranberry Christmas, you'll enjoy another exciting tale with Maggie, her grandmother, and Mr. Whiskers. As Christmas approaches, what will Mr. Whiskers' sister think of his somewhat messy home as she visits? And, how will the children of Cranberryport feel when their ice skating pond is deemed off-limits by another gruff neighbor?
Eve Bunting's Night Tree is a sweet book about a family's annual tradition of creating an edible Christmas tree for the animals in nearby woods. You'll enjoy taking the Christmas hike alongside them and get a special peek at the animals who come to enjoy the treats.
Each of these books will inspire your children to use cranberries in yummy recipes and nature crafts. They are heartwarming stories that can lead to fun, practical applications that will make plenty of memories in your home.
Cranberry Science Experiments
Whether you decide to read any of the picture books or not, you'll still have plenty of fun learning about cranberries with these simple cranberry science experiments. They are easy enough for younger elementary students but should keep the attention of older ones, too. Hands-on learning through experimentation is one of the best ways to imprint knowledge and understanding about science topics!
Hands-On Cranberry Exploration
With elementary children, I always try to encourage at least a little exploration of new things before I make too many directed suggestions. Allowing for time to explore promotes independence in learning, opportunities to wonder and ask questions, and opportunities to make important discoveries and learning connections.
In the pictures below, my 1st-grade son spent about ten minutes "playing" with cranberries. On his own, he discovered the differences in cranberries of various ripeness, the colorful juices, and the intricacies inside.
As you can see, I provided a few supplies to help my little explorer – paper towels, a serrated knife (with supervision), and a magnifying glass. If he had wanted, he has access to several other kitchen, science, and art supplies, too. He knows which of those supplies are free to use and which are off-limits.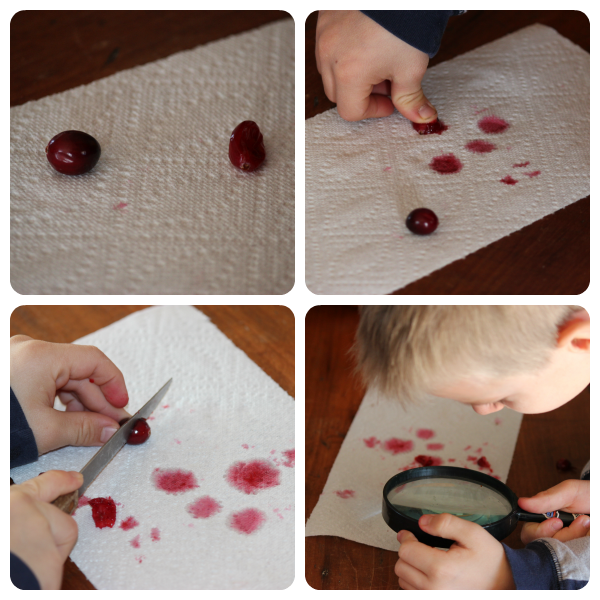 Cranberry Science with a Microscope
Once he reached his limit on exploring, it was time to jump into some of the activities I had planned. Since he loves microscopes (and always has), I let him make a slide of the cranberry flesh to observe under the microscope. Making microscope slides requires supervision with younger children.
To move him toward scientific documentation, I asked him to draw a simple picture of what he saw in his nature journal.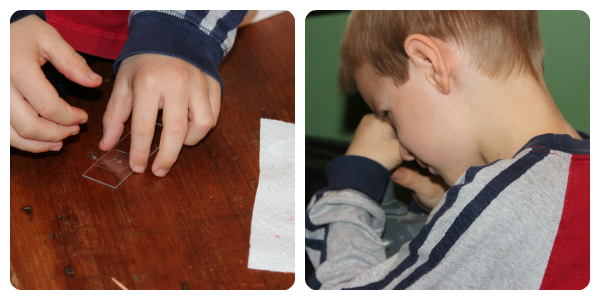 Cranberry Floating Experiments
If you know anything about cranberry bogs, you know cranberries float. Eli didn't know that, though, so we watched a video about harvesting cranberries. Then, of course, I asked him to design some experiments to see if cranberries really float. 
His first experiment was to simply plop cranberries in water. That was informative, but not quite the excitement he was hoping for, so he decided to make foil boats, too. He had tons of fun designing and redesigning to see which boat would hold the most cranberries. This was a wonderful, practical experience with physics.

Making Cranberry Dye
After noticing the red juice on the paper towel during his discovery time, I suggested we make some dye. To make an easy dye, simply boil some cranberries in water, crushing the cranberries with a potato masher until you have a bright red liquid. Once the liquid cools, you can paint with the juice or dip fabrics into it for a semi-permanent color.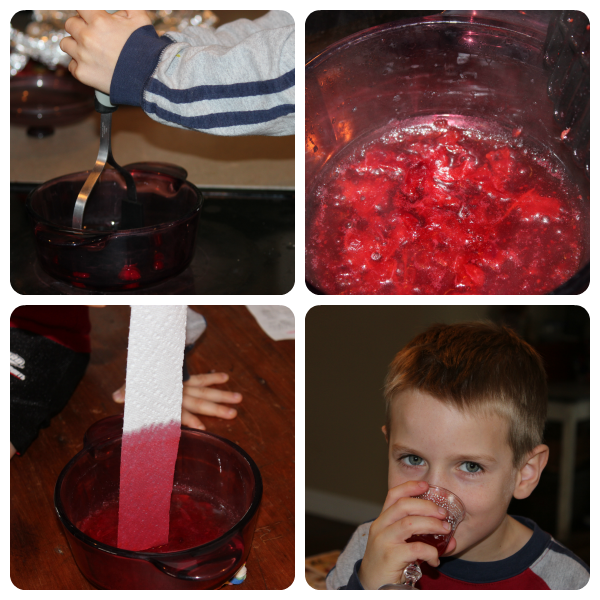 Capillary Action Experiment with Cranberry Juice
With some of the leftover dye mixture, we did a capillary action experiment using a paper towel strip. Capillary action is when liquids travel along narrow tubes, sometimes defying gravity. It's easy to watch this happen when placing a strip of paper towel into colored water.
Eli even experimented with creating his own cranberry juice from some of the leftover homemade juice. After several tries, he added the perfect amount of sugar and it actually tasted pretty good.
Acids and Bases Experiment with Cranberries
As a 1st grader, Eli hasn't learned the scientific reasoning behind acids and bases yet. However, he loves playing around with things that fizz. So, we talked just briefly about how acids and bases react with one another, but acids and acids don't. I explained that cranberries are acids.
To start the chemistry experiment, we put our acidic cranberry juice (from the boiled cranberries) in four little glasses. I asked him to guess whether each of the following was an acid or base: orange juice, baking soda, vinegar, and baking powder. Then, one at a time, he added one of the substances and watched for a reaction. This was so much fun for him!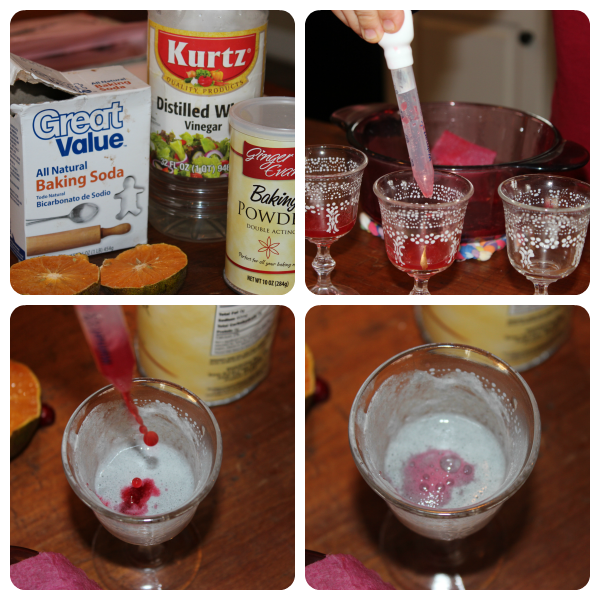 Cranberry Garlands for Animals
To use up the rest of the cranberries from the single package that I bought, we made garlands just like the family in the book, Night Tree. I happened to have some extra oranges that needed to be used that were added to make the garland even yummier and prettier.
We have a small evergreen in the front yard that is the perfect height for animals and has a great view from our window. Our offerings seemed to be yummy treats, especially for the birds in our area.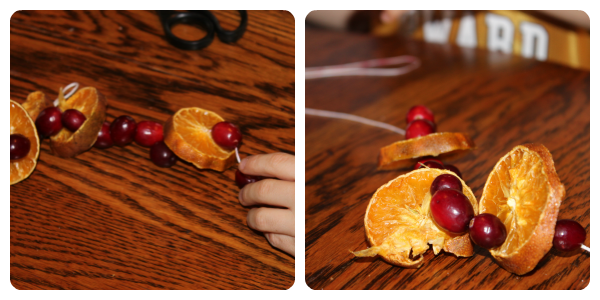 All of the reading and cranberry activities took almost our entire school day. It was such a great way to spend a day of STEM funschooling during the holiday season!
If you enjoy some cranberry science experiments this year, share pictures of your adventures on social media and tag me @ourjourneywestward. I can't wait to see them!
Winter Homeschooling Ideas
Are you looking for more fun science ideas to keep you busy this winter? I would love for your entire family to join us in the No Sweat Nature Study membership to learn about all sorts of seasonal science topics through the lens of nature study.

If you're brave enough to head outdoors on wintery days, you won't want to miss these fun winter-themed nature unit studies! All are part of the NaturExplorers series which provides in-depth science learning on 19 different nature topics. Choose your own study from the plethora of creative nature walk suggestions, printable nature journaling pages, indoor hands-on activities and kid-friendly research-based projects, literature lists, and poetry, artist, and composer connections.
Other Posts You Might Like