Chronological American History in High School
What do you do with a high school student who has been through two cycles of American history and thinks a third cycle would just be boring and unfruitful?  Well, I spice it up and make sure he dives deep!
I get his frustration.  I really do.  Over the years, we have followed a four-year history cycle – meaning by high school he has already completed two years of early American history and two years of modern American history.  Because we typically learned via unit studies in the earlier years with lots of informational literature & historical fiction and several fabulous history field trips, he has already learned A LOT of American history.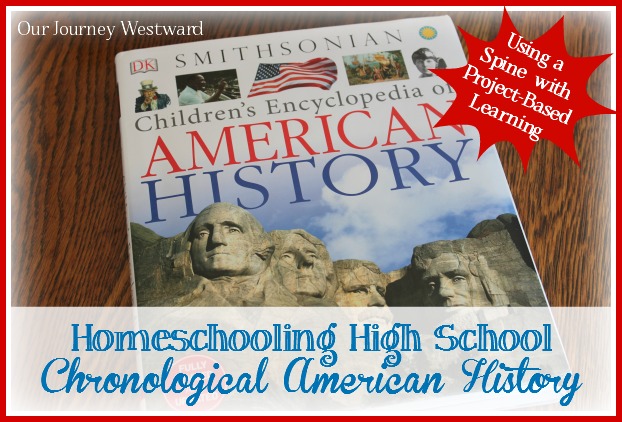 Dive Deep
Rather than do a third cycle rinse and repeat, when high school rolls around we do a third cycle deep dive.  That means I expect my children to already know the basics of each era/period/event of history, so their assignments take on new purposes.
We spend more time analyzing events – their causes and impacts.
We spend more time comparing events.
We spend more time researching particular people and their shaping of events.
We spend more time girding up our Christian worldview as it pertains to history.
We spend more time reading opinionated articles and literature – then debating around the supper table.
(This post contains affiliate links.)
Chronological American History
While I could purchase a formal history textbook and be done with it, that's just not our style.  However, I still very much need something to keep us on track chronologically and to make sure I don't miss any historical high points.  I found the perfect book to give us the freedom we crave and the stability we need!
The Children's Encyclopedia of American History by DK Publishing begins with early American explorers and ends with events as late as 2014.  Eighteen chapters (320 pages!) cover all the eras of American history with great detail, lots of images & maps, and timelines.  It's chronological American history at its finest!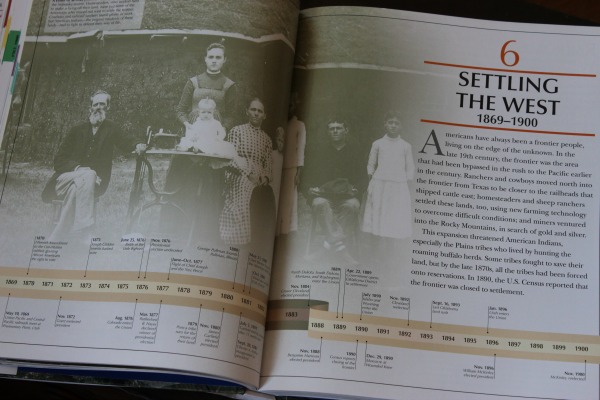 Using a Spine Book to Facilitate Learning
This book has become our American history spine.  It keeps us on track, yet gives us plenty of room to linger on an era or take rabbit trails.  The text can also inspire wonderful assignments.  Let me explain with several examples…
Examples from chapters we've already done:
After reading the chapter Exploration and Conquest, I asked Caleb to recreate the map of major explorations from the book.  Then, I asked him to research and write a paper on the explorer who seemed most interesting.  After that, I asked him to research the effects exploration (and eventually settlement) had on people who were native to America.  We discussed and debated a bit around the supper table.
After reading the chapter about the Revolutionary War and the formation of a new nation, we took a break to go through David Barton's American Heritage DVD lessons and these study questions.  The DVD lessons took us about a month.  That was time "off" of textbook studies, but still time very well spent.  His final project was to write a speech about  the discrepencies in modern history books.
Examples of things churning in my mind for later chapters:
While reading the chapter about WWII, he will likely become interested in the evil behind Hitler and the concentration camps.  (I know this from his extreme interest during our last cycle.)  I'll likely ask him to study more via the internet and library books, focusing particularly on Hitler and his actions through a Christian worldview.   He will be expected to facilitate discussions about his findings and create a Power Point presentation.
While reading the chapter about the Cold War, I'll likely ask him to complete the Cold War Notepack (a notebooking curriculum which entails research) from In the Hands of a Child.
Neither of these future events may happen.  Honestly, we'll see how each new chapter unfolds and go from there.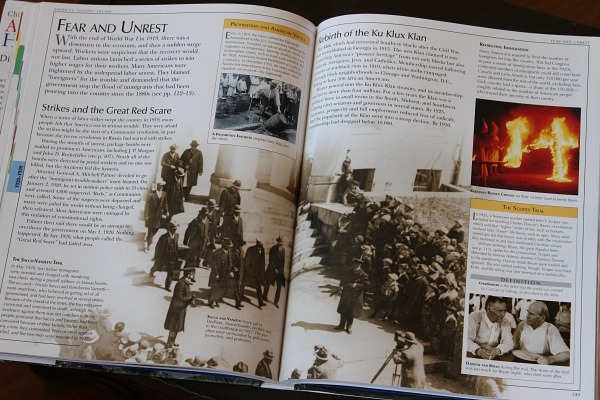 I hope you can see that the spine, as amazing as it is, acts as a springboard for diving deeper.  Our lessons aren't necessarily planned far ahead of time because they grow organically from the lessons, my son's interests, and other fabulous materials I already have on hand (like the notepack.)
We will take two years to go through the entirety of American History using the encyclopedia as our spine.  I'll make sure that each chapter is followed with at least one good-sized project – research-based, notepack, etc.  And, of course, great historical fiction and/or living biographies are part of any good homeschool course!
 Early American Living Literature
 Modern American Living Literature
Thorough Learning is the Goal
Teaching a high school course in this "organic" way may scare the wits out of you.  How can Cindy NOT have a full plan in place and just let a high school course "happen"??!!   Look at it this way…the course is planned.  We will move from chapter to chapter in the encyclopedia until we get to the end.  If that's the only thing we do, well, there's a lot of learning that will have taken place.
However, because I'm making sure at least one (usually more) project is completed having to do with that chapter, I know lots more learning is happening.  I can let my son's interests dictate the direction of the project(s) because I know nothing major will have been left out since every page of the spine was read.  It's project-based learning with a great safety net!
Tell me…
How do you teach high school history?
Have you ever used project-based learning in your homeschool?
Related Posts:
 How To Teach High School Dissection
 Modern American History (Hakim)
 Planning a Student-Led Course
This post has been linked to: