Interest-Based Ocean Study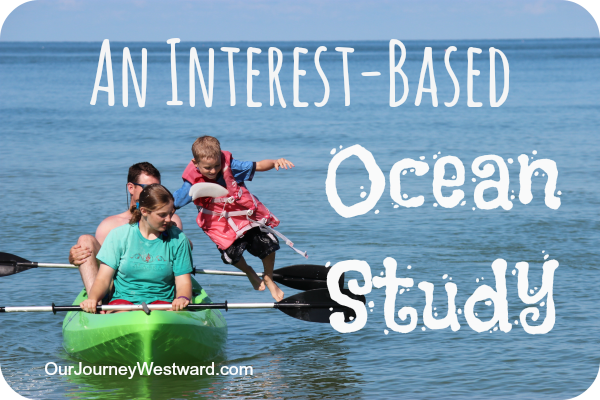 (This post contains affiliate links.)
Interest-Based Rabbit Trails
After our early autumn trip to the beach, Eli was immensely interested in beach life. When I found him pouring over one of our souvenir attraction maps, I knew it was wise to capitalize on his enthusiasm. So…a quick, delight-directed ocean study started immediately.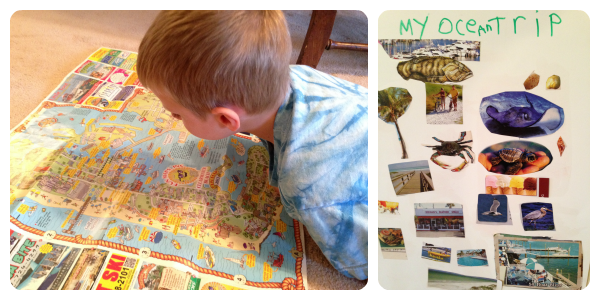 Map Skills: I just let him explore the souvenir map. We talked about things we remembered seeing, where we stayed, how far the attractions were from us, why all those businesses would be there, our favorite memories, the difference between the bay and the ocean, and more.
Collage of Memories: Rather than keeping piles and piles of brochures as souvenirs, I let Eli cut them up and create a collage of favorite memories from the trip. Casual conversations about science, geography, culture and more made the lesson even better than just art and fine motor skills.
How does interest-based learning work?
Golly, any way you want really. In this instance, I just kept facilitating interesting activities as long as Eli was still excited about the topic. I had no real learning goals in mind (aka: pushing my agenda), because I've found letting him lead takes us way farther than my goals anyway.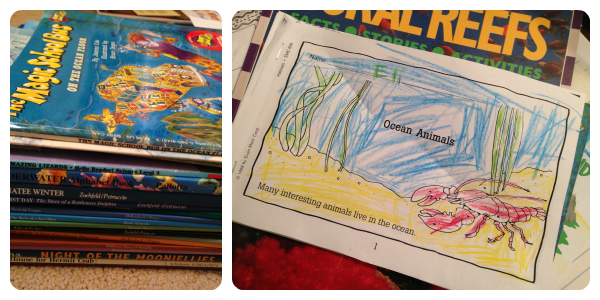 Literature: I keep a pretty well-stocked homeschool library (ahem), so I just pulled off all the books relating to oceans (see list below) and let him pick and choose what interested him at the moment. By the end of the week, we had read them all.
Extending the learning: I also keep a pretty well-stocked resource cabinet (ahem again), so I browsed through it for something to give him a little extra early reading practice. I happened to find the perfect mini-book (out-of-print), but any of these ocean teaching resources would provide you loads of activity ideas.
Easy Make & Learn Projects: Animal Habitats: Reproducible Mini-Books and 3-D Manipulatives That Teach About Oceans, Rain Forests, Polar Regions, and 12 Other Important Habitats
Awesome Ocean Science (Williamson Kids Can! Series)
Janice VanCleave's Oceans for Every Kid: Easy Activities that Make Learning Science Fun
Independent Learning
During an interest-based study (or any study, really) I always try to find activities for my children to do that don't require me being alongside them. The reasons?
I need to teach them to keep themselves occupied while I work with siblings or do other things.
The ultimate goal in homeschooling is to make them independent learners.
Most importantly, I want them to learn that they have the freedom and ability to take their own passions to a new level without my help.
Shell Sorting: Allowing Eli free time to explore our shell collection was an independent activity I gave him while the big kids and I were working on other lessons. Sorting is a great math and science skill.
Rabbit Trails
The best part about interest-based learning is finding even more paths to explore than you thought you might. During our study of the ocean, Eli was asking several questions about water. So…I pulled Science with Kids from Usborneoff the shelf. It includes several easy experiments to learn about the properties of water. One fun afternoon later, we had delight-directed water studies under our belts, too.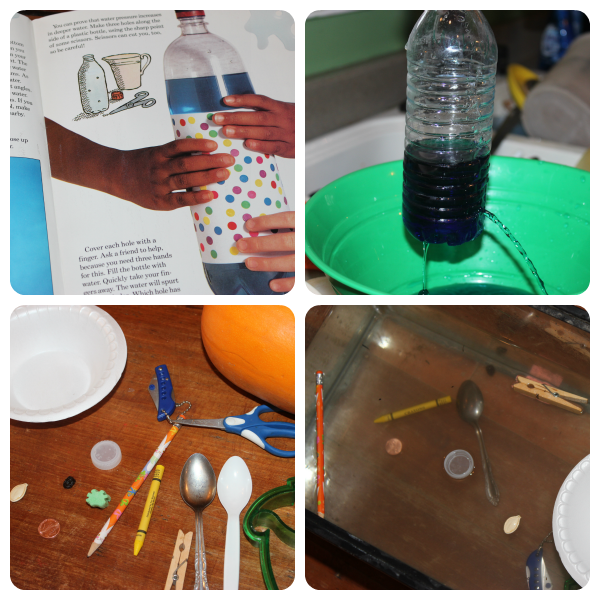 Water Pressure; Sinking and Floating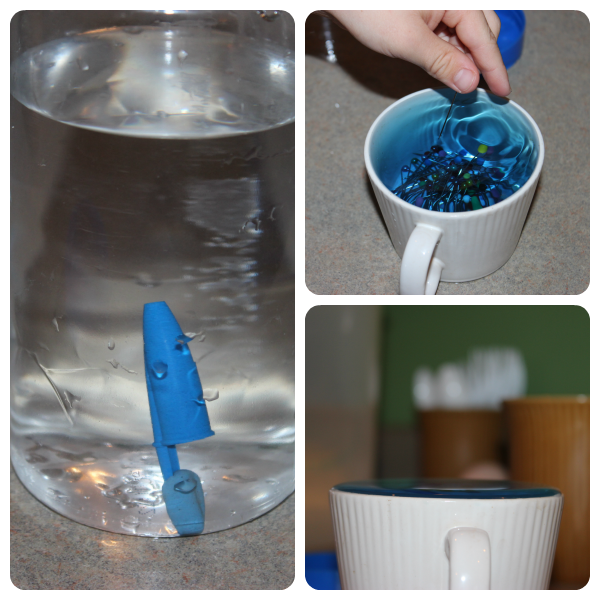 Air Pressure in Water; Surface Tension
A Natural Ending
After about a week, Eli was ready to move on from ocean study to other topics. No problem at all. I just love being able to follow his lead!
Because some of you have asked…
Yes, we are still (usually) doing our regular math and language arts activities at the same time as these studies.
Yes, I have a general plan of learning for science and history set out for the year. If we get to them all, great! If not, tons of learning is still happening and we have plenty of time to get to the other things as the years roll on.
Do you let your children's interests take the lead sometimes?
Ocean Living Literature
Sam the Sea Cow (Reading Rainbow)
Night of the Moonjellies
The Magic School Bus on the Ocean Floor
The Rainbow Fish
A House for Hermit Crab (The World of Eric Carle)
Swimmy
Fish is Fish
The Underwater Alphabet Book (Jerry Pallotta's Alphabet Books)
Seashells, Crabs and Sea Stars: Take-Along Guide (Take Along Guides)
A Home in the Coral Reef (Scholastic News Nonfiction Readers: Habitats)
National Geographic Readers: Lizards
Dancing on the Sand: A Story of an Atlantic Blue Crab – a Smithsonian Oceanic Collection Book (Mini book)
Wings in the Water: The Story of a Manta Ray
Octopus' Den: A Smithsonian Oceanic Collection Book
Survival in the Sea: The Story of a Hammerhead Shark (Smithsonian Oceanic Collection)
Dolphin's First Day: The Story of a Bottlenose Dolphin: Smithsonian Oceanic Collection
Humpback Goes North (Smithsonian Oceanic Collection) by Darice Bailer (2003-01-01)
Pelican's Catch – a Smithsonian Oceanic Collection Book
Swordfish Returns – a Smithsonian Oceanic Collection Book by Susan Korman (2003-12-01)
Giant of the Sea: The Story of a Sperm Whale: A Smithsonian Oceanic Collection Book
Orca Song – a Smithsonian Oceanic Collection Book
Interest-Based Learning & Gifted Kids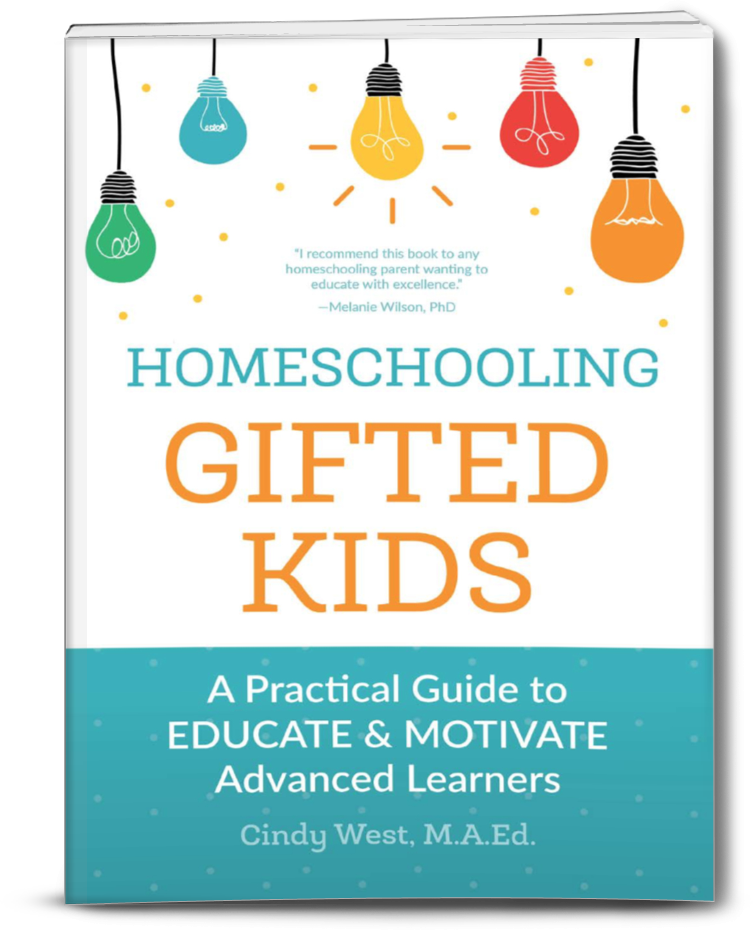 Interest-based learning is a great option for many gifted children who desire to learn on their own terms. My book, Homeschooling Gifted Kids, discusses all kinds of teaching strategies that can help gifted (and even struggling) learners. If you need some encouragement and ideas, I hope you'll check it out!
Check out these other posts on interest-based learning:
This post has been linked to: