Art Fundamentals in One Lesson a Week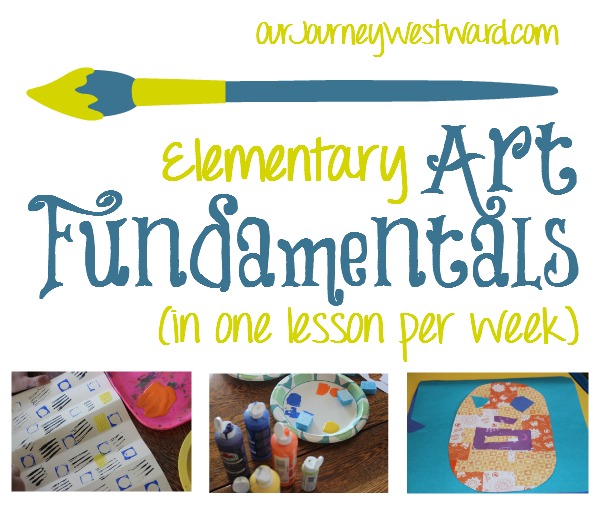 This post contains affiliate links.
Art Fundamentals in 2nd Grade
I ran across Adventures in Art, Level 2 by Laura Chapman at a used curriculum sale this summer and it's been such a treasure!
I'm not much on textbooks, but this happens to be a fabulous textbook that both my son and I have been pleased to use. Written specifically for a 2nd grade reader, the lessons can be read by my son. I love that! (Even if the text is a bit twaddle-like.)
I also LOVE that each lesson teaches a particular art fundamental and gives at least one example of that fundamental used in real (often famous) artwork and gives simple, illustrated directions for an art project to try at home.
In one lesson per week, Eli has been learning about things like color, pattern, texture, line, movement, form, balance, unity and variety. He's completed all kinds of simple projects that teach the art concepts and give him experience with various art modes and media.
All I have to do is gather the necessary art supplies then snuggle in with Eli for the short reading lesson and oversee the art project!
A Few of Eli's Projects
This lesson focused on the fundamentals of shape and expression through the creation of a paper collage. Before the lesson, I gathered some old scrapbooking paper, cardstock, glue sticks and a pair of scissors. No special art supplies were necessary – and that rings true with most of the projects.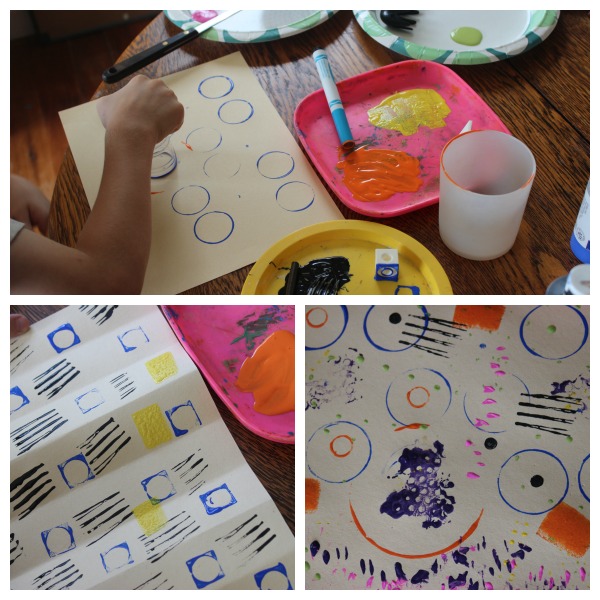 The fundamentals of shape and pattern were taught through this fun printing activity. Before the lesson, I gathered some tempera paints and paper. Eli helped me find things around the house that might make interesting prints. We pulled out forks, cups, whisks, sponges, blocks and other fun tools.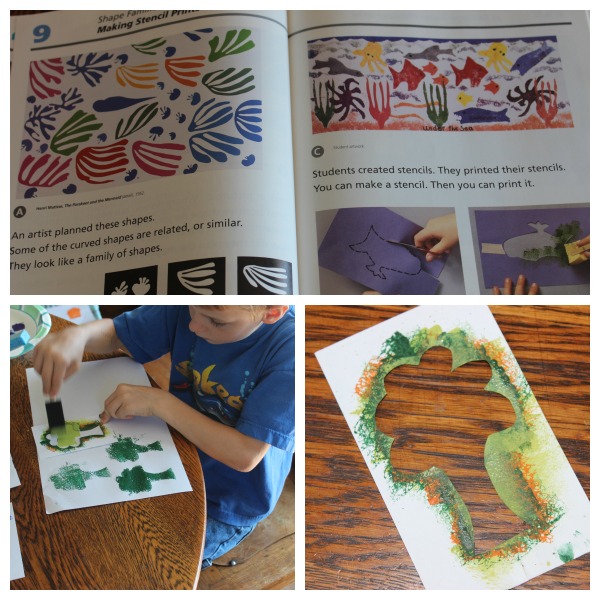 We again focused on shape during this lesson, but expanded the teaching by talking about about similar shapes (a geometry connection!) We created our own stencils from index cards and used paints with foam brushes to create stencil prints.
It looks fun, right?
It has been! We've only gotten through about 10 of the 60 lessons so far. During the winter months, I might pick up the pace to get through two or three lesson per week. Otherwise, we'll have plenty of lessons to keep us busy during the summer!
Other Art Resources You Might Like
Our Charlotte Mason homeschool usually focuses on one artist per month where we do picture study and biography study alongside the art. You've heard me say many times, though, that a homeschooling method is a guide – not a rule. This year, it's working better for us to do art the way I've mentioned above. Next year, we'll probably get back into the regularly scheduled plan of once-a-month artist study.

And, of course, I have a couple of Pinterest boards dedicated to art projects and artist study. I only pin the best of the best from cyber world, so you should find only meaningful, doable projects and ideas.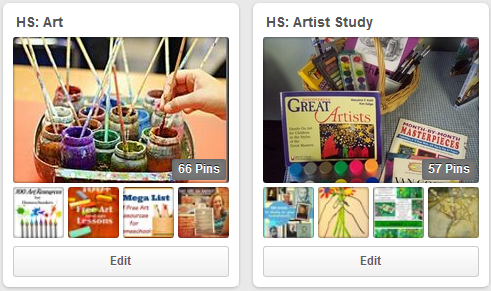 So, tell me – do you make time for art in your homeschool? What are your favorite resources?