Charlotte Mason Homeschool Curriculum 8th, 5th and PK
I love planning and preparing for a new year!  And that's one of the things I've been doing on our lazy (yeah, right!) days of summer break.  After much consideration, here's the plan – but it comes with pinkies crossed.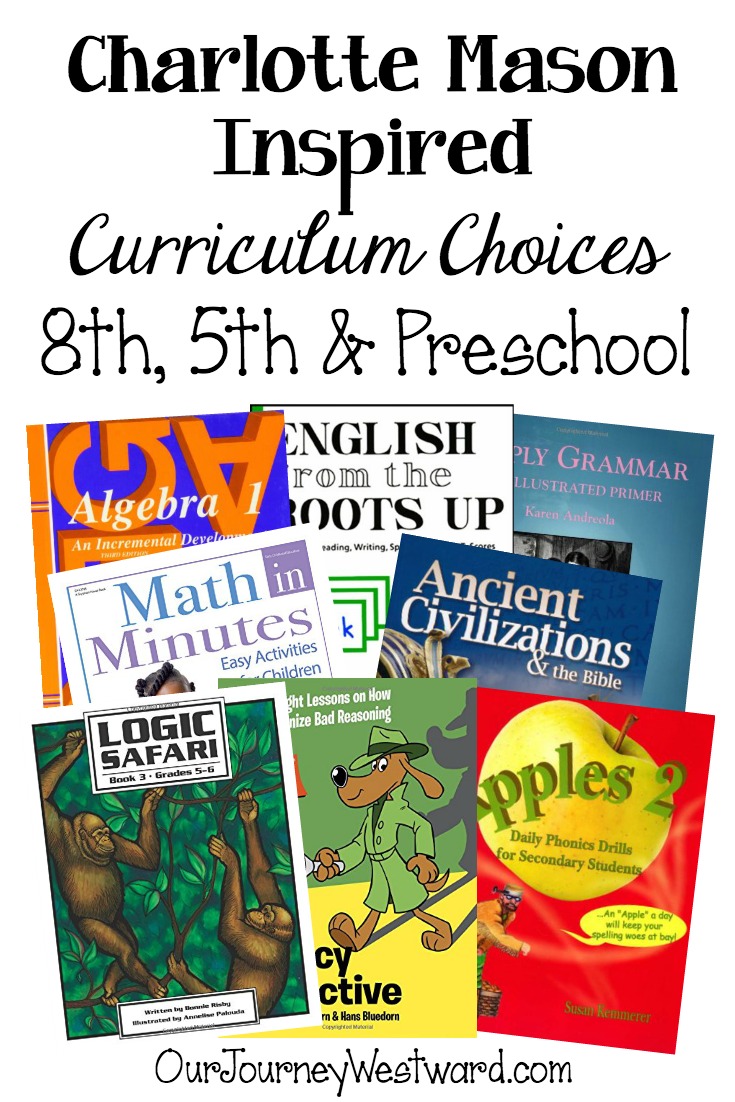 This post contains affiliate links.
8th Grade Homeschool Curriculum
We're jumping to Algebra 1 a little early.  I have Algebra 1/2 we can fall back on if this gets too tough. Logic is a very important subject to me!  We'll get an introduction to formal logic along with continuing logic puzzlers this year.
Algebra 1: An Incremental Development, 3rd Edition (Saxon Algebra 1)
Mind Benders Grades 7-12 Book B-2: Deductive Thinking Skills
The Fallacy Detective: Thirty-Eight Lessons on How to Recognize Bad Reasoning
I know the language arts section looks pretty slim.  We're taking a break from grammar this year, while our history program will include tons of reading, writing and drama. Our history program (below) will cover plenty of research & factual types of writing – this will fill in the creative writing gap.
Story Starters: Helping Children Write Like They've Never Written Before
Apples 2: Daily Phonics Drills, For Secondary Students
Spelling Power, Fourth Edition
Other:
5th Grade Homeschool Curriculum
Saxon and logic are 5th grade math choices as well!
Saxon Math 6/5: Homeschool Kit, 3rd Edition (Student Textbook, Tests and Worksheets, Solutions Manual)
Mind Benders Grades 3-6+ Book A3: Deductive Thinking Skills
Logic Safari Book 3
Simply Grammar is a new-to-me curriculum this year and I'm in love!I'm also beginning the year with All About Spelling to reinforce some basic phonics rules, then we'll jump into Spelling Workout. We have about 1/3 of the cursive book to go, then we'll just use Spelling Workout as handwriting practice.
Simply Grammar: An Illustrated Primer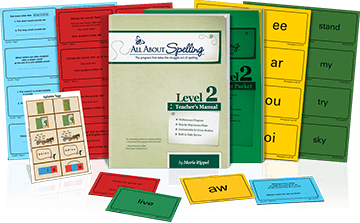 All About Spelling
SPELLING WORKOUT LEVEL E PUPIL EDITION
Write-on Handwriting Conquering Cursive Left-hand
Other:
Together
Ancient Civilizations and the Bible is an amazing curriculum! It will cover Bible, history, language arts, science, art, music, drama, and so much more!  I *think* most of our art and music studies this year will come only from this study.  (Gasp!)  If I feel like we aren't diving into art and music enough, I'll supplement.
Ancient Civilizations and the Bible SET: A Biblical World History Curriculum from Creation to Jesus Christ (History Revealed, Volume 1)
Another gasp!  I'm using a full-blown traditional textbook for science this year!  What??  Let's just say I'm giving this type of learning a shot this year.  If it works, awesome – I won't have to keep planning my own lessons!  If it doesn't work, no biggie – we'll keep on keepin' on the way we always have.  Caleb will be following along with us on many of these lessons, but I have separate reading and activity plans (following the same subject) on the days when this is information overload.
Exploring Creation with Physical Science SET with Textbook, Solutions/Tests and Companion CD
And, of course, nature study author can't leave out nature study!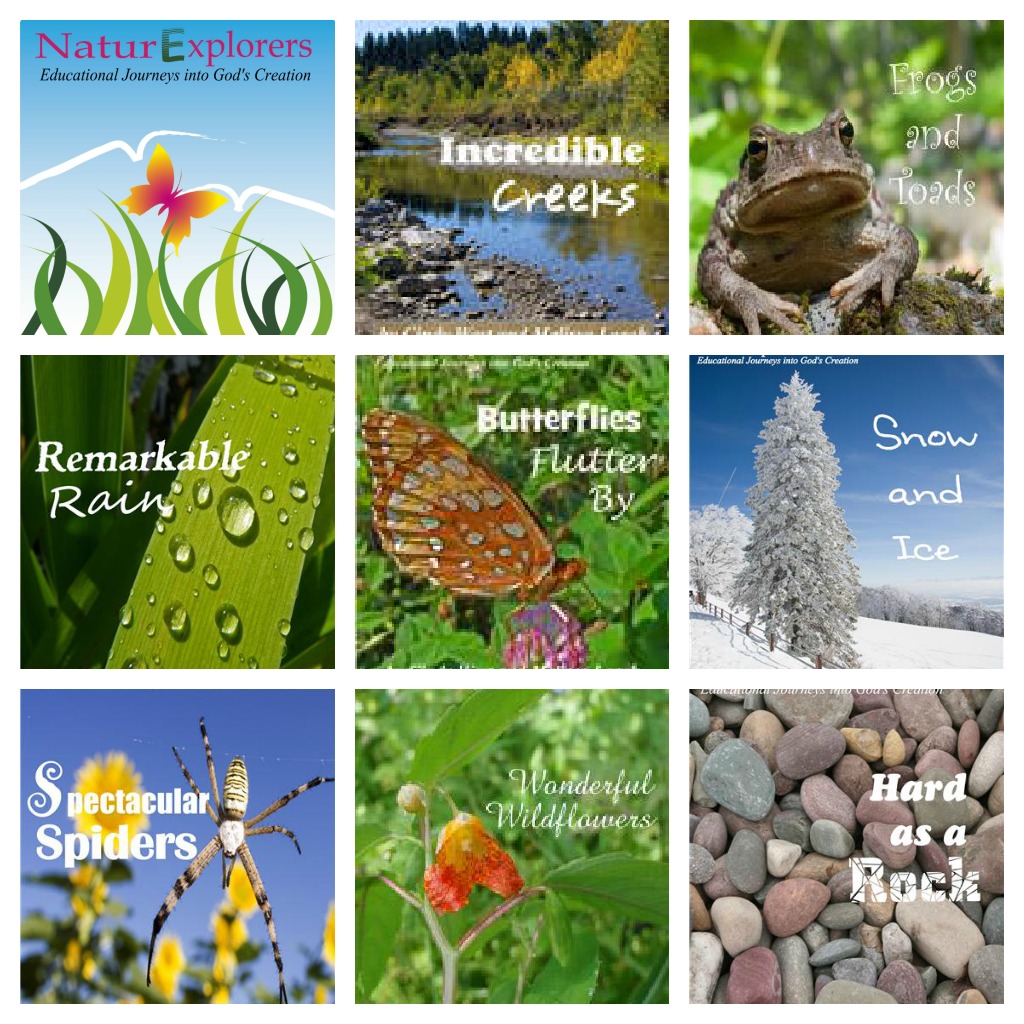 I'm trying a new, informal approach to foreign language this year.  We're using this program for 5-10 minutes a couple times a week as a fun game/flashcard drill time.
English from the Roots Up, Vol. 1: Help for Reading, Writing, Spelling, and S.A.T. Scores
English from the Roots Up Flashcards, Vol. 1
English from the Roots Up Flashcards, Vol. 2
Other:
Early Preschool Homeschool Curriculum
We're going to have a fun time learning the alphabet this year with one letter per week as a theme.  I have each letter planned with fun crafts, activities, experiments and such that will make Eli beg for "school".
It's a do-it-yourself curriculum with hodgepodge ideas from every corner of the internet and my brain, so I can't give you a specific link.  You can check out my preschool links, though, to find many of the sites I visited when planning.  A few of the major items I'll be pulling from include:
The Memory Bible: The Sure-Fire Way to Learn 52 Bible Verses
The Little Hands Art Book (Little Hands!)
Preschool Art: It's the Process, Not the Product!
The GIANT Encyclopedia of Monthly Activities for Children 3 to 6: Written by Teachers for Teachers (The GIANT Series)
Math in Minutes: Easy Activities for Children Ages 4-8
Science Play (Williamson Little Hands Series) (Williamson Little Hands Book (Paperback))
It's going to be a great year!
Other posts you might like:
 5th and 12 Grade Curriculum Choices
 4th and 11th Grade Curriculum Choices
 3rd and 10th Grade Curriculum Choices