10 Living Books for Christian Teen Boys
Teen boys. Future leaders. Future husbands. Future fathers. Hard workers. Capable shiners of Light.
Those descriptions can put a lot of pressure on the parents raising precious teen boys for Christ's Kingdom. Never fear, God has provided all we need through His Word! I've found a good church family and some really great living literature help a ton, too!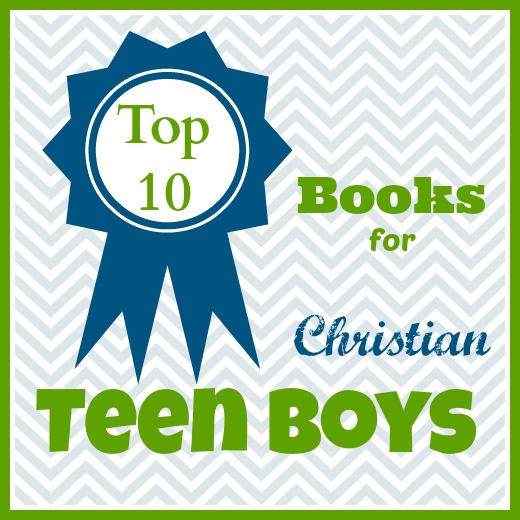 This post contains affiliate links.
10 Living Books for Christian Teen Boys
Boyhood and Beyond: Practical Wisdom for Becoming a Man is a living literature devotional written directly to teens and full of practical encouragement for living a life of character and perseverance. My son grew a lot from this book and we're looking forward to starting another book by the same author, Created for Work: Practical Insights for Young Men.
The Squire and the Scroll is one of my all-time favorite picture books that can be read with all ages. Through the adventuresome tale of a squire helping a knight save his kingdom, you watch the squire rely on the Word of the Lord and his spiritual armor to overcome seemingly desperate situations. Such imagery and meaning!
Charlie's Choice is a Lamplighter book. Yes, I REALLY love this publishing company! The main character, Charlie, comes to understand that he has choices to make about his attitudes and actions in this world that either glorify God or serve his worldly desires. We loved watching Charlie's struggles turn into mature decision making throughout the book!
Sir Malcolm and the Missing Prince is yet another Lamplighter book. I'm telling you, I could pretty much endorse anything they've published. In this book, we find a selfish prince who must learn hard lessons about helping others. As with Charlie's Choice, it's just beautiful to watch him mature from the inside out.
Do Hard Things: A Teenage Rebellion Against Low Expectations isn't just for boys. In fact, almost all of the books on this list are appropriate for girls, too. I'm calling them 'great books for teen boys' because they all focus on Christian leadership and/or have strong male characters. In Do Hard Things, teens are encouraged to use their teen years for the glory of God. It challenged my kiddos greatly!
The Case for Christ: A Journalist's Personal Investigation of the Evidence for Jesus (Student Edition) was originally purchased to give to a teen friend who is struggling to believe in Christianity. Before giving it to the friend, we read it ourselves to be sure it portrayed the right message. Boy, did it ever. This is a great book to solidify a believer's faith or someone who needs to know Christ.
The Screwtape Letters was very challenging for my younger teen son to understand. We actually left it aside to read again as he gets older. However, I read it all the way through and found it to be a fantastic view into the devil's schemes to keep us from Christ or a life that is full in Christ. I can't wait for my son to be ready for this book!
Kingdom's Dawn is an exciting allegory of the Bible set in medieval times and full of knights and battles. While most Biblical allegories cover a small portion of the Bible, this book – followed by the entire series – covers the Bible from Creation to the end. Some of our doctrine didn't agree with that of the author, but it was easily discussed with my children.
The Pilgrim's Progress is a must read for any Christian teen or adult. It's such a powerful picture of our journey toward heaven as we attempt to walk the narrow path God has place before us. I cannot tell you how much this book affected each one of our family as we read and discussed it together. It's priceless!
Purity Code, The: God's Plan for Sex and Your Body isn't for the highly sheltered (and isn't for girls.) It's an honest, but important discussion of the topic that WILL come up with your teen boys. Like it or not, if you don't discuss sex and body changes with your son, he will learn somewhere else. This book comes from a completely Christian perspective and opens the door for great discussions – preferably between a father and son.
Please tell me your favorite living books for Christian teen boys! We need more for our shelves.
Related Posts You Might Like:
More On Living Literature: