More Than Just a Dinosaur Unit Study
When my youngest was in second grade, we did a Creation-based dinosaur unit study that led to some amazing rabbit trail learning! What started out as a great "boy topic" to end the year with a bang, turned into so much more. Without my pre-planning, it even gave him a great foundational understanding of events leading up to ancient history. That just so happened to be our focus that next school year!
This dinosaur unit study took us on a fun ride, exploring topics in nature, geology, culinary, math, logic, and more! That's what I really love about unit studies; they use so many different ways to cover the topic. Whether it's through hands-on experiments, living books, creative lapbooks, or crafting presentations, unit studies provide ways of learning. Plus, they suit many different styles and levels of learners.

This post contains affiliate links.
Dinosaur Unit Study Lapbook
My original plans were to simply go through the free Creation Based Dinosaur Lapbook and Printables from Homeschool Share. The prepared study is perfect for a 2nd grader and I already own the "spine" book, What Really Happened to the Dinosaurs? by John Morris. Lapbooks are a favorite for us! They compile a LOT of information in a fun, easy-to-access "booklet" that the kids can go back and revisit at any time. If you've never done one of these, you should go for it. You won't be disappointed!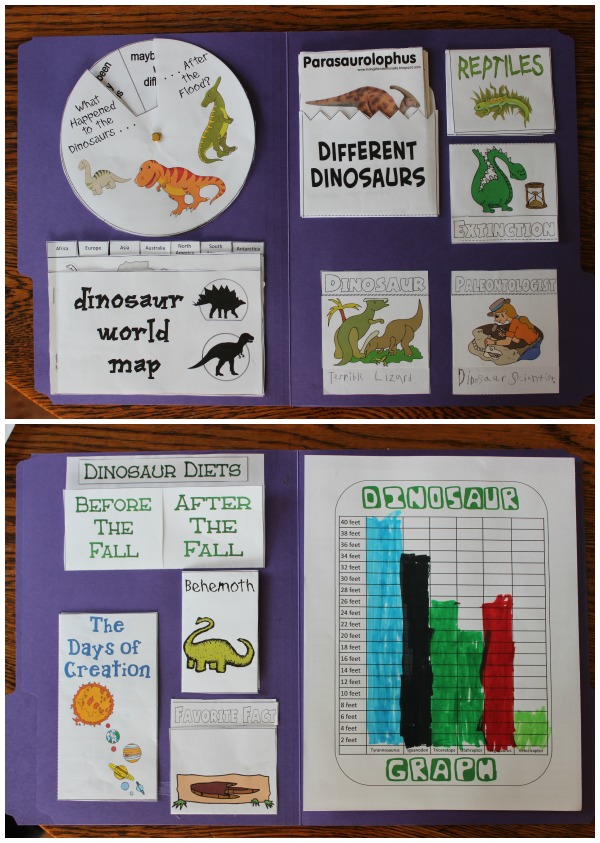 Dinosaur Unit Study Books for Kids
While the lapbook study was a fantastic start and would have been plenty, what usually happens when you allow time for a few rabbit trails is even more fantastic. After reading What Really Happened to the Dinosaurs?, Eli was just full of excitement – so we kept reading! Beyond dinosaurs, we were led into a world of earth science and history – covering Noah's flood, fossils, the Ice Age, the separation of people groups at the Tower of Babel and their travels across the world, extinction, natural disasters, and weather.
The Great Dinosaur Mystery and the Bible by Paul Taylor and Dinosaurs of Eden by Ken Ham were somewhat similar to the spine book but much more detailed in their explanations. All three books covered things like creation, the fossil record, records of dinosaurs in the Bible, records of dinosaurs post-flood, and theories about dinosaur extinction. Each book has a slightly different style of writing which is why I purchased all three. After reading What Really Happened to the Dinosaurs? we only touched on bits and pieces of the other two books for further investigation of certain topics.
More Dinosaur Books for Kids
Dinosaurs by Design by Duane Gish was perfect for dinosaur research and comparison. It covers many types of dinosaurs and was the only book we needed for the suggested "research report" assignments from the lapbook.
The True Story of Noah's Ark by Tom Dooley just seemed right to add to the mix because it's such a big part of the story of dinosaurs and fossils…especially as a precursor to the book below.
Dry Bones and Other Fossils by Gary and Mary Parker was a fun book that teaches fossils as they relate to the worldwide flood in easily understandable terms for kids. Love this book! (It's what spurred on many of our nature walks you'll see below.)
Life in the Great Ice Age by Michael and Beverly Oard is another really good book! The first half places you right alongside a cave-dwelling family tribe who live just south of the great ice wall somewhere in Europe. You learn all about their lifestyle, challenges, and reasons for living as they do. The second half of the book takes an informational turn as it explains more about the ice age as a result of the worldwide flood and how people groups were spread all over the world during this period in history.
This book was fascinating! Just a little above Eli's level, he hung in there with full interest from beginning to end. I felt like this book was a fabulous ending to the whole dinosaur/flood/fossil study and left us off with the perfect background information as we step into ancient history studies next year.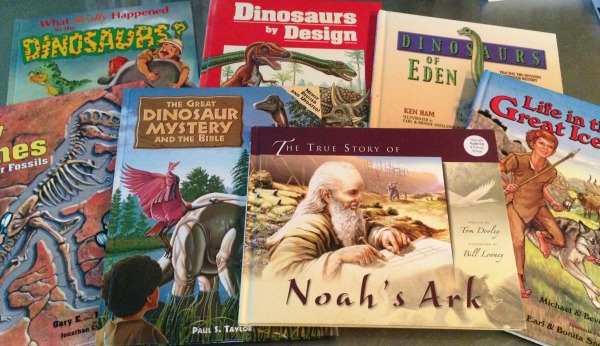 Dinosaur Nature Study: Flooding
And then God steps in and provides you with almost unbelievable opportunities to dig deeper into real-life examples of what you've been learning. (I find this happens all. the. time. with nature study, by the way.)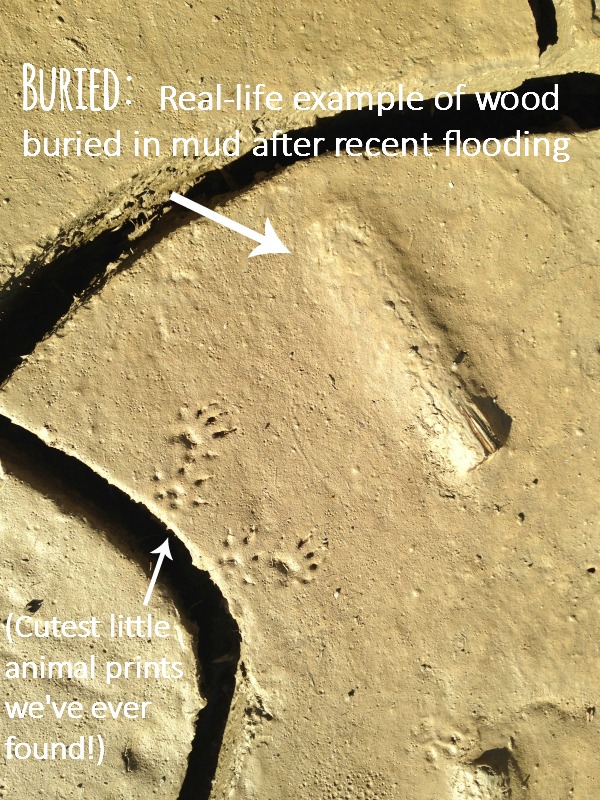 After some recent flooding, we went for a nature walk looking for signs of the flood. Much to our surprise, we found a ditch just full of layer upon layer of drying mud left behind by the flood waters. In that mud, we found several things buried – like the wood in the photo above.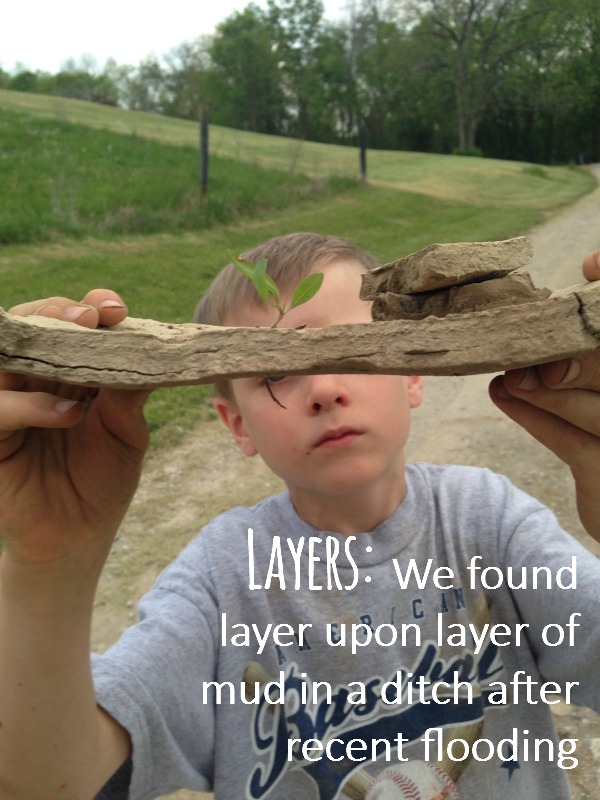 These layers in which we found things buried were formed after only about three days of minor flooding. Have you heard Buddy Davis' song, Billions of Dead Things? The song asks, "If there really was a worldwide flood, what would the evidence be?" Then it answers, "Billions of dead things, buried in rock layers, laid down by water, all over the earth." To us, seeing this process begin to happen in real life over the course of just a few days was uh-mazing and further sealed our belief and understanding of the "evidence" of Noah's flood. God is so cool.
Dinosaur Nature Study: Fossils
Of course, we had to go on a fossil hunt during our dinosaur unit study. Central KY is a great hunting ground for fossils! We are so blessed to live on a farm where we can find pretty spectacular samples regularly.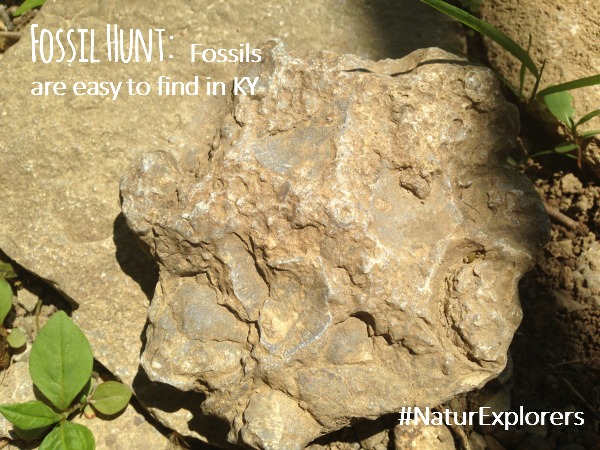 How many fossils can you see in this rock sample? There are at least ten!
Dinosaur Nature Study: Rock Layers
During our study, it just so happened that we took a field trip to McConnell Springs in Lexington. Throughout all of our readings, we had discussed many times about results of Noah's flood, like rock layers and caves and even underground water. It was very exciting to be able to look at God's creation with a fresh pair of "glasses" that day to see several of those examples.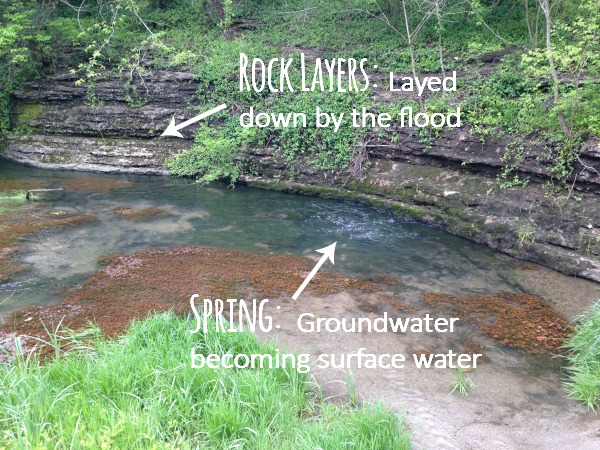 We also have plans to visit Carter Caves in Olive Hill very soon! Oh, and of course we'd visit the Creation Museum and Ark Encounter if we hadn't already been there a million times. These are no-brainer field trips for a dinosaur unit study!
I almost forgot that we took a trip to the zoo during this unit study simply because they were having $5 days. What a wonderful blessing to discuss diversities and similarities, adaptations and habitats, and what life must have been like on the ark. Best of all, we could even notice how many animals have similar characteristics to dinosaurs!
Dinosaur Unit Study Activities
Here and there between lapbooking, reading great books, taking nature walks, and field trips, we found some time for a few other dinosaur and flood-related activities.
Cookie Fossil Dig
This cookie fossil dig wasn't very scientific or realistic, but it sure was fun – and yummy. Basically, we used chocolate chip and oatmeal cookies to represent metamorphic and sedimentary rocks, respectively. Eli was supposed to dig out the chocolate chips, raisins, and nuts gently to do as little damage as possible to the "artifacts." He plotted the "artifacts" on a to-scale map, too.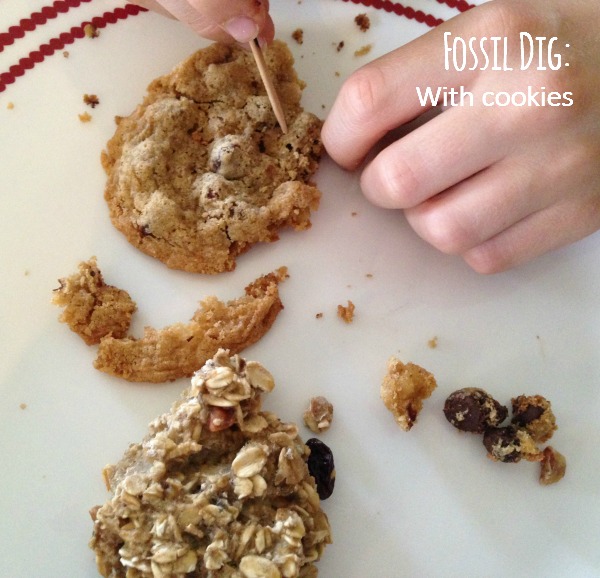 Soil Sedimentation Experiment
One of our books prompted us to complete an experiment to see if various types of soil have a consistent sedimentation pattern. We also watch to see whether or not those layers tend to contain similar items like rocks, twigs, and plant material. Our consistent results from several experiments were further proof of the fossil record and a worldwide flood.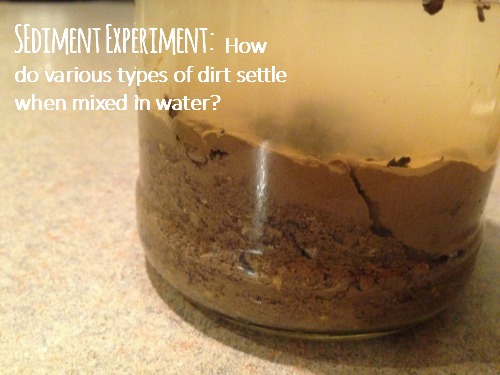 Dinosaur Themed Projects
Dinosaur Habitat Diorama
This unit study stretched far and wide into our regularly scheduled homeschool. For instance, a diorama is a kid-friendly, research-based project idea for a 2nd grader. So, after discussing the concept of habitats, Eli designed his own dinosaur habitat diorama.
A diorama is a great unit study activity. It's simple to use art supplies, recycled materials, and even toys to create a habitat or scene from any topic you are studying. (You can see a sample of a diorama from our historical Westward Expansion unit study if you'd like.)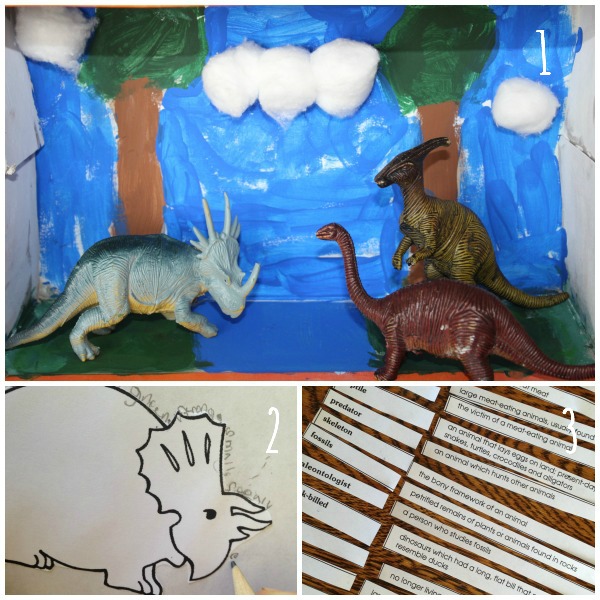 Dinosaur Vocabulary Activities
From a book called Dinosaurs Whole Language Theme Unit by Mel Fuller, we completed several hands-on language arts activities. Pictured above is a unique "test" of vocabulary from our study. I simply cut up a vocabulary and definitions worksheet for Eli to match. We used the same vocabulary cards to play spelling games together, too.
Dinosaur Poetry Lessons
Surprisingly, we completed a fairly thorough poetry writing mini-unit as we studied dinosaurs, too. Each day for about two weeks, I used Writing Poetry with Children to teach Eli how to write a new type of poem – cinquain, triplets, haiku, limericks, and shape poems (pictured above.) Each poem's theme was, of course, dinosaurs.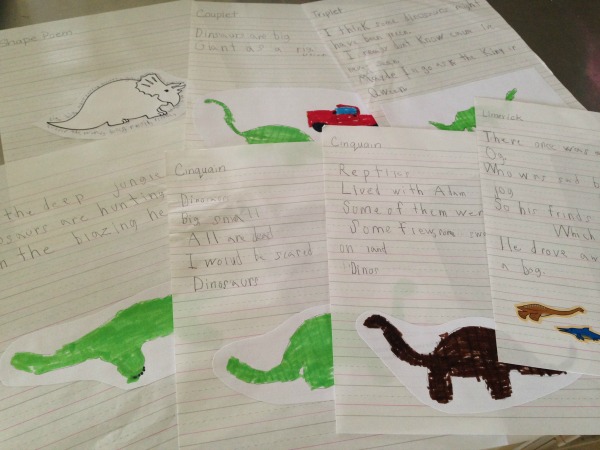 Rabbit Trail Unit Studies
We didn't work on the dinosaur unit study every day. In all, it took us about a month to complete. What a GREAT month it was! Having a plan in place, but also allowing plenty of space to keep learning when new opportunities or ideas presented themselves has never failed me when teaching unit studies.
Don't miss a creation-based study of dinosaurs with your children. It's very God-honoring and seriously super-cool!
Don't think a study of dinosaurs, fossils, Noah's Flood, etc. is just for early elementary ages. Most of the literature books mentioned above can easily be used with kids all the way through middle school!
Let me know if you've done a unit study and which topics you like. It's one of our favorite ways to learn!
Curriculum from the Our Journey Westward Shop you might like:
Other posts you might like: