Homeschool Wild Dog Nature Study
If you love dogs, this wild dog nature study is for you! Similar in many ways to domesticated dogs, wild dogs are found in habitats all over the world. Sometimes they're easy to spot, but more often than not, they stay well hidden from humans.
Most wild dogs aren't known to be cute and cuddly. In order to live outdoors in all sorts of weather hunting other animals for food, they have to be pretty hardy. Instead of using words like cute and cuddly, they could be described as sturdy and ferocious or keen and powerful. Those adjectives let us know that we must take precautions around wild dogs, but they are magnificent creatures that are worth studying.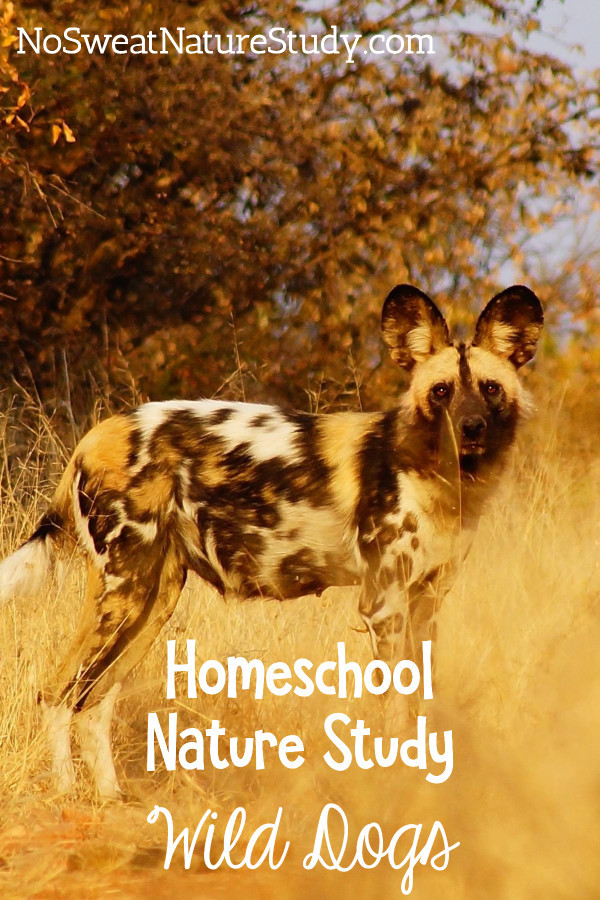 African Wild Dog
This post contains affiliate links.
Wild Dog Nature Study
When an animal is called wild, it means the animal lives without any help from humans. It's free to wander where it wants to wander within a habitat and must find its own food, water, shelter, and mates. Domesticated animals, on the other hand, have the luxury of humans providing the things they need to survive.
Wild dogs live in habitats all over the world from hot deserts to cold tundras and everything in between. They travel in packs with other dogs of the same species which allows them to be imposing predators to their prey as they gang up in an attack.
Wild and domesticated dogs are in the same family in the animal kingdom. It's called the family Canidae. Dogs are sometimes called canines and I bet you can see at least part of that word in Canidae. The word canine describes a special set of sharp teeth that are prominent in dogs. (We'll look at canine teeth in the video class that you can learn more about below.)
Red Foxes
Wild Dog Nature Walk Challenge
Please listen to the podcast episode (linked above or found on your favorite podcast app) to hear more introductory information about wild dogs and to learn about the exciting nature walk challenge. Gather the following supplies in preparation:
Nature journal or blank, white paper
Colored pencils or watercolors
Coyote
Wild Dog Video Class
In the interactive, companion video class with Mrs. Cindy, you'll learn so much more about wild dogs as you create a nature journal page to document the scientific information. Find out which dog species are considered to be wild animals and where they live in the world. Determine how wild dogs are like and unlike domesticated dogs.
You already know that wild dogs travel in packs, but find out how they use this tactic as a defensive and offensive mechanism. And, speaking of defensive and offensive mechanisms, you'll take a detailed look at the coolest ones!
The video class is where the real learning happens…and it's fun! Simply join No Sweat Nature Study LIVE for an inexpensive science curriculum that comes with an expert teacher. Science has never been easier. Plus, the interactive format promotes learning that sticks!

Nature Walk Curriculum
In the Our Journey Westward Shop, there are plenty of options to study science through the lens of nature study on your own, too. Either one of these would make great continued learning after listening to the podcast episode and/or taking the wild dog video class.
Defense Mechanisms of Animals will help you take a closer look at many of the defensive mechanisms that help animals escape danger to survive another day in the wild. Eight multi-media lessons can keep you busy during morning time or science class for up to eight weeks.
Animals Signs, part of the NaturExplorers series, offers you a myriad of creative nature walk ideas to help you notice the clues that animals have been wandering within a habitat. Besides nature walks, there are tons of options for hands-on and kid-friendly experiments and projects. Plus, you'll find cross-curricular connections to literature, poetry, music, and art. This guide can last you for months.
Links and Resources
Choose one or more of the field guides to help you learn more about wild dogs and the signs they leave behind. Appropriate page numbers for references in the Handbook of Nature Study are provided for your for free in the Podcast Plus+ Packet that you can download immediately from the box below.
Please leave a rating or a review on your podcast app! It helps the podcast to show up for more people…which means more families can enjoy science through the wonderful lens of nature study! Thank you!
Would you like to record a voicemail to answer this season's nature study question?
At the end of each No Sweat Nature Study Podcast episode, Mrs. Cindy includes messages from a few of her friends. You have the opportunity to record a message that she might use on an upcoming episode!
All children must have their parent's permission before leaving a recording. Parents are welcome to record an answer, too!
Each season, there will be a different question to answer. You can see this season's question below. Think about your answer first and then follow these simple directions:
Click the button that says "start recording".
Tell me your first name. (If you want to tell your age and/or where you live, feel free to do that, too.)
You will have 60 seconds to answer the question, but try to be concise.
Push the play button to listen to your recording before sending it to be sure it is recorded properly. If not, simply record it again.