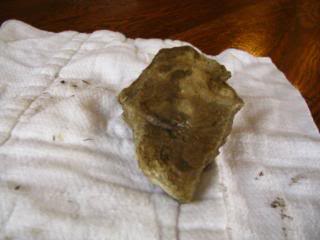 Around our house – a slug! Can you see him near the middle on the left? He's pretty well camouflaged.
We weren't even doing nature study. We were learning about measuring the volume of an irregular shape in water when I sent the kids outside to find a few rocks for measuring. This little critter was happily living underneath one of the rocks (until we got hold of him!) He's near the top of the rock in the picture below.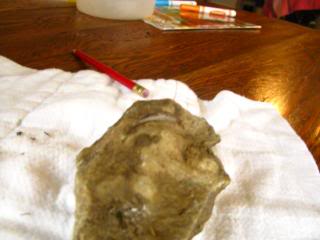 If the rain held off, we were going down to the creek for a nature walk later in the day, but I decided to seize this moment instead. My children were so excited about their find in the middle of winter. (Besides, the rain was probably not going to hold off.)
We got online to decide whether we were looking at a slug, or a snail making its way to a bigger shell. On just a plain piece of paper, they drew the slug, noted its behaviors and added info we learned from the internet. Voila! A great spontaneous learning lesson. A great notebooking page for the nature journal. And a lesson that found all sorts of enthusiasm from my children because it was something driven by their interests.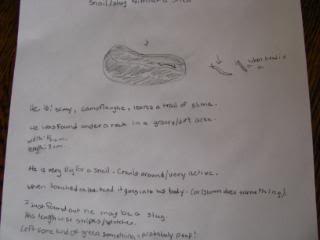 What fun nature find have you made this winter? Or, how do you incorporate spontaneous learning into your homeschool?
The Hard as a Rock NaturExplorers study includes ideas for studying both rock and life under rocks!