It's time for another post in my series about using picture books to teach writing to middle and high school students!  Today's topic is using picture books to teach text structure.
What is text structure?  It's how the information written in a text is organized.  Learning to identify text structure as a reader can greatly improve the comprehension of the material.  (Bonus!)  Learning to identify text structure from the prospective of a writer can help you learn how to become a better writer.
Picture books make great mentor texts for teaching the six basic types of text structure: cause and effect, compare and contrast, sequence, enumeration, problem and solution, and description.  I just know you're going to love using some of these beloved books to teach truly powerful lessons.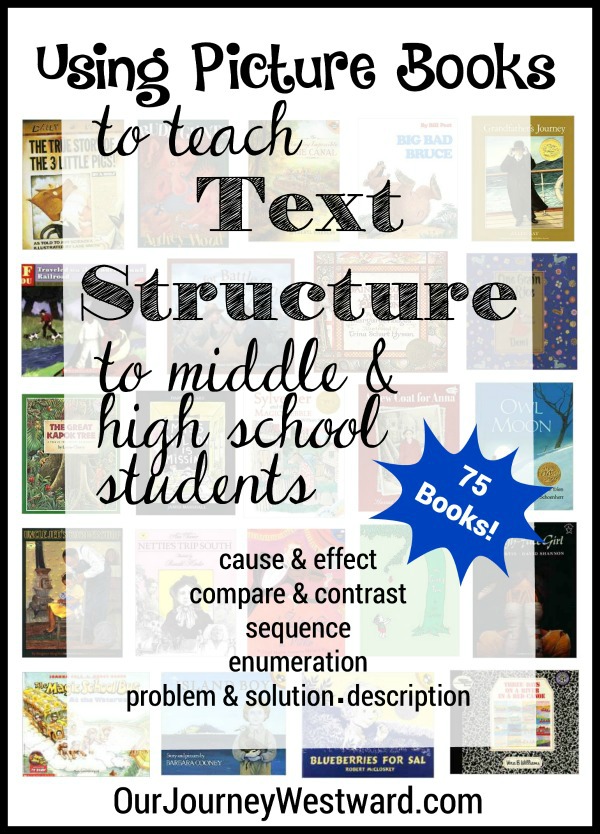 This post contains affiliate links.
Using Picture Books to Teach Text Structure
Cause and Effect
Cause and effect writing shows how certain actions or events lead to certain outcomes.  The cause is why something happens, while the effect is what happens.
When preparing to write a cause and effect story, it's easiest for my son to choose an event first – historical, personal, philosophical, or made up.  Examples, respectively: the Civil War, getting a job, homelessness, or astronauts settling on Mars.
I then have him come up with a list of causes for their event AND a list of effects from the event.  Using the example of getting a job, the cause list might include: the need for a car, money for car maintenance, money for gas, and money for car insurance.  The effects list might include: getting a car, having plenty of money to pay for the car's necessities, gaining a sense of self-respect, gaining new skills, making new friends, and setting aside extra money for college.
Now, all he has to do is elaborate on his brainstorming lists to write!
There are several ways to organize cause and effect pieces.  The picture books below offer several examples of story structure. I'll typically read through several of these books over the course of two or three days before setting my son loose on his own writing.  The more I read and the more we specifically discuss how the cause(s) and effect(s) were presented in the various picture books, the more in-depth and creative my son's first drafts.
Why Mosquitoes Buzz in People's Ears by Verna Aardema
Are You A Grasshopper? by Judy Allen
If You Give a Moose a Muffin by Laura Numeroff
The Big Sneeze by Linda Medwig
Alexander and the Terrible, Horrible, No Good, Very Bad Day by Judith Viorst
The Great Kapok Tree by Lynne Cherry
One Grain of Rice by Demi
Chicken Little by Steven Kellogg
The Very Hungry Caterpillar by Eric Carle
Sylvester and the Magic Pebble by William Steig
The Napping House by Audrey Wood
One Fine Day by Nonnie Hogrogian
Big, Bad Bruce by Bill Peet
Freedom Summer by Deborah Wiles
Compare and Contrast
Compare and contrast writings note similarities and differences between things or ideas.
The possibilities of subject matter for these essays are infinite.  Some recent topics from my son's assignments include:
Compare and contrast the allegorical themes from The Pilgrim's Progress and Young Goodman Brown.
You want a car and you want a guitar amp.  Compare and contrast the two items to assess where your money is best spent.
To prepare for Kentucky's Presidential Caucus, compare and contrast your top two candidates and make a voting decision.
To prepare for a compare and contrast essay, I'll either give my son a Venn diagram for brainstorming or have him complete a similarities and differences chart.  Once several comparisons have been brainstormed, I expect him to develop a topic sentence.  Then, with all the thoughts ordered, all he has to do is write.
Of course, before we ever get to "everyday" compare and contrast writing prompts, we've spent much time using mentor texts to demonstrate the unique ways authors pull together this type of writing.  The books below are great examples!
Now and Ben by Gene Barretta
Town Mouse, Country Mouse by Jan Brett
Miss Nelson Is Missing by Harry Allard, Jr.
Stellaluna by Janell Cannon
Alexander and the Wind-Up Mouse by Leo Lionni
Blueberries for Sal by Robert McCloskey
Grandfather's Journey by Allen Say
The Sun, the Wind and the Rain by Lisa Peters
When first teaching how to compare and contrast literature, I like to start with these wonderful fairy tales told in very different versions.  Follow the same strategies mentioned above to compare one fairy tale to another.
Three Little Pigs by Disney  vs. The True Story of the Three Little Pigs by Jon Scieszka
Cinderella by Marcia Brown vs. Mufaro's Beautiful Daughters by John Steptoe vs. The Golden Sandal by Rebecca Hickox vs. The Rough-Face Girl by Rafe Martin
Little Red Riding Hood by Trina Hyman vs. Lon Po Po by Ed Young
Sequence
Some writings rely heavily on sequence of time or events as part of the plot.
The stories below are great examples of how authors structure sequential stories.  As you read these with your student, help him notice phrases that indicate sequence : "at first", "time passed", "now", "soon", "in June", "for a long time", "after 20 years", or "as Johnny grew older."
These phrases, and others like them, create great transitions within a writing, too.
Before writing a sequential piece, I always expect my son to write out a list of the events in order.  This prewriting activity keeps him on track as he simply expands on each event to write the story.  This type of writing is great for both fiction and nonfiction topics as you can see in the wonderful mentor texts.
A River Ran Wild by Lynne Cherry
George Washington's Teeth by Deborah Chandra
The House That George Built by Suzanne Slade
Island Boy by Barbara Cooney
The Giving Tree by Shel Silverstein
Amazing Impossible Erie Canal by Cheryl Harness
Three Days on a River in a Red Canoe by Vera B. Williams
The Little Red Hen by Paul Galdone
The Polar Express by Chris Van Allsburg
The Napping House by Audrey Wood
A New Coat for Anna by Harriet Ziefert
Enumerative (Listing)
Similar to sequential writing is enumerative writing.  Quite simply, when you complete an enumerative piece, you are listing things in a particular order.  Counting books are enumerative because they go in order from 1 to whatever.  ABC books are enumerative because the go in order from a to z.
It may sound very babyish to be talking about ABC and 123 writing in a post directed toward middle and high school students.  But, as you'll see in the wonderful mentor texts below, there are quite mature ways to pull these stories together.   Additionally, ABC and 123 aren't the only types of enumerative lists.
I really think you and your student will love writing these types of stories after you read the mentor texts and think about the possibilities!
Zin! Zin! Zin! A Violin by Lloyd Moss (Numerical Format)
One Less Fish by Kim Toft (Topical Organization Format)
The Flower Alphabet Book by Jerry Pallotta (Alphabetical Order Format)
B is for Battle Cry by Patricia Bauer (Alphabetical Order Format)
Yesterday I Had the Blues by Jeron Frame (Color Organization Format)
If You Traveled the Underground Railroad by Ellen Levine (Question/Answer Format)
Nettie's Trip South by Ann Turner (Date Format)
Problem and Solution
In the problem and solution structure the writer identifies a problem and offers at least one solution to that problem.  Persuasive essays, sometimes called argument essays, fit into the problem-solution category.  You might be surprised, though, that not all problem-solution texts are quite as straightforward as defining a problem and offering supported solutions.  In fact, picture book authors brilliantly write in the problem-solution structure using the context of storyline vs. the typical non-fiction essay method.
Storyline – or telling a story – takes a that typical essay format to the next level.  While it does require a bit more creativity in the mind of the writer, once he or she gets the hang of it, these are very fun to write.
To get my son thinking in creative mode about the problem-solution structure, we first read and discuss several of the books mentioned below.  Then, I simply ask him to jot down a few ideas for a story character's problems.  Once he settles on a particular problem, we brainstorm together several potential solutions.  Usually, we take turns telling stories aloud using the various solutions to get the creativity started.  Because I'm boyschooling now, our stories typically have humorous twists and turns.  Once we've had fun telling several versions aloud, the actual writing begins.  To do all these mini-lesson activities takes us at least a few days.
Uncle Jed's Barbershop by Margaree Mitchell
Seven Blind Mice by Ed Young
The Mysterious Giant of Barletta by Tomie dePaola
The Legend of Bluebonnet by Tomie dePaola
Sparrow Jack by Mordecai Gerstein
Joseph Had a Little Overcoat by Simms Taback
Fortunately, Unfortunately by Remi Charlip
Rude Giants by Audrey Wood
Pancakes, Pancakes by Eric Carle
Charlie Needs a Cloak by Tomie dePaola
Here Comes the Garbage Barge by Jonah Winter
Description
When you first begin to teach young children to write descriptively, you expect them to add adjectives and phrases to help the reader "see" the text.  For example:  Early this morning, John excitedly began preparations for the football and pizza party he would attend this afternoon.  His job is to make five delectable pizzas covered in his special red sauce, lots of gooey cheese, and fresh, homemade sausage.
Getting children from writing small, non-descriptive sentences to meaty sentences which provide lots of picture words is fairly easy.  It's a little more difficult to turn that style of writing into an entire story.  In fact, too much description can be overkill and ruin good writing.  The books below have mastered the art of just enough description.
I like to tell my son to think about using various tactics within a single story to add description without overkill.  Besides "painting a picture" with words as I've already mentioned, description can also be added through interesting details or simply changing boring verbs to better ones.  Good linking words or phrases also help build description, too: most importantly, subsequently, such as, to illustrate, and in particular are examples.  This type of writing is also a good fit for adding illustrations or charts, too.
Hailstones and Halibut Bones by Mary O'Neill
Jumanji by Chris Van Allsburg
Knots on a Counting Rope by Bill Martin
The Magic School Bus by Joanna Cole
Owl Moon by Jane Yolen
Saint George and the Dragon by Margaret Hodges
Tar Beach by Faith Ringgold
Two Bad Ants by Chris Van Allsburg
Surprise, lots of these techniques can be used together.
As is true with most things in homeschooling, none of these structures necessarily fits into it's own neat little box.  It's very possible that the books you come across and the things your children write will included at least bits and pieces of more than one text structure.  The key for these lessons is to focus on your particular structure and not worry too much with the others at the same time.
Enjoy these other posts in the series of using picture books to teach writing to middle and high school students!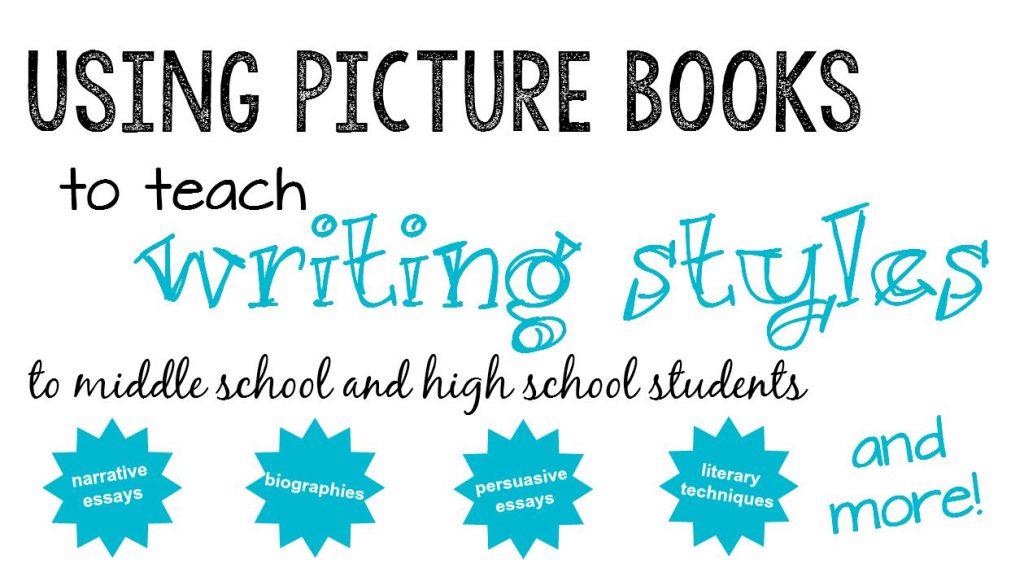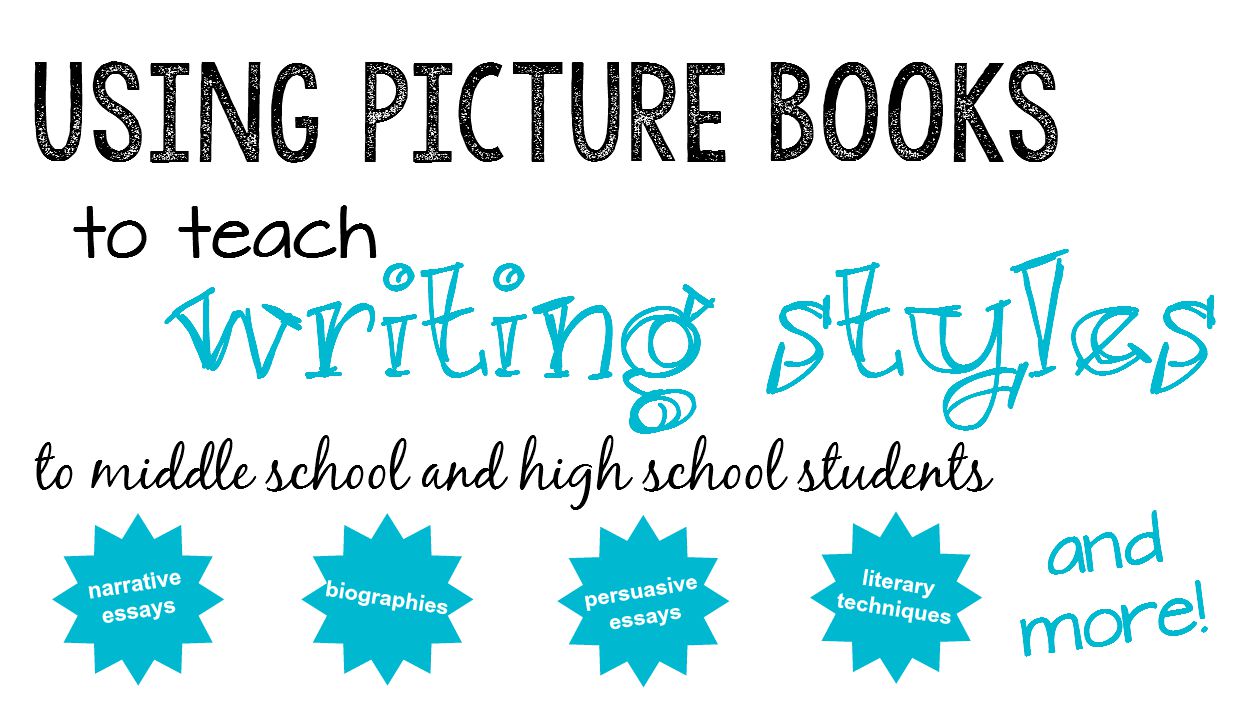 This post has been linked to: