Thunderstorm Nature Study
What do you think about the possibility of completing a thunderstorm nature study? Whether you love the idea or not, we will definitely stay VERY safe from harm's way this week. You see, thunderstorms can be dangerous severe weather events because of the electrifying lightning.
But first, how do you feel about thunderstorms? Are they exciting? Or scary? What do you know about thunder and lightning?
There are many interesting stories and myths about why thunder is so loud or why lightning flashes. And there are even some fascinating facts behind some of those stories. Has anyone ever told you you could tell how far away a storm is by counting the time between the lightning and the thunder? Is that true or just another funny story? We talk about that in the podcast!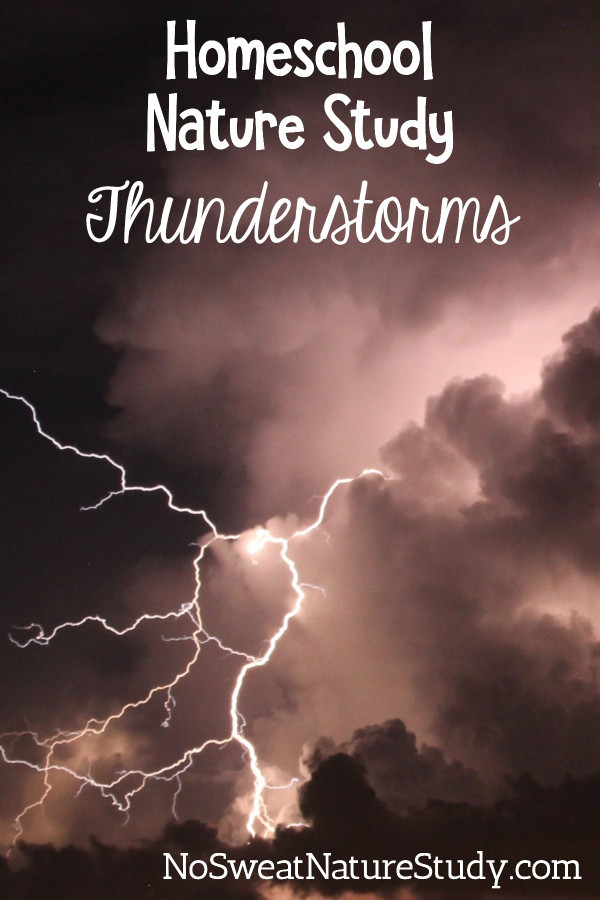 This post contains affiliate links.
Thunderstorm Nature Study
Learning about thunderstorms fits into the category of earth and space science. Anything having to do with the weather fits into that category. As you surely know, thunderstorms usually contain rain and rain is a type of precipitation that falls from the sky. Precipitation is one way to describe the weather, as well as things like temperature, wind speed, and the types of clouds we find in the sky.
When we talk about severe weather, those are instances when folks need to be very careful because they could get hurt by the wild things that might happen. For instance, during a severe storm, there could be large amounts of lightning, balls of hail falling from the sky, or really strong winds. Each of these things could hurt us unless we take shelter to stay safe.
As you listen to the podcast, you'll learn some ways to stay safe during a thunderstorm and understand a little more about the electricity that makes lightning so dangerous.
Thunderstorm Nature Walk Challenge
Believe it or not, there is a nature challenge for this topic. As you can imagine, it's not really a walk at all, though. Instead, you will view the video above as part of your challenge.
Download your free Thunderstorms Nature Walk Challenge below. It will be instantly delivered to your email inbox. Be sure to grab your nature journal or blank, white paper and some oil pastels or colored pencils so you can draw and document what you learn as you safely observe a thunderstorm video from the comfort of your home.
Thunderstorm Nature Study Video Class
During this extreme weather class on thunderstorm nature study in No Sweat Nature Study LIVE, we'll learn more about how thunderstorms happen as we create a chart of different types of lightning. Did you know there are different types of lightning? It's true!
We'll also discuss some physics as we talk about positive and negative electrical charges. You'll even take a special quiz to see if you know thunderstorm safety!

Nature Walk Curriculum
The best way to learn more about amphibians and their typical habitats is to join our No Sweat Nature Study Live Classes. If you're not ready for membership yet, any of these curriculum guides can help you explore similar topics.
There is serious beauty and wonder floating above our heads almost daily. These fun and meaningful activities in Captivating Clouds will help you learn all about them!
Quiet and peaceful or wild and raging, rain is a sight to behold in all its glory. Don't worry, not all rain nature study has to take place outside…but have your raincoat handy as you dive into Remarkable Rain!
Links and Resources
Any of these field guides can help you learn to identify all sorts of weather events. The nature study supplies are recommended to have on hand for the nature walk challenges and during No Sweat Nature Study LIVE classes.
Please leave a rating or a review on your podcast app! It helps the podcast to show up for more people…which means more families can enjoy science through the wonderful lens of nature study! Thank you!
Would you like to record a voicemail to answer this season's nature study question?
At the end of each No Sweat Nature Study Podcast episode, Mrs. Cindy includes messages from a few of her friends. You have the opportunity to record a message that she might use on an upcoming episode!
All children must have their parent's permission before leaving a recording. Parents are welcome to record an answer, too!
Each season, there will be a different question to answer. You can see this season's question below. Think about your answer first and then follow these simple directions:
Click the button that says "start recording".
Tell me your first name. (If you want to tell your age and/or where you live, feel free to do that, too.)
You will have 60 seconds to answer the question but try to be concise.
Push the play button to listen to your recording before sending it to be sure it is recorded properly. If not, simply record it again.