Even holiday reading must pass the living literature test around here! These Thanksgiving living books have been favorites around our house for years.
Some help explain the history of our Thanksgiving celebration, while others are just sweet stories with a Thanksgiving theme. We even have a couple of poetry favorites!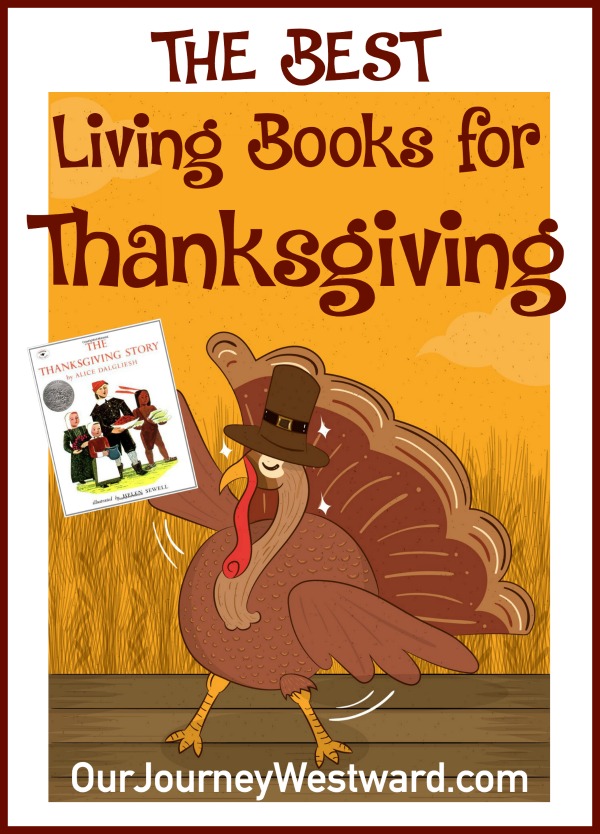 At your local library, you'll likely find at least a shelf or two full of Thanksgiving themed books. Sadly, many of them aren't worth your time because they're twaddle.
What's twaddle? The dictionary defines twaddle as "trivial or foolish speech or writing; nonsense." I like to describe it as fluff that rarely has a full plot, rich language, or vivid characters.
Some children may enjoy twaddle – and in small amounts there really is nothing wrong with it. However, books that are the opposite of twaddle have so much more potential to interest, intrigue and gently instruct readers of all ages.
What is the opposite of twaddle? Living literature! These have the ability to hold the attention of everyone in the room with interesting characters that take you right down the path of wherever the setting happens to be so that you almost feel as if you're right there in the story. Yeah, they're that good.
Many people think of chapter books when they think of living literature, but there are lots and lots of living picture books, too! They might not pack quite as much depth into their shorter text, but they certainly can be rich.
Additionally, living books can be fiction or nonfiction. Yes, even factual books have to potential to be considered "living" if they do more than just state the facts in textbook-like fashion.
With the Thanksgiving season approaching, I thought I'd help you figure out which books on the library shelf are surefire living books. You'll find a nice mix of fiction and nonfiction in this list.
This post contains affiliate links.
The Best Thanksgiving Living Books
Picture Books
The Pilgrims' First Thanksgiving by Ann McGovern
The Thanksgiving Story by Alice Dalgliesh
Three Young Pilgrims by Cheryl Harness
P is for Pilgrim by Carol Crane
If You Sailed on the Mayflower by Ann McGovern
Squanto's Journey by Joseph Bruchac
If You Were at the First Thanksgiving by Anne Kamma
You Wouldn't Want to Sail on the Mayflower by Peter Cook
Over the River and Through the Wood by Lydia Maria Chid
Cranberry Thanksgiving by Wende Devlin
A Turkey for Thanksgiving by Eve Bunting
Sharing the Bread: An Old-Fashioned Thanksgiving Story by Pat Zietlow Miller
Thank you, Sarah: The Woman Who Saved Thanksgiving by Laurie Halse Anderson
Sarah Gives Thanks: How Thanksgiving Became a National Holiday by Mike Allegra
Chapter Book
Squanto, Friend of the Pilgrims by Clyde Robert Bulla
Poetry
It's Thanksgiving by Jack Prelutsky
Giving Thanks: Poems, Prayers and Praise Songs of Thanksgiving by Katherine Paterson
If you've come across other great books you'd like us to know about, please leave the title in the comments!
Related Posts
&