Why the Jotham's Journey Series is NOT to be Missed
What do you get when you mix historical fiction with lots of adventure then add daily devotionals for Advent? The Jotham's Journey series of books! These books are simply NOT to be missed.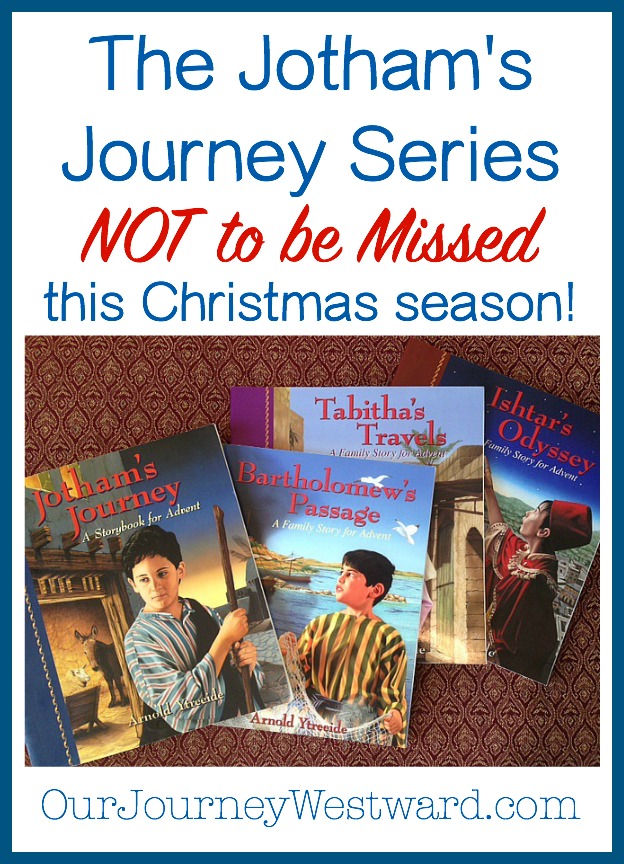 This post contains affiliate links.
Wow.
That's the best word I can think of to describe these page-turning, spine-tingling adventure stories meant to be read in December to point the way to the One who was our ultimate Christmas gift!
They are our all-time favorite living literature for the Christmas season!
There are four books in the Jotham's Journey series which are written as daily read-alouds for Advent (aka: the days leading up to Christmas.)
You only read one book per year – meaning the entire series provides your family with FOUR years worth of Advent reading.  And, if you're like us, you'll start the series over again at least once for eight years' worth!
Arnold Ytreeide Rocks
The author, Arnold Ytreeide, is a master storyteller whose interesting story lines delicately weave each new tale into the next. Not only that, his creativity in telling the story of our Savior's birth alongside the story of the main characters is really breathtaking.
The main characters in each book come to the Christmas story from completely different perspectives and with completely different adventures – each well-worth reading.
Excitement. Mystery. Intrigue. Bad guys. Good guys. Character struggles. Lessons to be learned for sure. All leading to the miracle of the first Christmas.
What could be better than awesome stories to prepare your family's heart for Christmas? Your children will be drawn back into the days before Jesus' birth, treasuring the lessons learned by each character – and finding the joy of Jesus in the end every time.
It never fails that each day's reading leaves my children begging for more! When we read about Jotham's quest through Palestine to find his family, we're often on the edge of our seats wondering how he can possibly escape the danger he's stumbled into. When Bartholomew is taken from Galilee as a slave of the Romans, we can't wait to learn if slavery is his destiny. When Tabitha's father is taken prisoner, we're beyond excited when Zechariah and Elizabeth come to her aid. And when Ishtar, son of the Magi, searches with his father to find the newborn King, we jump for joy when he befriends Jotham, Bartholomew and Tabitha.
Every single time we sit on the edge of our seats. Every time.
I should mention a note of caution. The books are SO full of adventure (some in the form of dangerous situations that can be scary to little ears) that I would suggest reading them with children who are eight or older.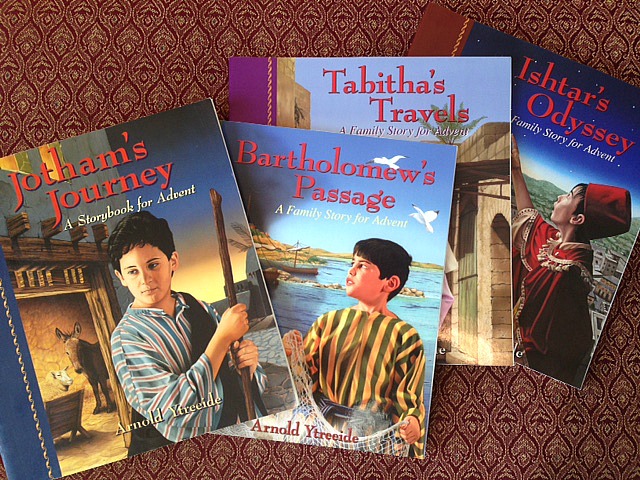 Where do you start?
The books should be read in the following order.
Each book is meant to be read daily through the month of December and followed with family discussion over the devotional questions provided after each reading.
Have you read any of the Jotham's Journey series? If so, I'd love to hear your thoughts in the comments. If you haven't read them yet, get ready to join Jotham on his journey beginning December 1st. I don't think you'll be sorry!
And guess what? An Easter devotional is available, too!
Amon's Adventure follows Amon as he strives to save the life of his father, Jotham, who has been falsely accused of a crime and sentenced to death! As you can imagine, his life also intersects with the Savior of the world in a magnificent turn of events.
The only prerequisite to read this book is having read Jotham's Journey already.  So, jump right in this coming Easter if you like!
Advent (and Easter) Themed Science
While we're on the subject of Advent – or is that Easter now?  Either way, I've written some creative, nature-based studies that should help you find Jesus in your science lessons this Christmas AND Easter.  They will provide you with learning ideas for years to come!