54 of the Best Picture Books for Geometry
Is geometry a scary word in your homeschool? It doesn't have to be! These living books for geometry help to introduce basic concepts to your children in a fun way. Stories can often help simplify math concepts in a way that kids can easily understand. The whole family is bound to enjoy these living books, especially the math adventure books towards the end of this post!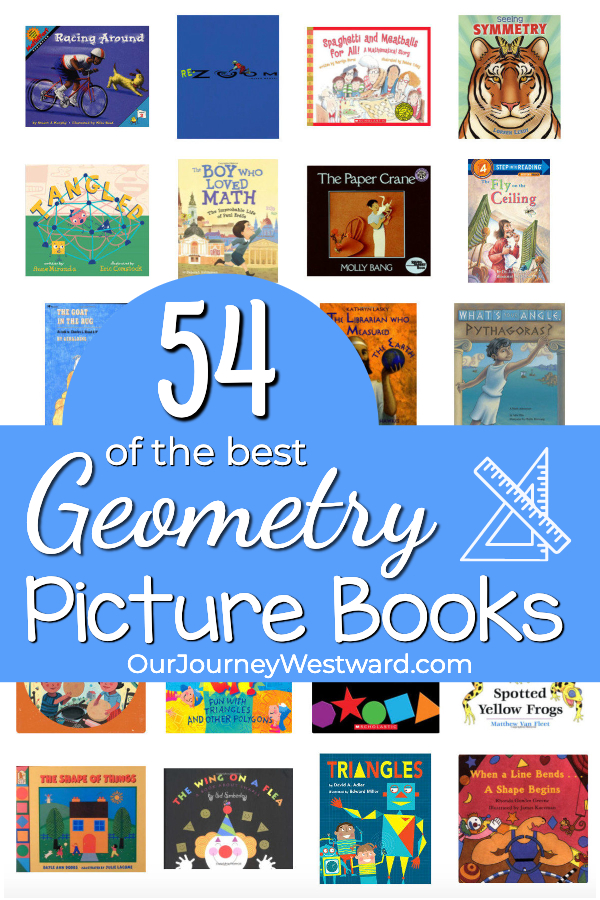 Whether you're hoping to teach a new concept, reiterate one, or simply read these books for fun, you won't be disappointed. I can't wait to hear which geometry books from this list are your favorites. Feel free to add new ones to the list by commenting below, too!
This post contains affiliate links.
Living Books About Shapes
Shapes are the foundation of geometry and spatial understanding. These books give children a wonderful introduction to basic 2-dimensional and 3-dimensional shapes through stories and connections to real life. Some of them build understanding about how shapes work together, too.
Living Books for Geometry and Spatial Reasoning
This particular list of books will help your children dive into a deeper understanding geometry and spatial reasoning concepts through stories that have a little more meat on their bones. Many of them also help kids to develop critical thinking skills for higher level math, as well as every other area of life.
The Sir Cumference Series
Out Family LOVES the Sir Cumference series. They help slightly older elementary and middle school children understand geometry concepts like radius, diameter, angles, and area. They are fantastic for modeling problem-solving strategies, too. Trust me, you don't wanna miss out on these fun math adventures!
The Warlord's Series
The Warlord series is another great math adventure series. They are geared towards a younger age than the Sir Cumference books and would be appropriate through all of the elementary years. The books I've listed here tie in nicely with geometry topics, and like the Sir Cumference series, they also boost problem-solving skills. As you probably know, I'm a huge proponent of children learning critical thinking and problem solving skills!
Quilts
A fun way to enjoy the study of geometry is to focus on quilts. Yes, quilts! By design, quilts are made from shapes – and all kinds of them – fitting together into tessellation patterns. Consider actually making some real or constrution paper quilt squares as you enjoy any or all of these wonderful books about quilts.
Living math is one of my favorite things to teach in our homeschool. Making connections to math concepts through literature, real-life activities, specific problem solving, and even gameschooling have made our homeschool so much better over the years. If you'd like to know more, check out either of the following resources.
Other Posts You Might Like