Welcome to my 10 Days Series on the topic of nature study! Each of the ten days brings you a creative nature walk idea and a fun follow-up activity to spark your enthusiasm for nature study today!
Why study nature?
The answer is more serious than you might think.
Today's nature study: Ponds
This post contains affiliate links.
Creative Walk:
Before heading out to observe a pond today, create an underwater viewfinder from some simple materials. You'll need:
A recycled plastic container such as a milk jug, butter tub or juice carton
Scissors or a knife
Thick plastic wrap
A sturdy rubber band or two
Cut the bottom out of your container. (I find that an adult usually needs to do the cutting.)  Place the plastic wrap over the open bottom and secure it with a rubber band. At the pond, gently place the viewfinder into the water to observe the plant and animal life under the surface. In a nature journal, draw what you see.  Do this several times in in various places around the pond.
(Be safe near water!  A child should never be unsupervised around a pond.)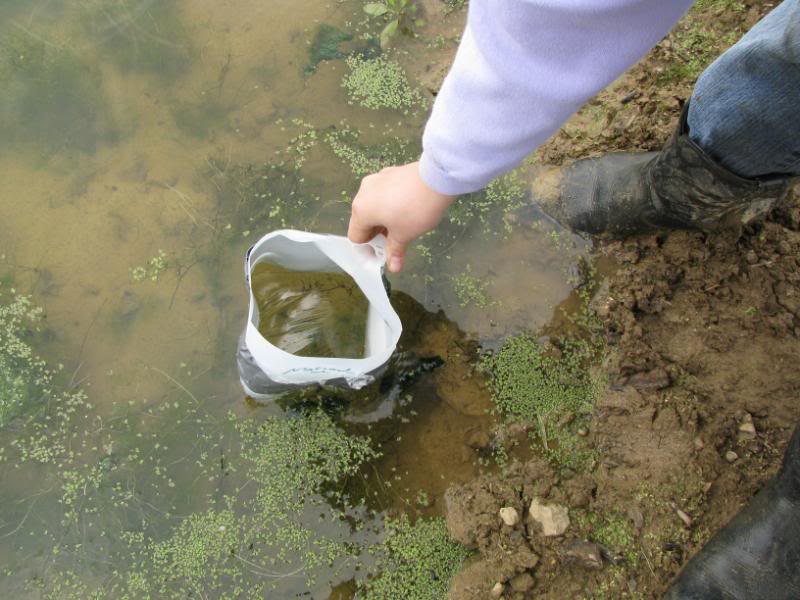 Follow-up Activity:
After your pond observations, take a few minutes at home to read about pond life from a book or internet source.  Draw a cross section mural of a pond showing life you might find in the water and around the pond. This means you will pretend as if you can part a pond like God parted the Red Sea for the Israelites escaping Egypt. What would you see if you were able to look at a pond from this perspective?
You might find the clipart in this Pond Food Web activity useful for the mural.  Or, use the activity "as-is" for an additional lesson about food webs.
We have enjoyed a little pond animal research on this interactive site, too.
Read a Book or Two If You Like:
 Today's pond activities are just a very small sampling of similar ideas you'll find in the NaturExplorers Peaceful Ponds study!