Welcome to my 10 Days Series on the topic of nature study! Each of the ten days brings you a creative nature walk idea and a fun follow-up activity to spark your enthusiasm for nature study today!
Why study nature?
The answer is more serious than you might think.
Today's nature study: Fungi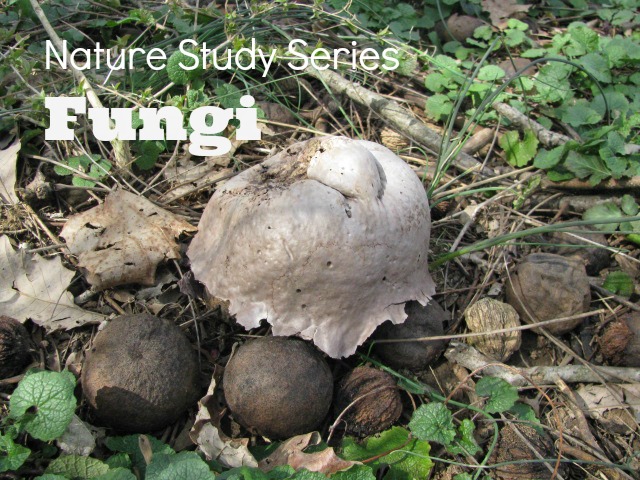 This post contains affiliate links.
Creative Walk:
Finding fungi is easiest in the spring or fall when temperatures are warm and the weather has been moist.  Look in grasses, on ground clutter, on trees and even on rocks.  They especially like shaded areas like woods, for instance.  There are tremendous varieties of shapes, textures and patterns among fungi. Choose one of those characteristics (either shape, texture or pattern) to observe more closely as you discover fungi on your walk today.  Draw sketches and jot notes in a nature notebook for each fungus you find.  Discuss comparisons from one fungus to another.
Please do not touch, taste or smell fungi.  Some can be dangerous.  Eye observations only!
Follow-up Activity:
Fungi can grow almost anywhere! We find them in nature, on foods, on our bodies and some even grow well in deep bodies of water. Each type of fungus has its own needs to grow well, but generally, their basic needs are moisture, warmth and darkness. For today's follow-up activity, choose one fungus that you found on your nature walk and research its particular needs.  Write a paragraph about or draw a picture chart of those needs.
Fungi are sometimes difficult to identify precisely.  Use a field guide
to attempt identification.  If you aren't entirely sure you can correctly identify it, you will at least know the group of fungi in which it belongs – like slimes, puffballs, or polypores, for instance. (P.S. The field guide will help you determine the group.)
After researching the needs of your fungus, consider these questions: Do you think fungi grow better in tropical areas? Why or why not? Do you think fungi grow well in arctic areas? Why or why not?
Fungus Field Guides I Recommend:
Today's fungus ideas are just a very small sampling of the nature study suggestions you'll find in the NaturExplorers A Fungus Among Us study!