Nature Study – Animal Signs
Welcome to my 10 Days Series on the topic of nature study! Each of the ten days brings you a creative nature walk idea and a fun follow-up activity to spark your enthusiasm for nature study today!
Why study nature?
The answer is more serious than you might think.
Today's nature study: Animal Signs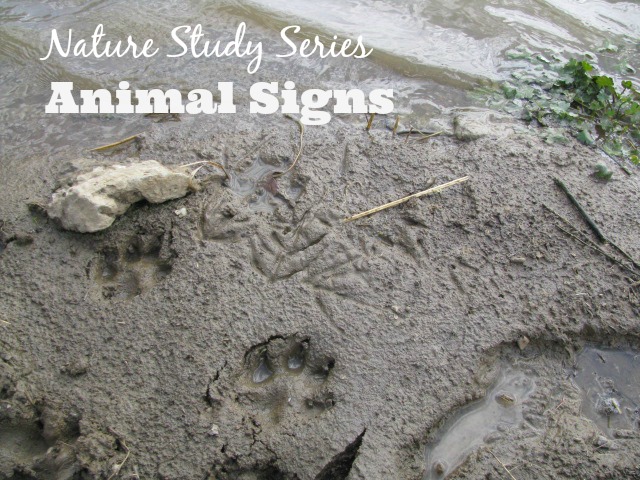 This post contains affiliate links.
Creative Walk:
Animal tracks are easiest to find near a water source – like the edge of a creek or pond, or even on bare land after a rain.  Today, take a walk looking for animal tracks.  In a nature notebook, sketch the track(s), measure length and width, notice features such as toes and nails, and scan the area for further clues the animal might have left behind.  Use an animal track field guide to help you determine which animal made the track.
I suggest:
Follow-up Activity:
Work hard to identify at least one animal track you found, and then learn all you can about that animal. Create a diorama or other presentation to share about the animal's life and habitat.
How to Make a Diorama

A traditional diorama can be made by decorating the inside of a shoe box to look like the topic you are studying. When making an animal's habitat, for instance, you might decorate the box to look like a forest, being sure to include everything the animal would need for survival. Don't forget to include the animal, too! Use whatever materials you have around the house like construction paper, paints, clay, or even little plastic models you might have in your toy box.

Alicia from LaFamille shared some great diorama samples with me not too long ago that are sure to inspire you!
Read a Book or Two If You Like:
 Today's animal track activities are just a very small sampling of similar animal signs ideas you'll find in the NaturExplorers Animal Signs study!