Welcome to my 10 Days Series on the topic of nature study! Each of the ten days brings you a creative nature walk idea and a fun follow-up activity to spark your enthusiasm for nature study today!
Why study nature?
The answer is more serious than you might think.
Today's nature study: Erosion

This post contains affiliate links .
Creative Walk:
Yesterday, you enjoyed learning a little about erosion at the creek.  But, you don't need a creek to find signs of erosion because they can be found just about anywhere in nature.  Because erosion can be caused by any type of running water (creeks, rivers, rain, etc), ice, wind and even the sun, it isn't hard to find things that have been affected by it.
You only need a small area to observe today, say the size of a back yard or slightly larger.  You'll be looking for any and all signs of erosion in the area.  Be sure to observe all types of nature and things made with natural materials – the ground, rocks, bricks, trees, concrete, asphalt…
Take with you a piece of graph paper on a clipboard and a pencil.  Your task is to walk around the space drawing a to-scale map of all the signs of erosion you can find.  Older children will want to add length, width and depth measurements to the map (for the activity to follow.)
Follow-up Activity:
Make a physical salt dough map using your to-scale map as a guide.  This means you will create a 3-D representation from dough that will look like a model of the area you observed on your erosion walk.  Once dry, you can paint the map, gluing fun features like soil and pebbles to make the map look more realistic.
Salt-Dough Map Recipe
Mix equal parts of flour and salt.  Add just enough water to make the dough feel like play dough.  Mold it to your liking using a sturdy piece of cardboard as your base.  Let it dry in the sun for several hours (or even a couple of days) until it feels hard on the outside.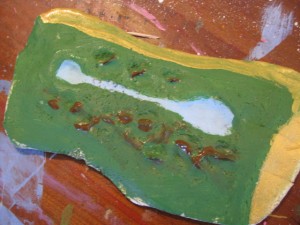 (Not a map of erosion, but the only salt-dough picture I could locate in my files.  I've added it to help give you an idea of a finished salt dough map.)
Read a Book of Two If You Like:
Be watchful. Some of these books promote millions of years.
Today's erosion activities are just teeny-tiny sampling of similar ideas suggested in the NaturExplorers Everchanging Erosion study!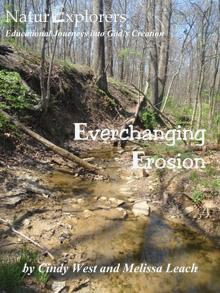 Did you know my Facebook Friends often get special deals on NaturExplorers studies?  Join me there!