Welcome to my  10 Days Series on the topic of nature study! Each of the ten days brings you a creative nature walk idea and a fun follow-up activity to spark your enthusiasm for nature study today!
Why study nature?
The answer is more serious than you might think.
Today's nature study: Creeks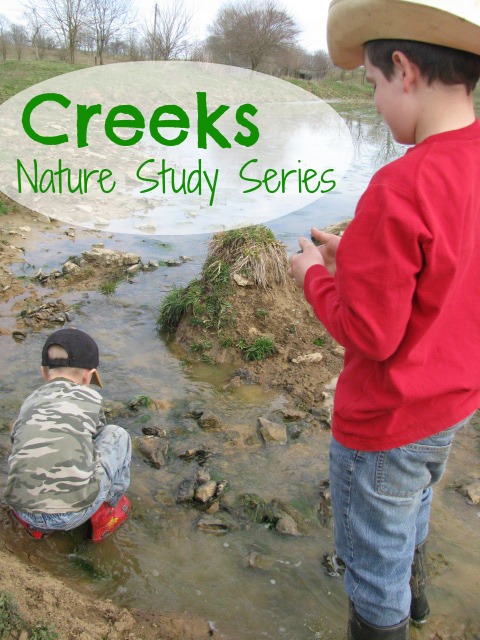 This post contains affiliate links.
Creative Walk:
The running water of a creek is a powerful force of erosion.  You can notice this in the deep ruts of a creek bed, exposed roots of trees near the edge of a creek, and even as you observe rocks resting in a creek.  Today, you're going to search a creek for rocks and notice signs of water erosion.
Over time, the constant rushing water of a creek wears down, and sometimes breaks apart, large rocks.  Fast currents can actually pick up smaller rocks and deposit them elsewhere.  As you walk, you'll be looking for several signs to show erosion is taking place:
Large, rough rocks may have smoothed sections where water is constantly running over them.
Larger rocks may have indentations, or even holes through them, where water drips or falls constantly.
Smaller rocks may be smooth and rounded from being knocked around often.
Smaller rocks may be gathered in what seem like piles on the creek bed.  In this case, there's often a bend in the creek where the rushing water can no longer push the rocks forward.
Leave the nature notebooks at home today.  Simply walk near (or in) a creek and talk about erosion.  You might collect several rock samples which show various stages of erosion to display at home.
Follow-up Activity:
The following experiment will help you see how the flowing water of a creek can turn rough rocks into smooth pebbles.
Place one piece of Lifesaver candy into an empty jar. This represents a rock sitting near a stream, but not in the water.
Place a second Lifesaver into a jar that contains ½ cup of still water. This represents a rock that is in a still body of water like a pond.
Place a third Lifesaver into a jar that contains ½ cup of water. Cover this jar and shake it for 3-5 minutes. This represents a rock that is in a moving body of water like a creek. When it bounces against the jar, it's like the rock in the stream hitting other rocks.
After 3-5 minutes, observe all three Lifesavers.
The first piece of candy didn't change because there was little to no weathering that would cause erosion. The second piece of candy changed slightly because it was being weathered/eroded by the still water, but ever-so-slowly. And the third piece of candy changed drastically because it was under constant active weathering, causing a great deal of erosion. Relate this to a real rock being changed to a pebble.
Read a Book or Two If You Like:
 Today's creek activities are only a teeny-tiny sampling of similar ideas suggested in the NaturExplorers Incredible Creeks study!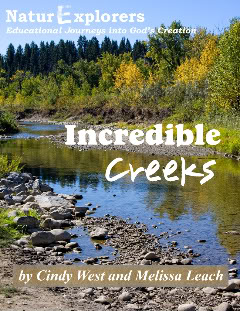 Did you know my Facebook Friends often get special deals on NaturExplorers studies?  Join me there!