Michelangelo Artist Study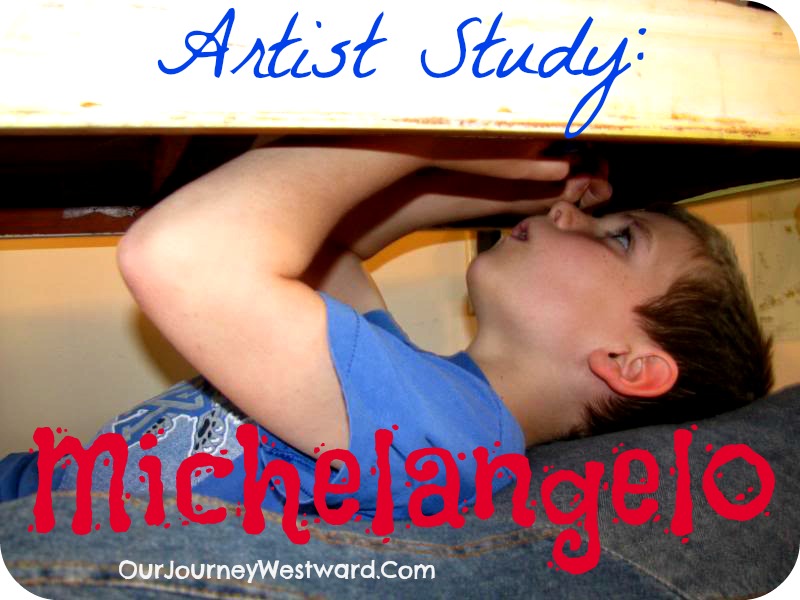 This post contains affiliate links.  Read my entire disclosure policy here.
Artist Study of the Month
Since Michelangelo's birthday is coming up on March 6th, we're gearing up to focus on him again during this month's artist study.  We studied his work once before (several years ago) as part of a mini-unit about Renaissance artists.  Our favorite activity then was a reenactment of Michelangelo's Sistine Chapel.  That's an easy activity:
Tape some paper to the bottom of a table that you don't mind getting paint on.
Make a cozy spot under the table to lay.
Grab some paints.
Paint a picture on the paper while laying down.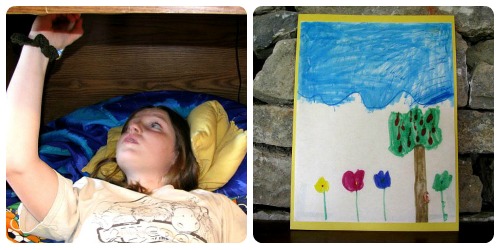 Michelangelo Biography and Research Essay
This time around, we'll be focusing more on Michelangelo's biography by researching several of the sites mentioned on Social Studies for Kids.  We'll read through some of the articles together and I'll assign a few to be read independently.  By the end of the month, I'll expect a one-page essay about Michelangelo. (Now that my big kids are older, writing follows almost everything – or so my sweet children tell me.)
Of course, we'll read this classic from our artist bookshelf, too.
Picture Study
Rather than choose the weekly picture studies for my children, this time I will allow them to decide what we study.  Olga's Gallery is always a great place to go to find a large variety of artwork by almost any artist.
Need to know how to do picture study?  You might like to check out Artist Study: Charlotte Mason Style.
Art Lessons
And that's it.  A little reading, a little writing, a little picture study and a weekly art lesson.  Fun and educational!
This post has been linked to iHomeschoolNetwork's Birthday Lessons series!