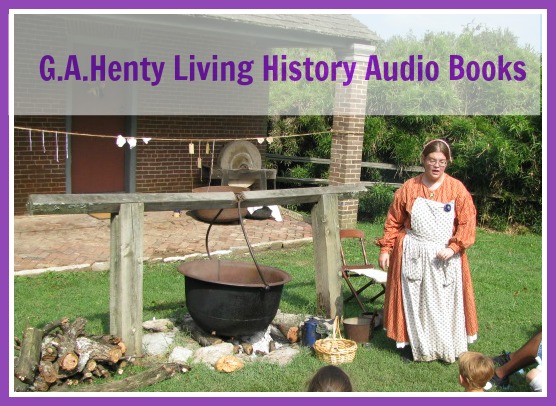 In our Charlotte Mason homeschool, we LOVE living literature.  So much so, that our "to read" lists are always way longer than what we can actually read.  In order to make time for more living literature over the years, we have always been fans of audio books.  Boring car time is often transformed into other periods of history as my children beg to listen to another chapter.
As most book lovers know, G.A. Henty novels are highly regarded works of living historical fiction.  Even lack-luster readers are drawn to the rich characters and captivating adventures.  It's amazing how much historical detail is taught ever-so-gently through the text of a story.
Jim Hodges Audio Books
You can imagine my excitement to learn that Jim Hodges has several G.A. Henty Audio Books available!  If you've never heard of Jim Hodges, boy are you missing out on a fantastic audio book voice…smooth and clear, with just the right amount of inflection.  Besides G.A. Henty, he's read aloud many popular titles from other authors like Amy Puetz and R.M. Ballantyne.
I had the opportunity to review two audio books that fit in perfectly with the era of history we are studying this year, With Wolfe in Canada (about the French and Indian War) and In the Reign of Terror (about the French Revolution.)  Talk about good books!  My children were excited to start each new chapter and sad when we had to turn the books off for the day.  And we're talking about books that have running times between 8+ and 11+ hours.  You've gotta love living literature and its almost magical effect!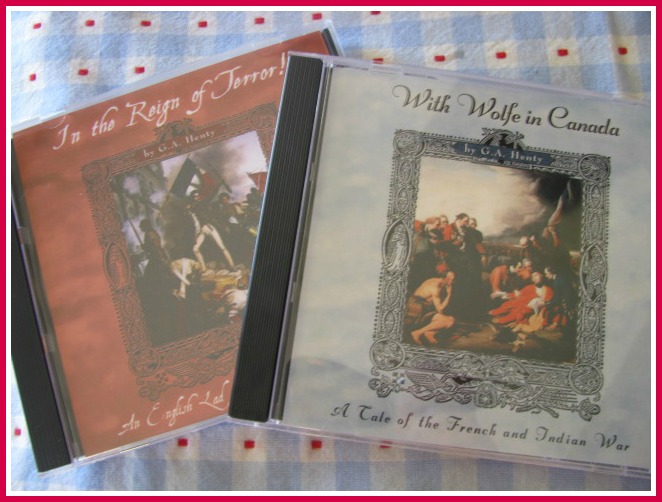 How did I know which books worked into our history studies? I used this handy, dandy scope and sequence where I easily found my targeted time period and the books available.
The G.A. Henty Audio Books can be purchased as MP3 CD's or digital downloads.  Either way, the books can be enjoyed on the computer or electronic devices such as the iPod.  Additionally, the physical CD's can be played on an MP3 compatible CD player or a DVD player (audio only.)  We listened to ours from a laptop and an iPod attached to external speakers.  The sound quality was excellent in both formats.
More Than Just Books
Whether you're a fan of G.A. Henty novels already or not, you might be interested to know that, besides history, the books are fantastic for teaching geography, character and vocabulary.  Mr. Hodges even has a free talk on this topic if you need a little convincing.  What's more, he has taken much of the vocabulary work off your shoulders as many of the Henty books have inexpensive vocabulary guides to go along with them!

A Freebie For Everyone
I'm so excited that Jim Hodges has offered EVERY SINGLE READER a free audio download of the unabridged  book Stories of the Pilgrims by Margaret Pumphries!  Enjoy this just in time for the upcoming holiday season!  Enter your email address and the code IHSPilgrims.  (This code is case sensitive.  You must use the specific link I've included above.)
Be sure to sign up for Mr. Hodges' newsletter, visit him on Facebook and find him on Twitter!
Audio Book Giveaway
One lucky reader will get his or her choice of ANY TWO of Jim Hodges Audio Books!  Use the form below to enter.  The giveaway ends September 18, 2012.
a Rafflecopter giveaway
Disclosure:  This review opportunity was coordinated by iHomeschool Network.  In exchange for the review, I received review material and compensation for my time.  As always, I am not required to give a glowing review and only share my honest opinions.