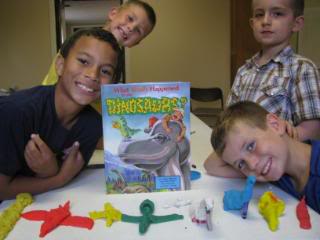 On Sunday nights at church, I teach a Kidz Group class for children in 1-5th grades.  Right now, I have only little boys in the class.  What better way to catch their attention than to talk about dinosaurs!  Dinosaurs and church??  Of course!  Dinosaurs are a great topic for teaching the authority of the Bible as compared to evolutionary teaching.  And for children, dinosaurs are one of the biggest "hooks" public schools use to disprove Biblical authority.
Just how do you educate yourself on the truth of the Bible vs. what the evolutionary world believes? It's really as simple as children's books! There are so many wonderful children's books available now that teach Creation vs. evolution. And not only do they educate your children, they educate you as well! I'll include just a few dinosaur themed books here and if you're interested in me posting more wonderful creation-based children's books, just let me know.
Some of these are more in-depth than others.  If you're hoping for a simpler book, I would suggest What Ever Happened To Dinosaurs or D is for Dinosaurs.  The others are more detailed and best suited for upper elementary and above.