How Bill Peet Can Help You Teach Character Lessons
I've talked a lot about using picture books to help teach good character qualities here at Our Journey Westward. For that matter, I've talked a lot about using picture books to teach, well, everything. In this post, we'll focus on Bill Peet character lessons as you read through his wonderful picture books.
There's something special about a living picture book – the story, the characters, and the message. Without intimidation, children are drawn in and magic happens.
Bill Peet is a favorite author around our house. His stories are often hilarious, include perfect personification, and the illustrations add so much to the storylines. Fortunately, many of his books are fantastic at demonstrating good and bad character qualities, too.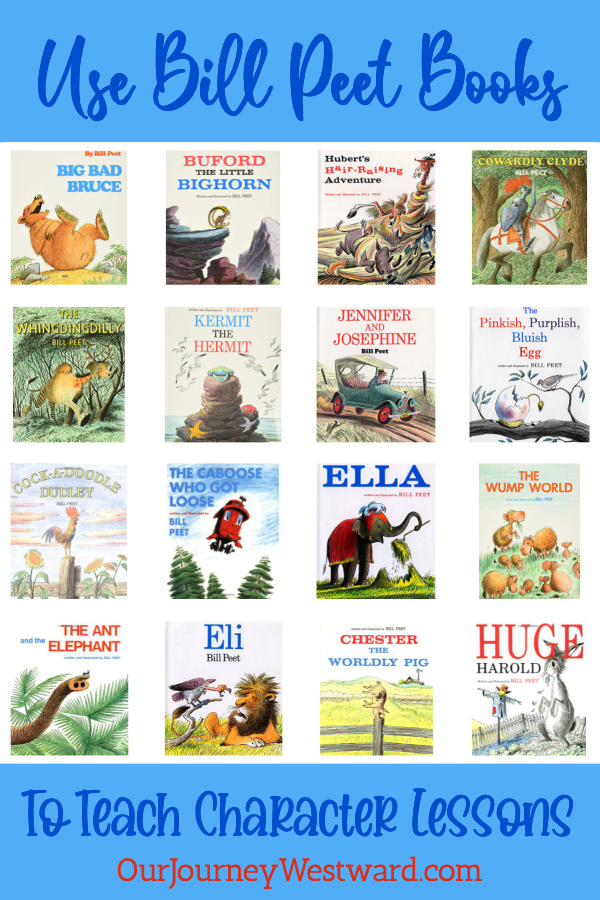 This post contains affiliate links.
Bill Peet Character Lessons
Woven perfectly into the plot of most of Bill Peet's picture books are obvious (and sometimes not so obvious) lessons in character. In many cases, the characters in the books contrast good and bad character qualities. This helps children get an easy sense of right from wrong.
His use of animals or inanimate objects as characters makes it easy enough to spot character flaws without making it too personal for the reader. That gentle introduction can help children easily see the impact of behaviors without connecting it to themselves right away.
Of course, we want to connect the dots as we train our children's character. Luckily, lots of exposure with gentle nudges tends to work really well.
How To Use Bill Peet Books
Whenever I use picture books to help me train good character, I tend to do one of a few things…
Simply read a book and let the story teach the difference between good and bad character qualities subtly.
Read a book and have a gentle discussion about the positive and negative character qualities.
Tell kiddos ahead of time to be watchful for good and bad character traits and be ready to discuss them afterward.
Depending on the desperation of the situation, I like to let the story speak for itself as much as possible. There are times, though, when we're dealing with a particular issue that it makes sense to dig deeper. In that case, we analyze the story and connect it to whatever might be going on at our house.
By the way, picture books can be used with children of all ages. A good story is a good story and can have a short and sweet impact even on big kids.
Bill Peet Books That Teach Character
You may find that some of these are out of print. They are worth perusing thrift stores to find if you have a chance.
Big Bad Bruce – This book talks about bullies and the consequences that can come to those who bully others.
Buford the Little Bighorn – Buford the bighorn teaches us to see beauty and purpose in our differences.
Chester the Worldy Pig – This longer read encourages children to set big goals. It also demonstrates that persistence pays off and it's okay to find that you have hardships to overcome.
Cock-a-Doodle Dudley – Honesty and a positive attitude are always the best choices as demonstrated in this book.
Cowardly Clyde – This book offers a few opportunities to teach character. On a positive note, cowardly and fearful behavior is replaced by bravery, which leads to confidence. Negatively, the knight's pridefulness causes him to lie. On the positive side again, there's a not-so-obvious opportunity to talk about the importance of "living in the light".
Eli – Humility and kindness are tested in a way that demonstrate that friendship matters – even with unlikely people.
Ella – Ella, a spoiled circus elephant, learns the hard way about what it's like to be grateful and humble.
Fly Homer Fly – This is another story about friendship. It also confirms how it is important to make the best of the situations in which we find ourselves. Children learn to appreciate what we they because it could always be worse.
Hubert's Hair-Raising Adventure – Discover examples of good and not-so-good friendships and see how vanity can cause trouble.
Huge Harold – Watch how kindness can change someone's life, even helping to embrace who they were made to be.
Jennifer and Josephine – Loyalty and good deeds are great qualities in a friendship.
Kermit the Hermit – Watch meanness and selfishness disappear as Kermit learns that kindness matters. Plus, it's certainly better to give than to receive.
The Ant and the Elephant – This story shows that kindness matters even when others aren't kind back. It also teaches that we should never underestimate people.
The Caboose Who Got Loose – Our attitude about something can make a big difference in our perception of the thing or event. As the main character learns that lesson, we also see compassion grow for those who are less fortunate.
The Pinkish, Purplest, Bluest Egg – This book has many character lessons to be gleaned. Compassion, courage, and love are demonstrated well. The importance of strong values is emphasized, too, while also encouraging folks to look beyond appearances.
The Wump World – Taking care of the things you've been given and caring about those around you are key character qualities that shine in this book.
Whingdingdilly – Jealousy can lead to things that we don't quite count on. The story also reminds us that we are special just the way we are and that a positive attitude can make a big difference.
Enjoy Other Character Building Ideas
The Bill Peet character lessons included in this post are just a handful of books and other creative ideas you can use for character training. Click on any of the images below for more goodness.