Living Literature and the Bible
If you've been around here long at all, you know there's living literature out there to help teach ANY subject. Did you know that's true for the Bible, too?
Over the years, I've found some FABULOUS books to go along with our Bible studies. Now, I'm not saying we read literature instead of the Bible – no way! But…these books have opened doors to Biblical conversations and reinforced Biblical studies we've already completed.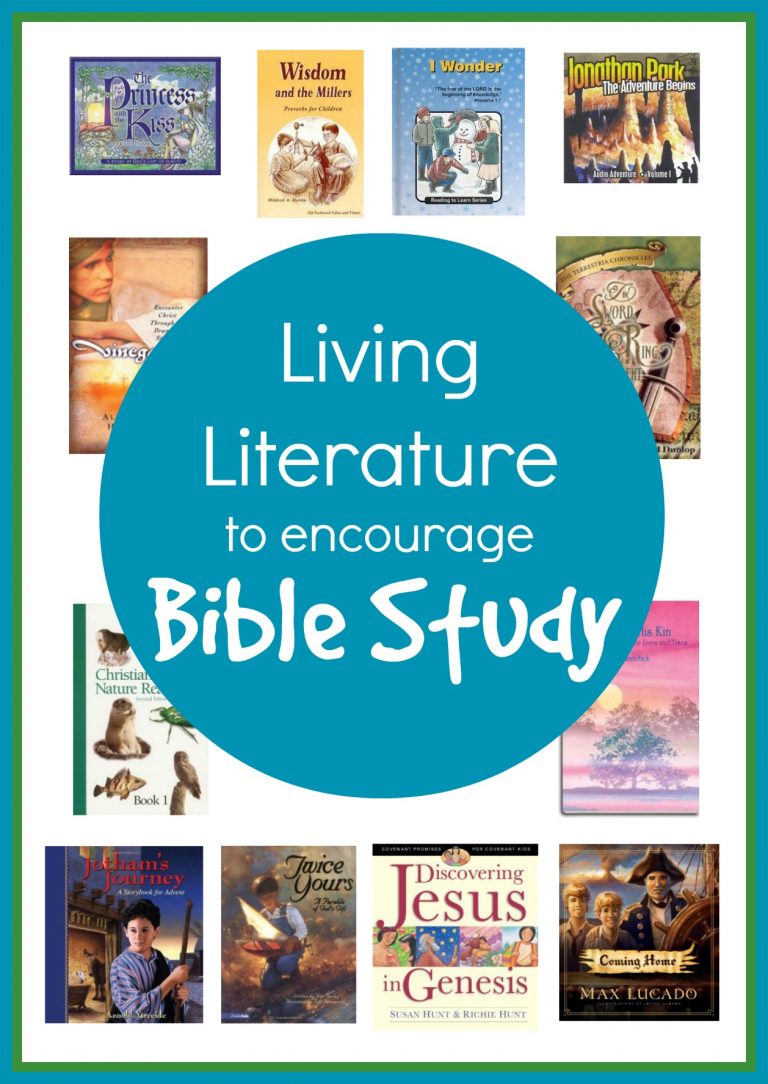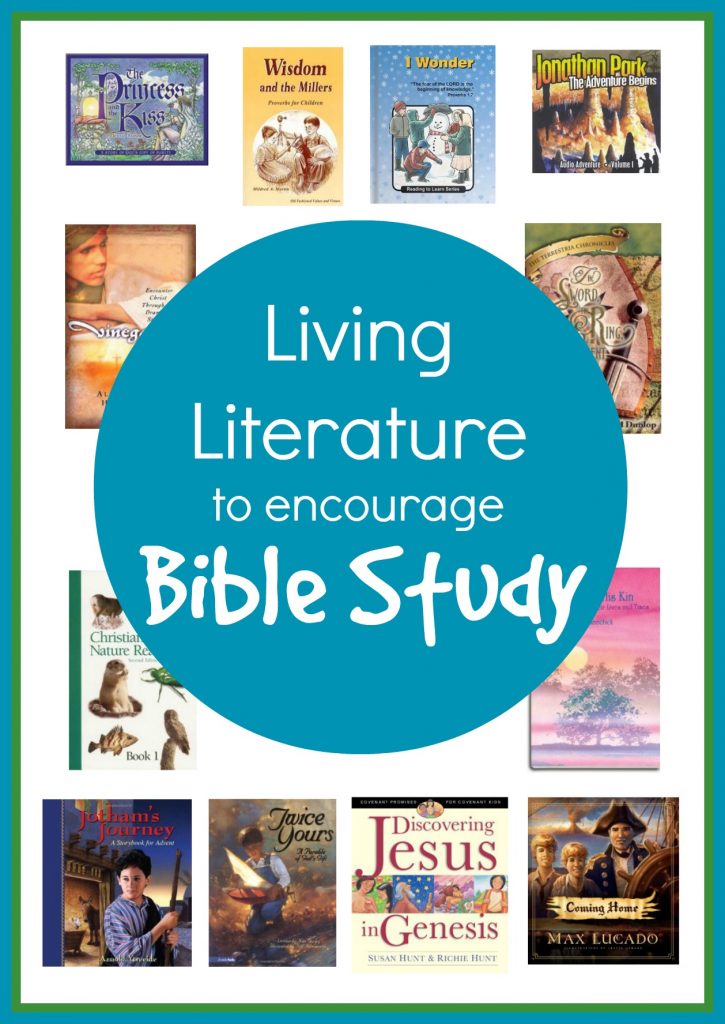 This post contains affiliate links.
Some people ask, how do you fit in Bible study and living literature? Well, our Bible study time tends to take on two "methods."
The first method finds us diving deep into the Word – reading, discussing and/or completing work pages. When we're thick into one of these studies, we typically don't add living literature.
The second method finds us focusing on bite-sized portions of the Word. In other words, we might only read a few verses from the Bible before jumping into our living book. After reading, we often have Biblical discussions about the themes, characters or events from the book. I like to think of it as practical application of Biblical principles to "real-life" situations.
I've found switching back and forth between study formats to be motivating for my children (and me.) Our mind is always turned towards the Truth, but we mix up the way it's delivered.
You might ask, "What if these books don't line up with our particular beliefs?" The truth is, some of them won't. They haven't all been perfectly in line with our doctrine, some of them even including "big deal" differences (like our thoughts on baptism, for example.) Rather than completely shy away from the books, we chose to use those moments for great discussions – and even in-depth Bible study to find answers! Some of our best Bible learning has come from these moments!
Another plus – sometimes, these books can even count for history and/or science, too!
I've written my tops picks for books that encourage Christian principles and character already. Many of those books will be included in this mega list. I have given a bit more detail about the books included on those posts that you might like to check out.
My Favorite Christian Picture Books For Kids
My Favorite Christian Books for Teen Boys
My Favorite Christian Books for Teen Girls

Okay, on to my mega-list of the best-of-the-best living literature we've read to encourage our walk in The Truth.
Living Children's Bibles
When our children were young, these two Bibles were great places to start them in the Word.  These aren't your typical watered down chunks of the Bible!  The chronological stories are very thorough.
The Child's Story Bible by Catherine Vos
The Children's Bible in 365 Stories by Mary Batchelor
Picture Books
Don't think picture books are only for the elementary crowd!  I've often used the books below in middle and high school Sunday school classes to illustrate particular points we've been discussing about the Bible or God's character.
Books by Jennie Bishop
The Princess and the Kiss – purity
The Squire and the Scroll – purity and knowledge of the Word
The Garden Wall – 1 Corinthians 13
Books by Angela Elwell Hunt
The Tale of Three Trees – Easter and God's perfect will
The True Princess – being a humble servant
Books by Max Lucado
With You All the Way – avoiding worldly distractions
Coming Home – keeping the faith
A Hat for Ivan – finding God's purpose
The Oak Inside the Acorn – finding God's purpose
Just In Case You Ever Wonder – God's love
Because I Love You – God's protection
Just the Way You Are – God's love
You Are Special – God's love
Your Special Gift – using our gifts
You Are Mine – our Creator loves us
Best of All – God made us special
Punchinello and the Most Marvelous Gift – focusing on God
If Only I Had a Green Nose – we're wonderfully created
A Parable About the King by Beth Moore – God's protection and faithfulness
Twice Yours by Nan Gurley – Jesus' sacrifice
The Merchant and the Thief by Ravi Zacharias – forgiveness
Sanji's Seed by B.J. Reinhard – honesty
Chapter Books: Under 12
The Miller Books by Mildred Martin – these books depict a conservative Mennonite culture that our family doesn't adhere to, but the Biblical lessons presented in the collections of short stories have still been very helpful in our home.
Missionary Stories with the Millers
Books by Patricia St. John
Twice Freed – Onesimus, Paul – true freedom in Christ
The Tanglewood's Secret – overcoming selfishness
The Secret at Pheasant Cottage – peace in Christ
Rainbow Garden – selfishness and insecurity
Treasures of the Snow – forgiveness
Star of Light – boundless resources of our loving God
Discovering Jesus in Genesis by Susan and Richie Hunt – the doctrine in this book does not always match up with that of our family, but we still very much enjoyed reading it together as it encourages children to see the Bible as a treasure chest full of bounty
Chapter Books: 10+
Books written by Arnold Ytreeide – I cannot explain the love I have for this series of books.  In just a few words, they tie amazing adventures of fictional characters into the Biblical stories of Christmas and Easter.  You see the evil one for who he is and rejoice in the Savior of the world.  They are scary at times, which is why I've recommended them for older children.
Jotham's Journey: A Storybook for Advent
Bartholomew's Passage: A Storybook for Advent
Tabitha's Travels: A Storybook for Advent
Amon's Adventure: A Storybook for Easter
Vinegar Boy: A Storybook for Easter by Alberta Hawse – This is another book similar to those above that ties a fictional storyline into the Biblical story of Easter. Very moving!
Adam and His Kin by Ruth Beechick – This book takes some liberties as it fills in details from the book of Genesis describing the life on earth from Adam through Abram. Facts from archaeology, science and ancient traditions were the basis on which the author took her liberties in the storyline. Even so, I would be apt to put this book in the category of historical fiction rather than fact, but it's excellent!
Pilgrim's Progress by John Bunyan – allegory of our journey heavenward
Books by C. S. Lewis
Chronicles of Narnia – allegories of the fight between good and evil that parallel some messages from the Bible
The Lion, the Witch and the Wardrobe
The Voyage of the Dawn Treader
The Screwtape Letters – how the devil distracts us
Mere Christianity – explanation of Christianity
Terrestria Chronicles by Ed Dunlop – allegories of the fight between good and evil with clear messages to encourage your Christian walk
The Sword, the Ring and the Parchment
Kingdom's Dawn Series by Chuck Black – allegories of the fight between good and evil that parallel the books of Genesis through Revelation
Lamplighter Books – We've read the the books listed below. Not one has been a disappointment, so I have a feeling it might be safe to say you'd enjoy any from their catalog. Several of their titles are available as audio books, too! Each of the books includes characters with obvious flaws of sinfulness who are restored in the end through the love of Christ. These stories are treasures for sure!
Teddy's Button by Amy LeFeuvre
Charlie's Choice by M.L. Nesbitt
The Hedge of Thorns by John Hatchard
Sir Knight of the Splendid Way by W.E. Cule
A Peep Behind the Scenes by O.F. Walton
A Basket of Flowers by Christoph Von Schmid
Buried in the Snow by Franz Hoffman
The Boy of Mount Rhigi by C.M. Sedgwick
The Captive by Christoph Von Schmid
The Unexpected Return by Christoph Von Schmid
The Wanderer by Lamplighter Theater
Missionary Stories
We have been very pleased with all of the missionary stories from the International Adventures Series and Christian Heroes: Then and Now Series we've read.  I've listed our very favorites from those series (as well as a few other books) below.  There are many, many more that I haven't listed!
Bruchko by Bruce Olsen
Through the Gates of Splendor by Elisabeth Elliot
A Chance to Die by Elisabeth Elliot
God's Smuggler by Brother Andrew
Kisses From Katie by Katie Davis
Gladys Aylward: The Adventure of a Lifetime by Janet Benge
The Hiding Place by Corrie Ten Boom
Tomorrow You Die by Reona Joly
George Muller: The Guardian of Bristol's Orphans by Janet and Geoff Benge
Science
It's been nice to come across some science living literature that unabashedly uplifts the cause of Christ and unashamedly believes science and Christianity are not to be separated.
Jonathan Park – In one word, these audio adventures are FABULOUS. They teach tons about creation science (on all kinds of topics) and faith in God through riveting stories. I don't often buy audio books because of their expense, but these all have earned spots on our bookshelf.
Christian Liberty Nature Readers by various authors – readers or read-alouds that glorify God's creation while teaching scientific facts.
Early Readers
If you're hoping to get even more Christian wisdom into your homeschool day, these elementary readers include very God-honoring, character building stories.
A Hive of Busy Bees by Effie Williams
Christian Light Read-to-Learn Series – These stories are written from the perspective of conservative Mennonites, meaning their ideas don't always jive with those of my family. We only read the first three (1st & 2nd grade readers) before moving on to other things, but we highly enjoyed our time with them. FYI: I have found these books to be slightly advanced, especially in the early years.
I Wonder (1st grade)
Helping Hands (2nd grade)
Happy Hearts (2nd grade)
Doors to Discovery (3rd grade)
Bridges and Beyond (4th grade)
Open Windows (5th grade)
Calls to Courage (6th grade)
Roads Less Traveled (7th grade)
Where Roads Diverge (8th grade)
Never fear, as I come across (or remember) other books that should be on this list, I'll add them. Be sure to bookmark or pin the page for reference!
More Christian Encouragement
I pulled together some of my very best ideas and resources in a 10-day series called Teaching Values. I'm sure you'll find something encouraging to consider for your family in there somewhere!