The Bluegrass State: A Kentucky Unit Study
When I used to teach elementary school, every teacher used a portion of the fourth-grade year to teach a rich Kentucky unit study. It was always full of learning about historical events and people, as well as important state symbols, culture, and things that make KY a special place to live.
As a proud Kentucky resident, of course, I want my children to learn all about their home state, too. That's exactly what we did during this lengthy unit study that included plenty of history, culture, literature, and amazing field trips.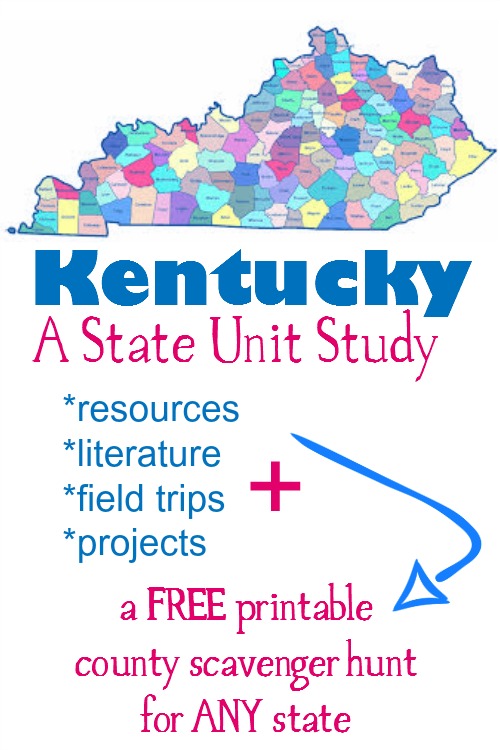 (his post contains affiliate links.
Kentucky Unit Study Lessons
I don't tend to use workbooks in our homeschool very often, especially those that are somewhat frivolous. However, we had a lot of fun with The BIG Kentucky Activity Book. It provided us with some light-hearted activities to break the ice each day – and taught us things about Kentucky's history, geography, important people, common animals, and even some folklore.
The quick worksheets occasionally taught us everything we needed to know about a certain topic. But often, they would serve as introductory material to more in-depth learning through research, literature, documentaries, projects, or field trips.
I didn't plan precise lessons to be sure we covered everything there is to know about KY during our study and I didn't worry about making sure everything was in chronological order. We mostly just enjoyed the study as it happened. Of course, that doesn't mean I didn't make any plans. I compiled plenty of books, jotted down some potential projects, and researched to make a list of a bunch of potential field trips.
Kentucky Field Trips for Kids
In fact, the field trips are what brought our study of KY history to life! They were more impactful than I could have ever imagined in understanding the history, culture, and geography of our state. Not to mention, the love my children developed for each unique region was both surprising and heartwarming.
As I saw how important these trips were, I decided to dedicate the entire semester to as many pertinent field trips as possible. Even though we didn't spend nearly that much time on the unit study, we kept the field trips going throughout that semester and even into the summer.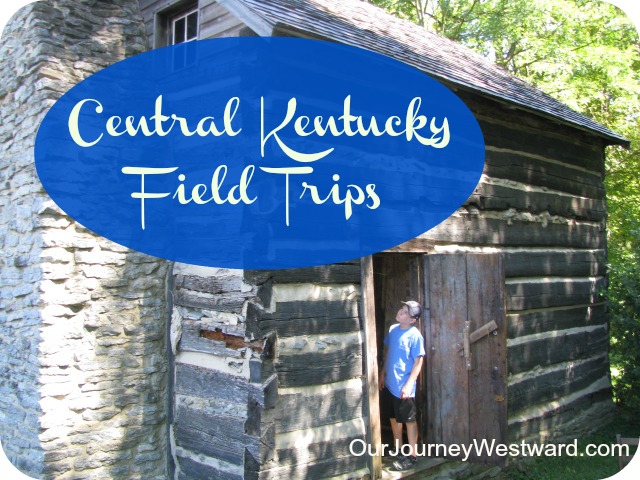 As usual, pages were completed in our field trip journals after visiting each site. A long time ago, we started collecting brochures and snapping pictures of our field trips as a sneaky way to incorporate writing into the day. My kids have been motivated to document memories, jot notes, and add memorabilia to their acid-free spiral notebooks ever since!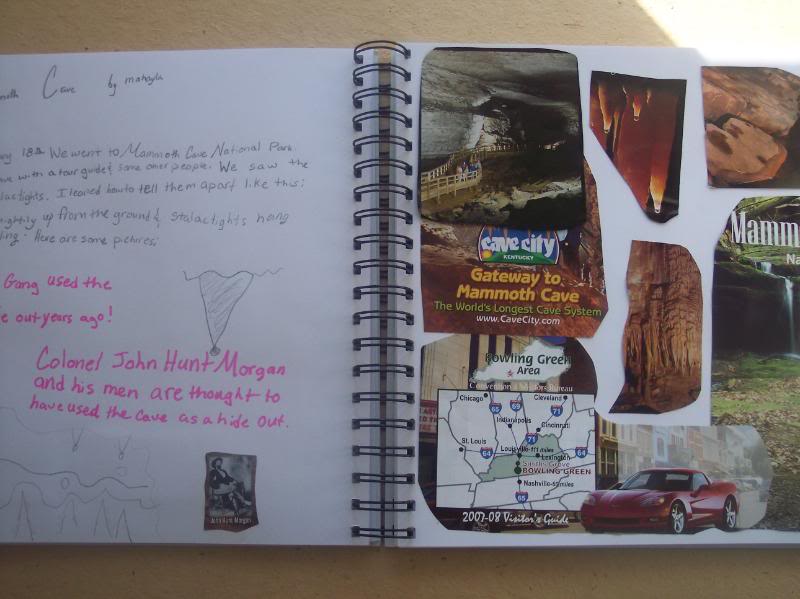 A County Scavenger Hunt
I'd like to share one particular field trip activity that was so much fun! I developed a scavenger hunt of our county that familiarized my children with the location of important places, community jobs, and names of people holding elected offices.
To create the scavenger hunt, I basically just typed prompts concerning our county that I wanted my children to know then printed off a copy for each of them. We spent an entire afternoon visiting places like the courthouse, city building, and tourism office asking different people to help fill in the facts.
You are welcome to use our scavenger hunt to discover your own county – no matter which state you live in!
Another afternoon, we visited the cemetery to learn more about some notable people buried there and visited our local historical museum. Be sure to grab your free cemetery scavenger hunt here.
Living Books About Kentucky for Kids
Of course, we enjoyed plenty of living books during our study! Each day found us reading non-fiction books, historical fiction books, or picture books about Kentucky. We read books by KY authors, too, like George Ella Lyon, Marie Bradby, and Nancy Kelly Allen.
When we focused on something in particular, we enjoyed plenty of books about that topic. For instance, you can't complete a Kentucky unit study without discussing pioneers. I didn't hesitate to add general books about pioneers like A Pioneer Sampler and Life on a Pioneer Homestead to round out our study.
Below are some specific books directly about Kentucky.
Kentucky Unit Study Notebooks
As my kiddos completed pages from The Big Kentucky Activity Book, I asked them to compile the pages in a very simple notebook make from a three-prong file folder. These notebooks were used at the end of our study on presentation day.
Some of the worksheets, specifically the ones you see in the picture below, came from other resources that I had from my classroom teaching days. Even though those resources aren't available anymore, you can easily search for and print copies of important things that aren't included in The Big Kentucky Activity Book.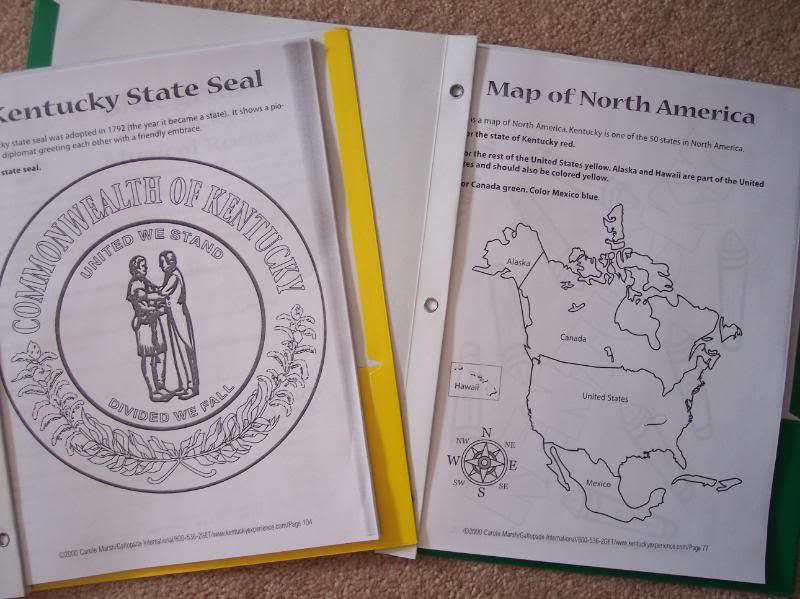 Kentucky Unit Study Topics To Cover
To help you fill in any gaps and know what topics to research for living books, documentaries, movies, projects, or field trips, I'll share a list of the topics that were important for me to cover:
State symbols
Government
History (eras, events, people)
Geography
Culture
Industries
Folklore
Kentucky Geography and Science Strewing
This little learning center sat in the corner of our school room for the entire unit study. It included books about Kentucky (and general geography), nature journals with wildlife and bird field guides, some US board games and puzzles, and a bird memory game.
While not all Kentucky-specific, these strewing items gave my children some focused independent learning activities to enjoy during afternoon free time. Because they paired nicely with what we were learning together, it helped keep the interest level high, too.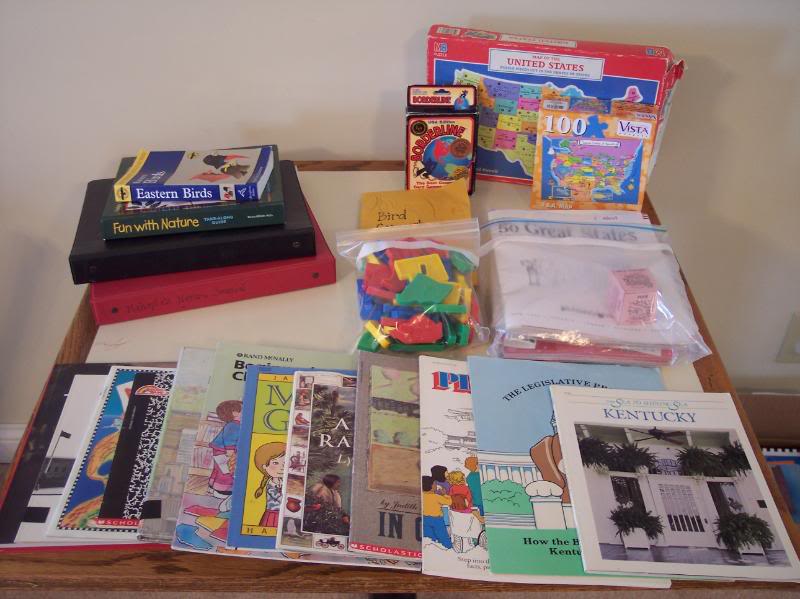 Kentucky Projects
You might remember that most of our unit studies culminate with some project-based learning. These independent (or partner) projects allow my children to practice kid-friendly, research-based learning about topics that interest them. On the last day of the study, they present their projects to the family during an end-of-unit celebration.
So, after the notebooks were completed, books were read, and field trips were taken, it was project time. Here are the two end-of-unit project prompts that both kiddos had to complete:
*Research one animal native to Kentucky. Create a diorama of its habitat and present information about the animal during our unit study celebration.
*Choose one famous Kentuckian to research. Create a poster-sized body of your person and cut the face out so your face fits in the hole. You will present first-person information about your famous person as you hold the poster during our unit study celebration.
Native Animal Reports and Dioramas
For their animal research projects, my daughter chose to learn about raccoons and my son chose to learn about black bears. After preparing dioramas, including the animals in complete habitats, they had to give oral presentations (from small research papers) telling everything they learned.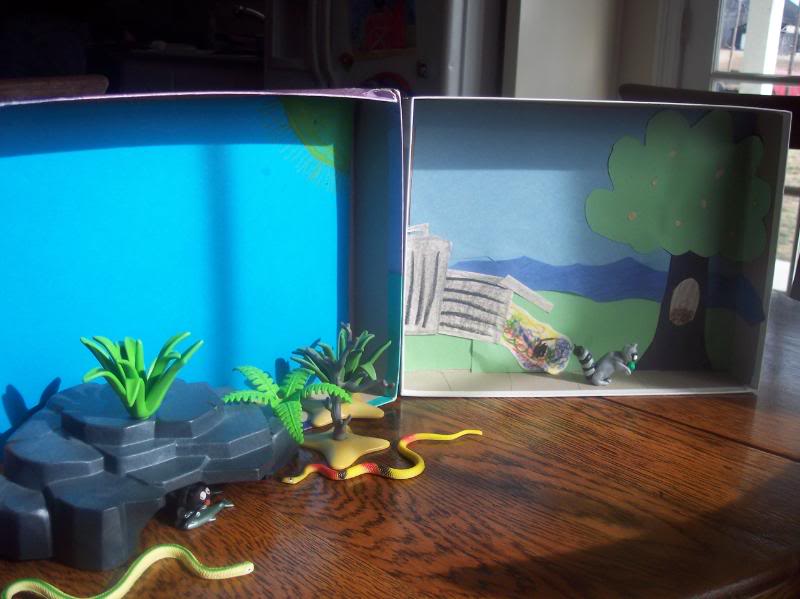 Famous People Posters
During their presentations about famous Kentuckians, my daughter transformed into Jenny Wiley, a pioneer woman taken captive by Indians and who bravely escaped. (One of our state parks is named after her.) My son became Daniel Boone, the explorer who basically paved the way for pioneers to settle in Kentucky. Poster people reports are always a hit in our house!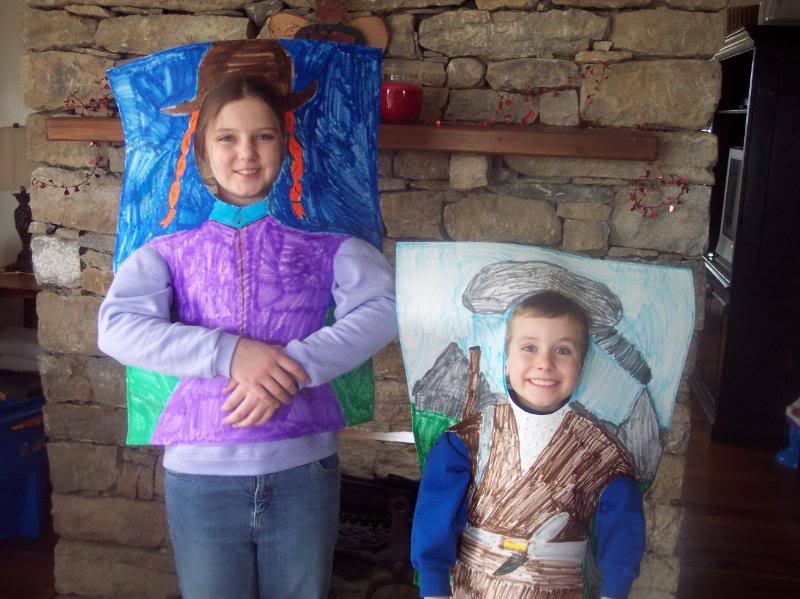 And there you have it – a full unit study that helped us learn so much about our great state. I hope you enjoy your own study and glean fun ideas whether you live in Kentucky or not!
Other posts you might like
Slavery and Civil War Unit Study
Picture Books Across the USA
Living Literature Booklists