Winter Nature Study Play Dough Mats for Your Homeschool
I'm so excited to share these free winter play dough mats with you! They can help elementary students learn nature study observation skills through hands-on play.
You might think play-based learning is mostly for the preschool crowd, but there are still plenty of benefits of playing in the elementary years. In fact, learning through play is actually more important than you might imagine. It offers a low-pressure invitation for children to explore, create, and assimilate information. Creating and assimilating are higher-order thinking skills that make great independent thinkers.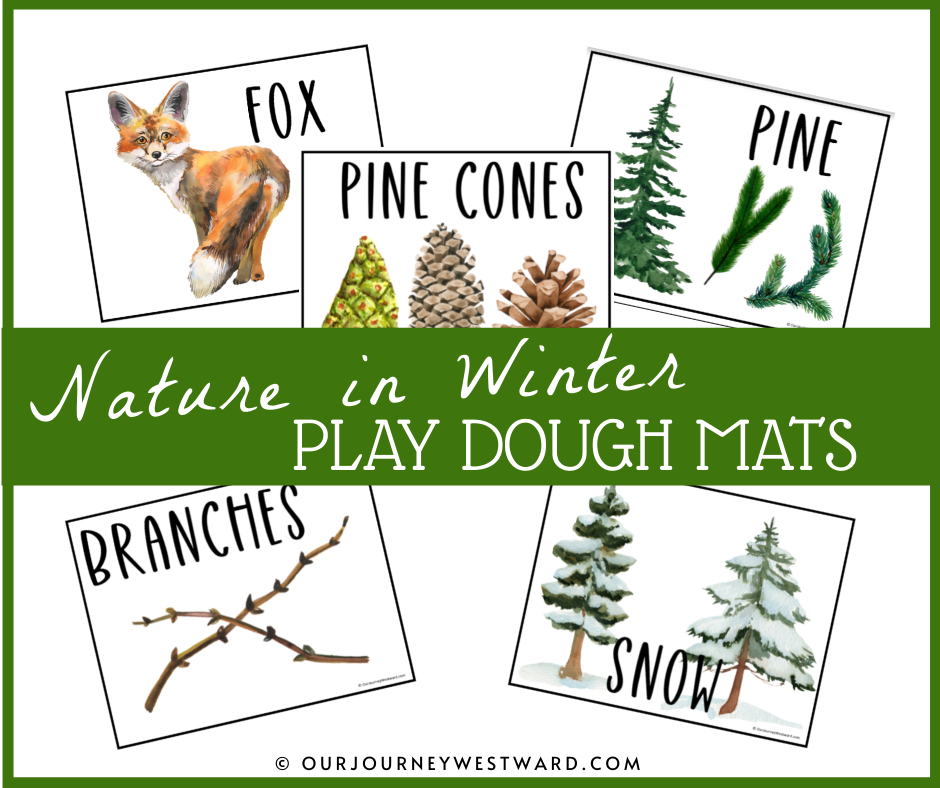 This post contains affiliate links.
Why use nature play dough mats?
These particular play dough mats have been created to help younger and older children practice nature observation skills. The intricate images provide multiple layers of things to see and sculpt. We often think of observation as strictly a visual skill, but using the hands to make detailed 3-D sculptures adds more depth (literally and figuratively) to make observation more meaningful.
In fact, this same idea is why I'm such a firm believer in nature journaling. Similar to sculpting, drawing from deep observation helps children to actually notice more detail. The acts of drawing and sculpting help build very important pictures in the catalogs of a brain so that new information will not easily be forgotten. It's amazing how this works really!
Of course, the basic benefits of playing with play dough are still happening when you use nature play dough mats, too. Fine motor skills are strengthened, creativity is encouraged, and it provides a great opportunity for artistic pursuits.
How to use winter play dough mats?
With very young children, provide one winter play dough mat and a single color of play dough. Don't worry about teaching anything academic about the specimen or how to use observation skills. The goal is very much about play. It never ceases to amaze me how children innately become better at observation and creation without guidance when quality play opportunities are presented.
With older children, provide all the winter play dough mats and several colors of dough. You can issue a simple challenge to be as observant as possible and use whatever colors and tools are needed to make the 2-D specimen images come to life in 3-D awesomeness. However, don't blabber on with scientific information about the specimens on the mats. Instead, let their discovery lead to questions and then take captive some extra learning with a book or short video.
I particularly love using play dough mats during a quiet time when children are playing alone and need multi-sensory activities to stay busy. Additionally, you can use the mats during read-aloud time or when watching a documentary, but I don't actually prefer this time. There is great value in concentrating on the play dough mats without distraction. However, play dough is a great way to keep restless hands and minds busy that would otherwise be distracting everyone from listening.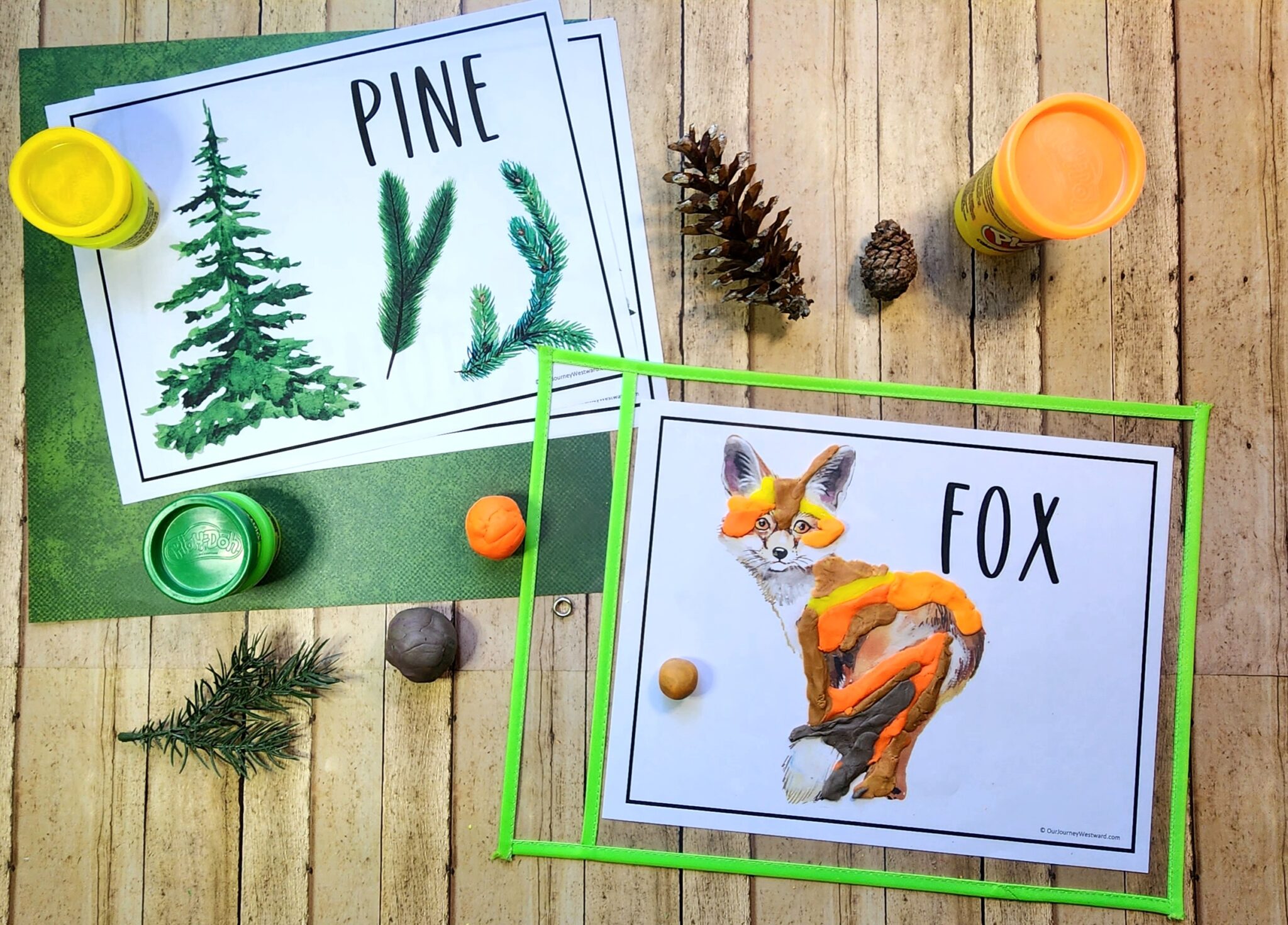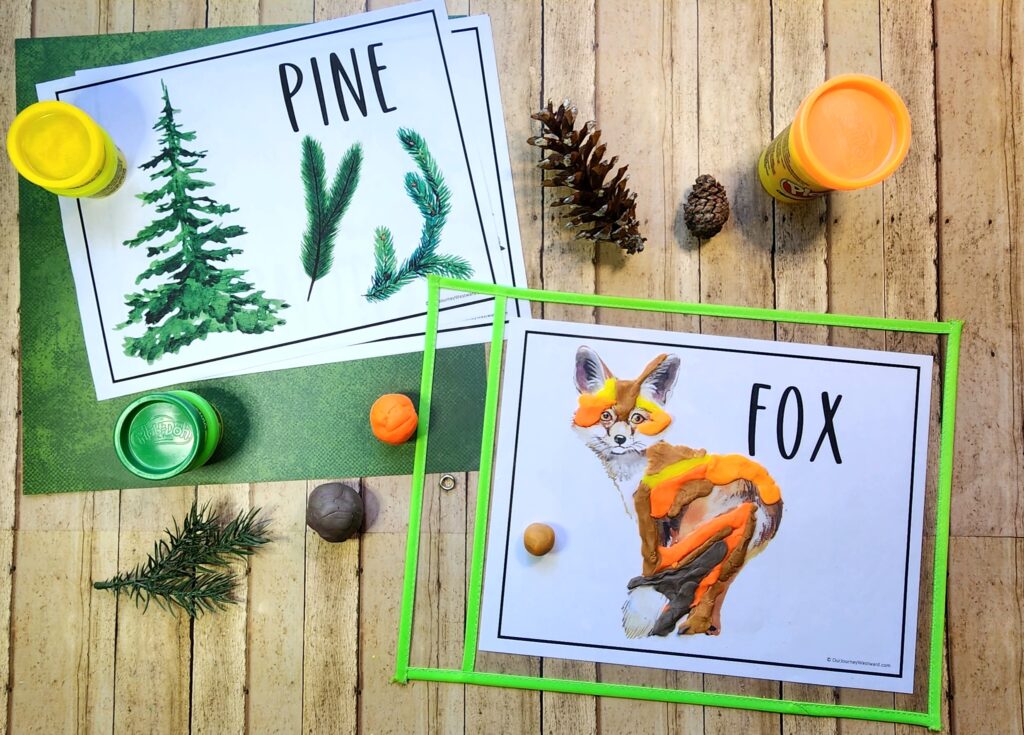 Play Dough Mat Supplies
You can download the winter play dough mat printables below. To promote creativity, I suggest having plenty of play dough colors on hand even if you plan to only allow one color at a time. The other fun supplies you see listed are optional but can help with creativity and keep boredom at bay.
To save printer ink, I highly suggest sliding each printable from the winter play dough mat collection into a clear sleeve (as seen above). Children can place play dough directly on the sleeve. Once finished crafting, the sleeve can be wiped clean and reused over and over again. You can laminate the mats instead if you prefer.
Download the Winter Play Dough Mats
Have fun! You can look forward to children who begin noticing new things in nature, too. The simple hands-on observation of winter nature study specimens through play dough will help them get to know the real-life specimens. I love when easy connections are made in homeschooling!
Other posts you may like: